Shirt and shirt dress pattern – FEUILLAGE
Shirt and shirt dress pattern – FEUILLAGE
Feuillage is a shirt and shirt dress pattern. Its Mandarin collar gives a relaxed yet chic style. Similarly the shirt panels with different lengths and separated by vents, bring a Zen touch to the garment and create an interesting movement.  Sleeves are sophisticated with lateral seam and vent. Sleeves come in 2 lengths. You can also go for a sleeveless version, and play with the different lengths of the shirt. There are multiple combinations to reach a garment to your taste.
Quickview

Trousers & Capri pants pattern – ÉCORCE

PDF pattern

£

11.00

Quickview

PDF pattern

Écorce is a high waisted and semi-fitted trousers and Capri pants pattern. It closes with a fly front and with a hidden button and hook and bar inside the waistband. A welt pocket can be added at the back for a more finished look.  Legs are marked with a permanent fold at the front, making these trousers ideal for a work wear outfit. The seams at the back of the legs follow your shapes perfectly and end with vents at the bottom, a small detail that makes a big difference. Écorce is a simple and chic trousers pattern that can either be worn with a t-shirt and sneakers for a relaxed look or with a blouse and heels for a more elegant and work wear look.

£

11.00
What you get
The pattern comes in a digital format and includes:
the A4 pattern (33 pages);
the US letter pattern (33 pages);
the A0 pattern (2 pages);
a step by step instructions guide with detailed hand painted illustrations (12 pages).
All PDFs allow you to print the size(s) you need thanks to the layer functionality in Adobe Acrobat Reader.
Level: confirmed beginner
Feuillage is for confirmed beginners. The pattern includes a button stand, a mandarin collar and vents finishing the seams of the bodice.
Measurements table (cm inches)

Height: from 1.65m (5'5″)
Feuillage has been designed from a B-cup pattern block.
Finished garment measurements (cm inches)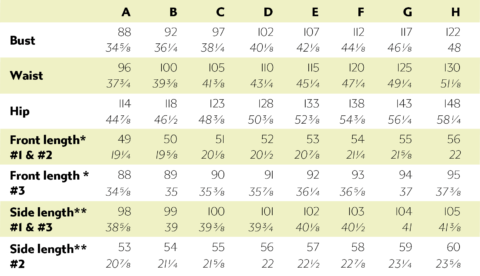 *Length from neckline to front hem
** Length from neckline to side hem
My measurements
84 (33″) – 68 (26″) – 92 (36″) and 1.58m tall (5'2″). I am wearing size B.
Fabric requirements (m yards)
Version #1, long sleeveless shirt :
– 150cm / 60" wide: 1.5m / 1 ⅝ yds
– 115cm / 45" wide: 2m / 2 ¼ yds
Version #2, short shirt with sleeves
– 150cm / 60" wide: 1.5m / 1 ⅝ yds
– 115cm / 45" wide: 1.9m / 2 ⅛ yds
Version #3, shirt dress with sleeves:
– 150cm / 60" wide: 2.4m / 2 ⅝ yds
– 115cm / 45" wide: 2.9m / 3 ⅛ yds
Fabric suggestions:
Light weight fabrics such as: cotton lawn, shirt cotton, linen, viscose, double gauze, etc.
The long sleeveless shirt sample displayed on this page is made of gauze, the short shirt sample is made in shirt cotton and the dress is made of wax cotton.
Other supplies
In order to sew this pattern you will need:
– Interfacing, lighter than the fabric you choose. It will be used for the Mandarin collar and button stand (approximately 1m x 20cm).
– Bias binding for the sleeveless version (approx. 1m).
– 6 x 1.2cm buttons for the shirt version #1 and #2 and 12 x 1.2cm buttons for the dress version #3.