Let me introduce the Anita collection, women sewing patterns for the spring and summer 2020 ! I dedicate this collection to my grandmothers, to all grandmothers, and especially to my mother, Anita, who is going to become a grandma this year. So it explains the vintage touch in all the patterns and the old French names finishing in "-ette". It also explains the designs which adapts to growing baby bumps like mine!

I have decided to take my time and launch the patterns one by one this time, instead of releasing them all at once, so I will unveil the collection step by step. Due to the confinement, the pictures are taken indoor and I am the one posing with the samples (contrary to a photoshoot planned with friends in Paris !), but I am pleased with the pictures which represent the spirit of the collection pretty nicely.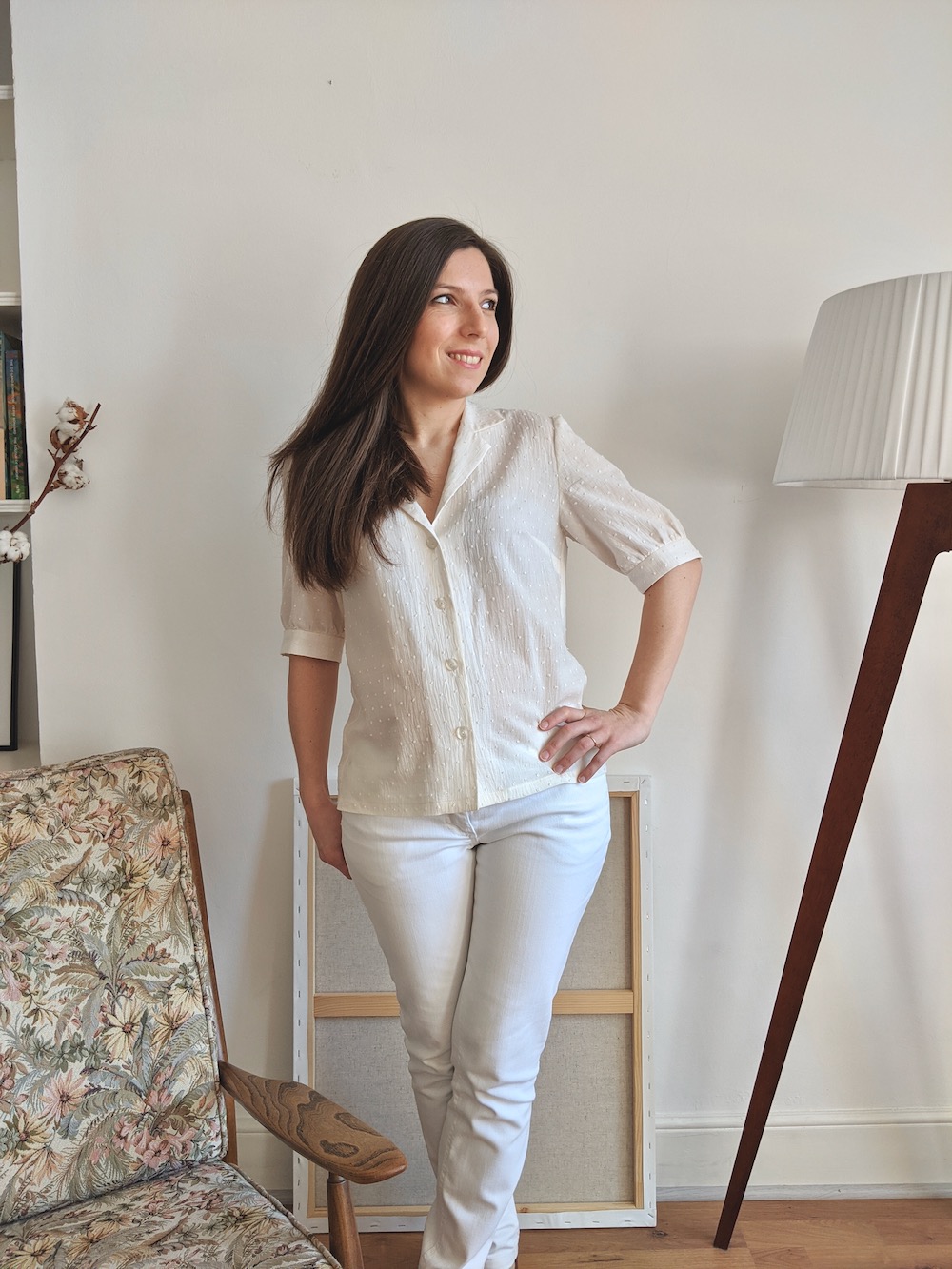 The Lucette blouse pattern
This is Lucette! With a slight vintage touch, Lucette is a classic blouse with a comfortable fit, yet perfectly "en vogue". Its little balloon sleeves give it an ethereal and feminine appearance while its revere collar opens the top on a beautifully shaped and easy-to-wear neckline. I will just wear it on top of jeans or tucked in a high-waist skirt (when I can wear one again!). Lucette is timeless and adapts to all styles. It can accommodate a growing baby bump without altering the size too!

I made a Lucette blouse in a cotton dobby (bought online on Sew me Sunshine) and I made a second version in a washed linen (bought in Goldbrick Fabrics on Goldhawk road). I just love them both!

My measurements are 84-75(with baby bump)-91 and I am 1.58m tall / small. I made the size B with no alterations.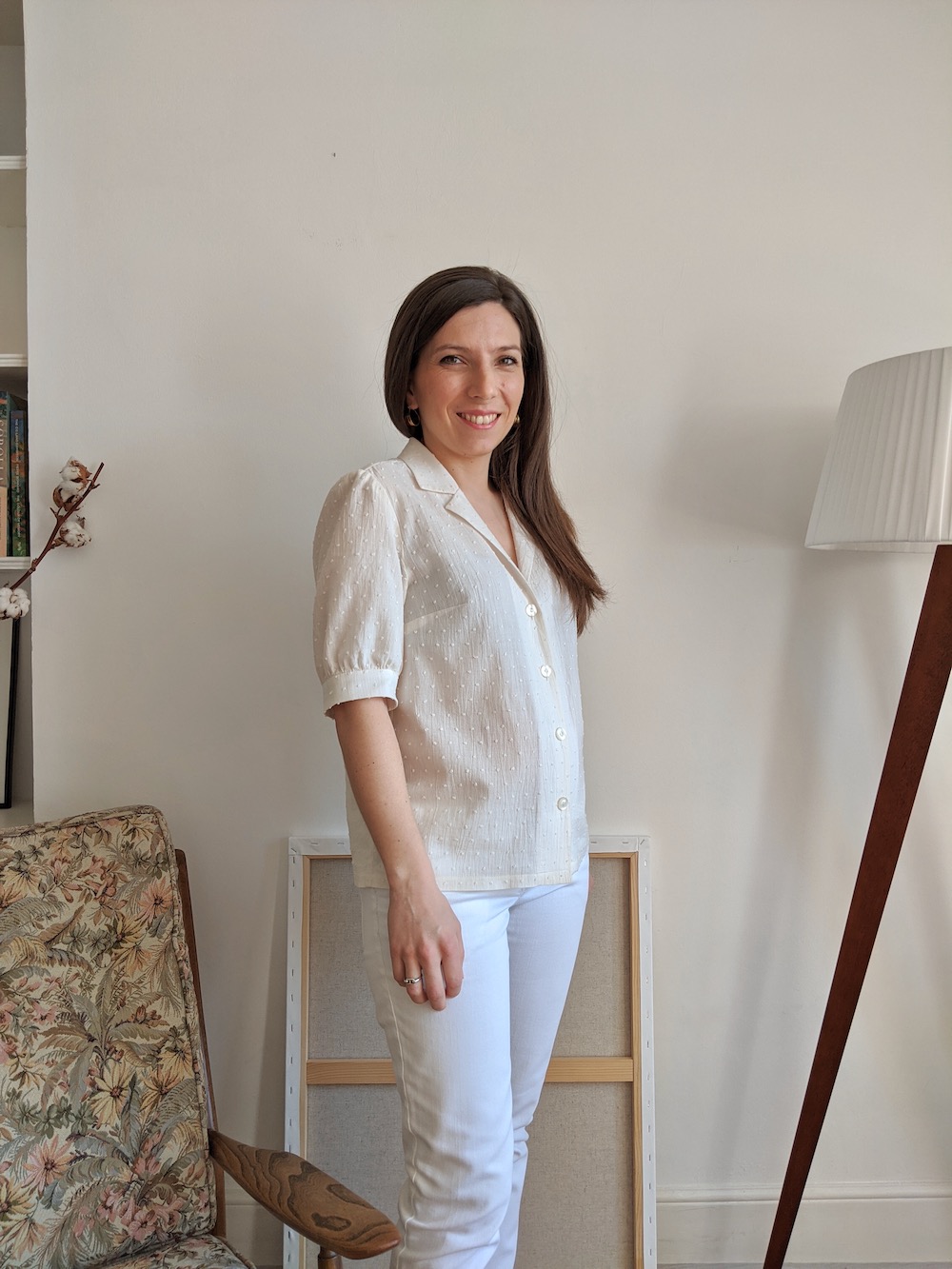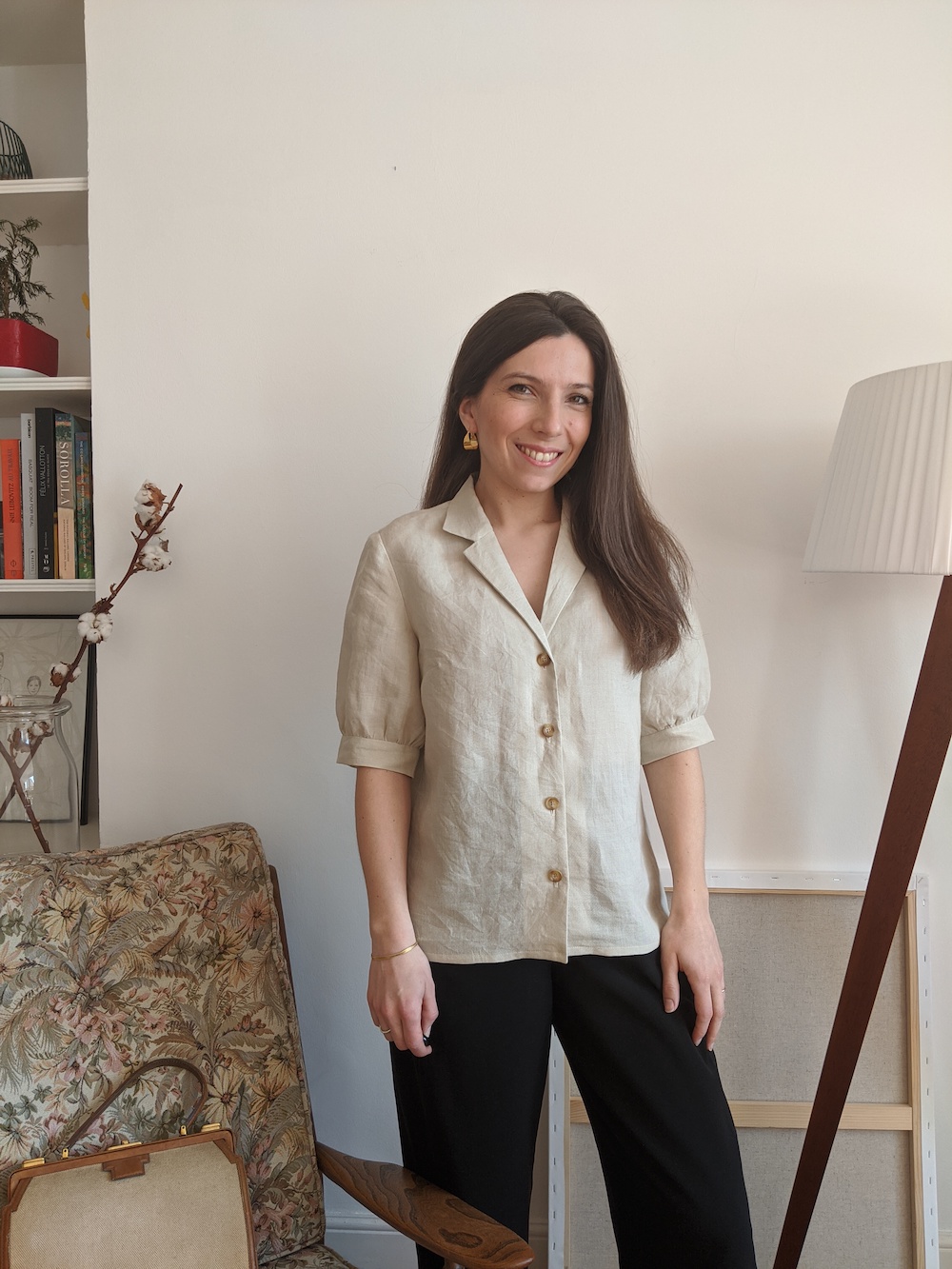 The Lucette dress pattern
The Lucette pattern also comes as a dress option. You can mark the waist with a thin belt (or not). I absolutely love shirt dresses and this one is my ideal one. Chic and comfortable, this is what I think starts to define what I do with Camimade patterns. Because I always want to look elegant and wear comfortable clothes at the same time!

This bright pink dress is made in a washed linen from Goldbrick fabrics on Goldhawk road, London. They basically have all the colours of linen in the world you might need…

My measurements are 84-75(with baby bump)-91 and I am 1.58m tall. Same as for the blouses, I made it in size B with no alterations.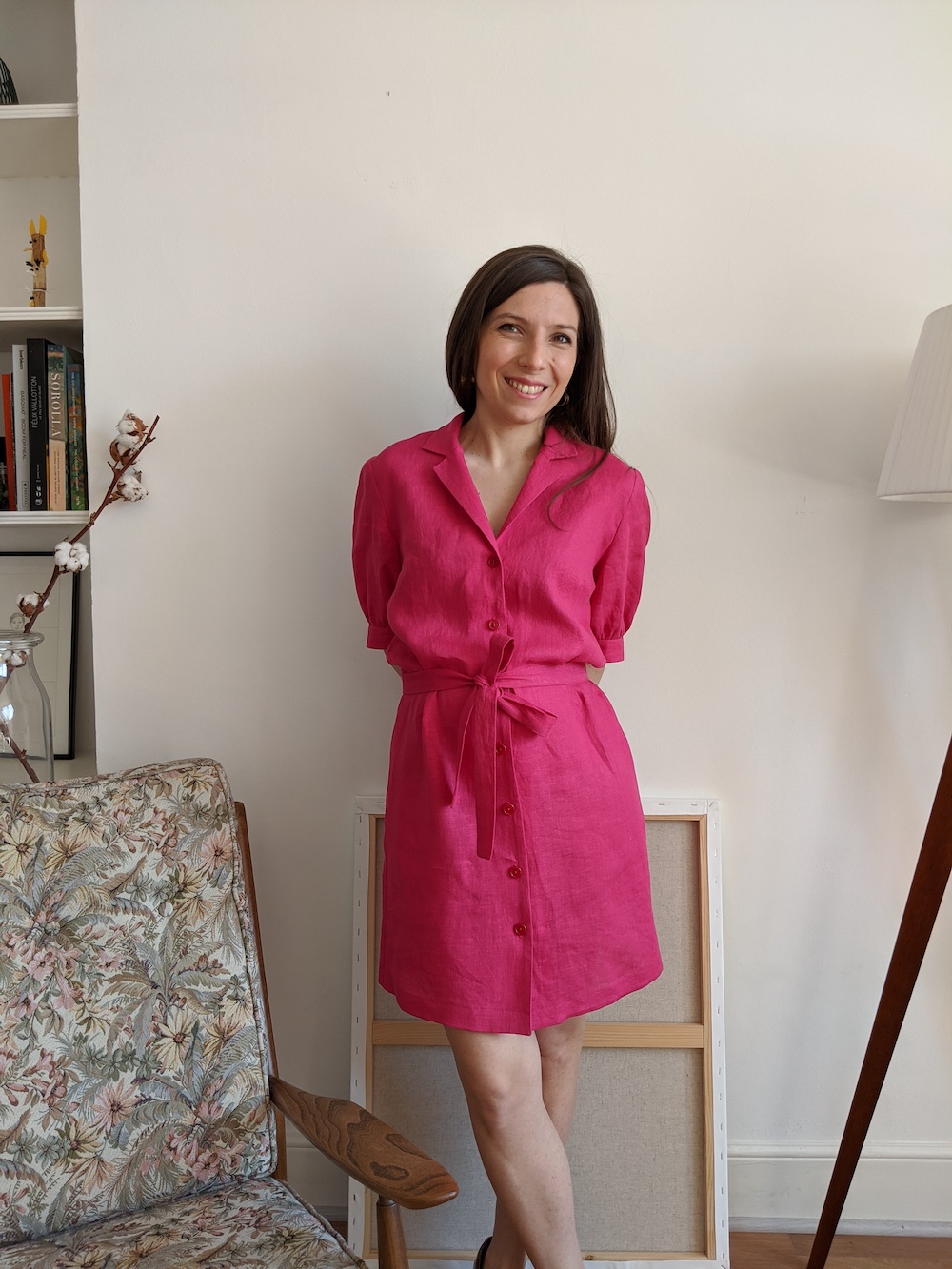 Lucette pattern now available
The Lucette pattern is now available in the Camimade shop! Click on the image on the right to buy it.

I am also pleased to announce this pattern will be available in a French magazine, Passion Couture Créative in June 2020. It is very exciting!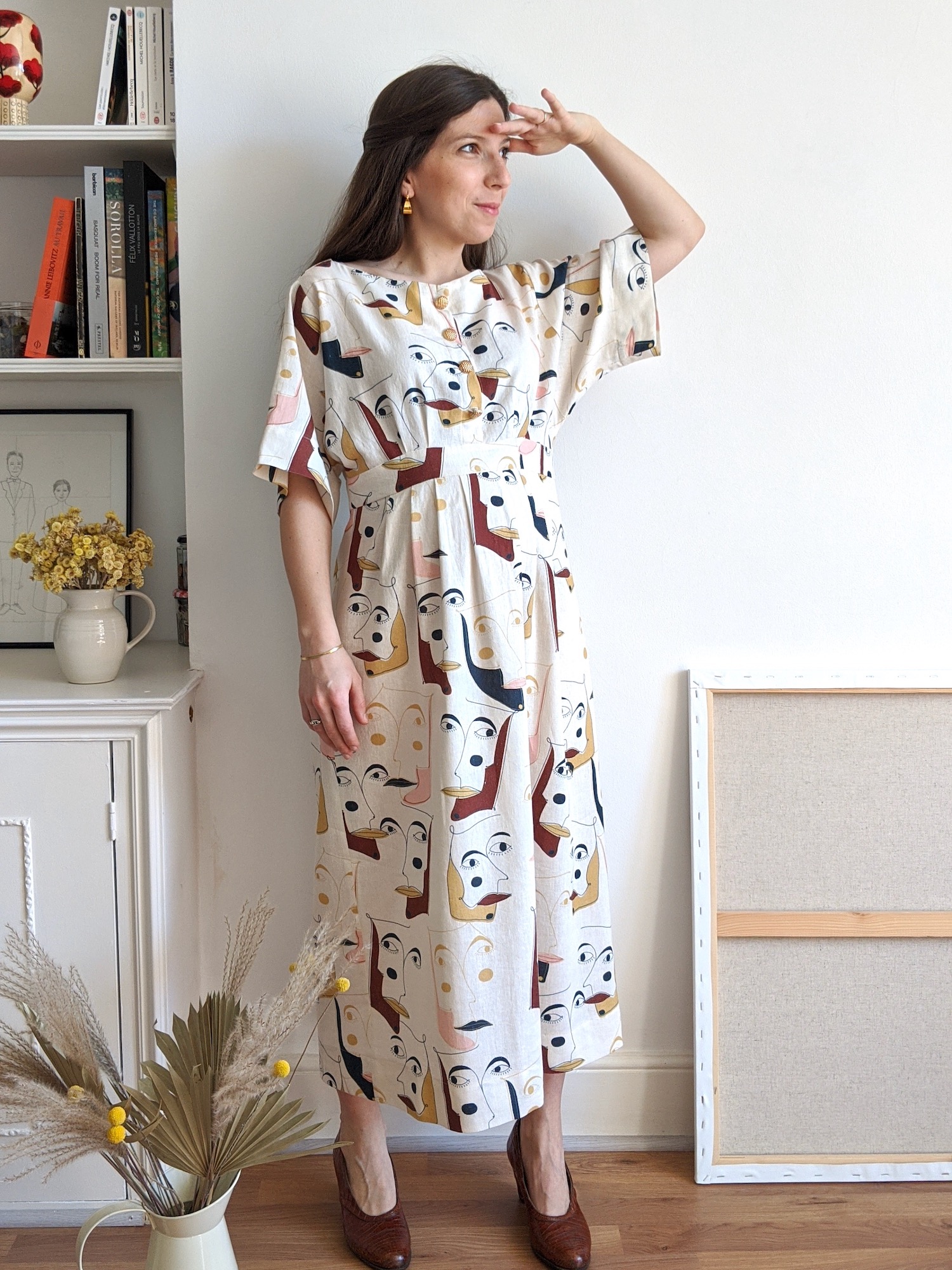 The Colette dress pattern
Here is Colette: a long empire style dress to wear during the hot summer days. It is extra comfortable with a loose fit, wide sleeves and a long skirt and can even accommodate a growing baby bump. Colette is a timeless and elegant dress and I just see myself wearing it all summer with sandals and a huge sun hat.

I made the Colette dress in a linen blend fabric (bought from Fabric Godmother). It is the perfect fabric for summer, and this print just makes me happy!

My measurements are 84-78(it grew since the Lucette pics!)-91 and I am still 1.58m tall. I made the size B with no alterations.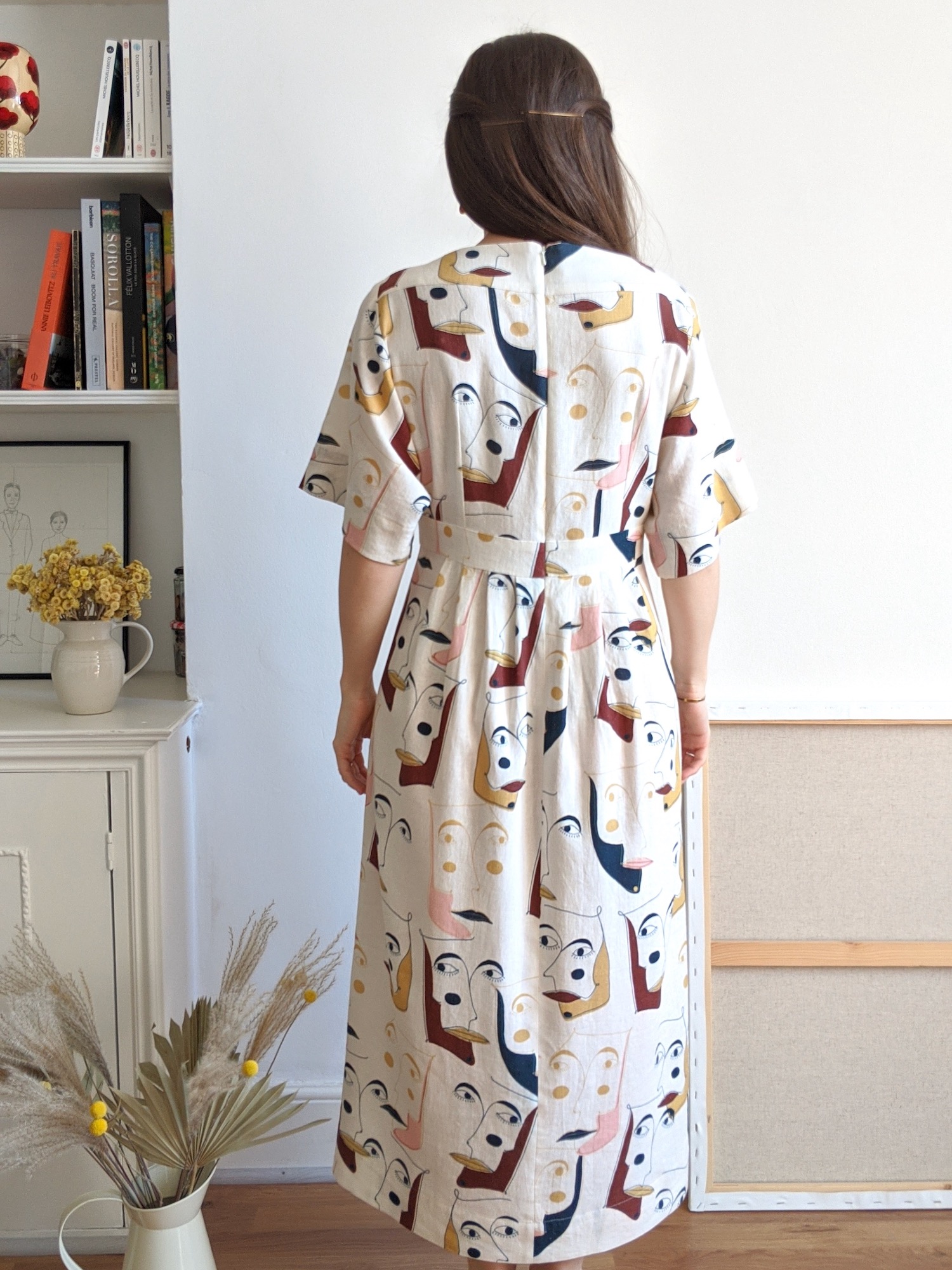 The Colette blouse pattern
The Colette pattern also comes as a blouse. Simply cut the pattern pieces following the blouse cutting lines to get a hip length top. As a blouse, Colette is a very elegant yet versatile garment. Wear it with jeans and sneakers for a weekend look or with suit pants and heels for a chic outfit. Or go in the middle like me, with comfortable trousers and heels, for a relaxed and chic look!

I made this Colette blouse in a cotton poplin fabric (which I bought in a shop in Porto, Feira dos Tecidos). Also a perfect fabric for the Colette pattern, it has slightly more structure than the linen blend.  

My measurements are 84-78(growing baby bump)-91 and I am 1.58m tall. I made the size B with no size alterations.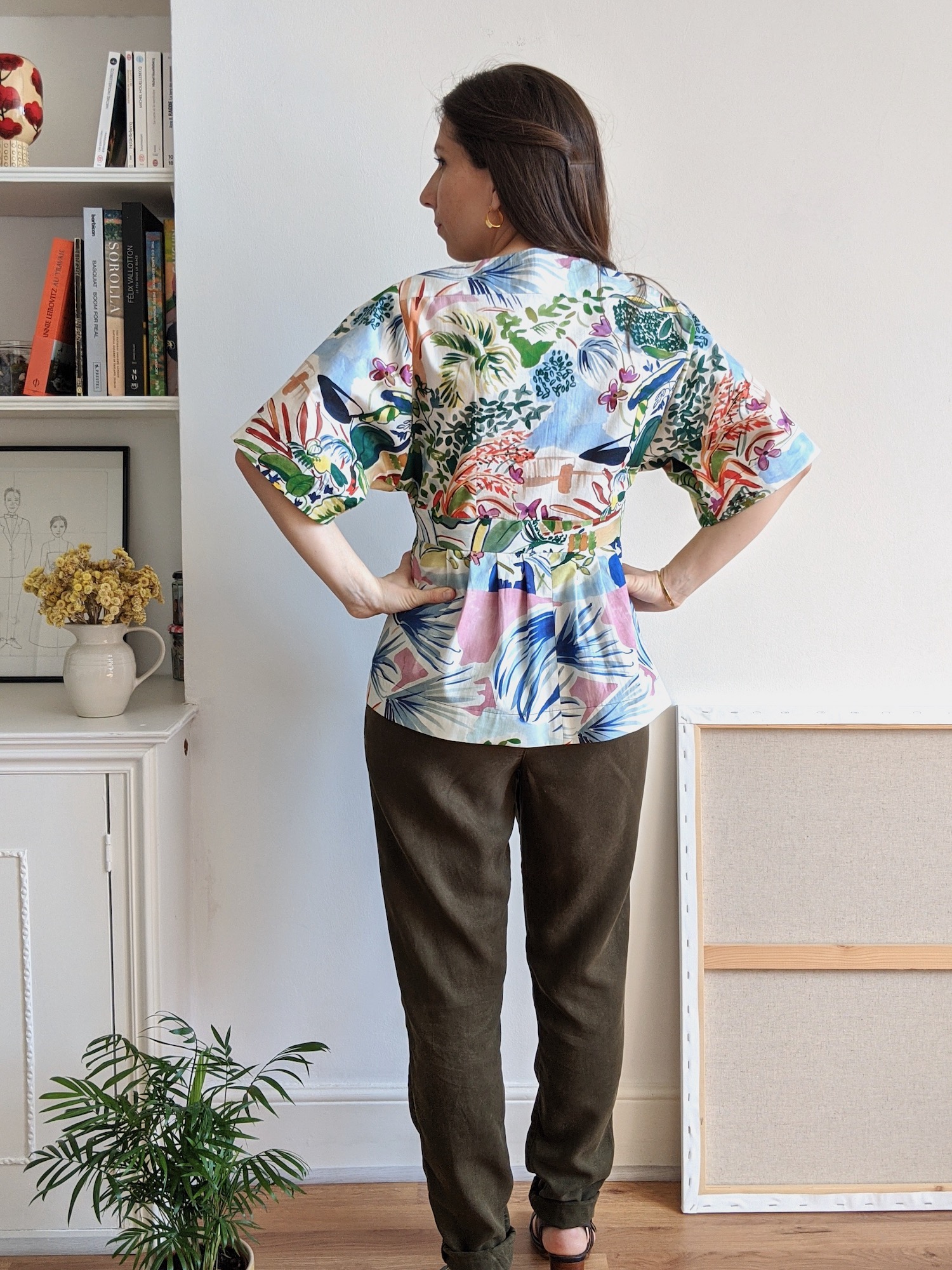 Colette is now available
This elegant dress and summer blouse pattern is now available to purchase. Click on the image to buy it!