Blouse and dress pattern – LUCETTE
Blouse and dress pattern – LUCETTE
With a slight vintage touch, Lucette is a classic blouse and shirt dress with a comfortable fit, yet perfectly "en vogue". Its little balloon sleeves give it an ethereal and feminine appearance while its revere collar opens the top on a beautifully shaped and easy to wear neckline. On top of jeans or tucked in a high-waist skirt, Lucette is timeless and adapts to all styles. 
The pattern includes:
the A4 pattern (24 pages);
the US letter pattern (24 pages);
the A0 pattern (2 pages);
a step by step instructions guide with detailed hand painted illustrations (12 pages).
All PDFs allow you to print the size(s) you need thanks to the layer functionality in Adobe Acrobat Reader.
Level: intermediate
The Lucette pattern includes a revere collar, sleeves and buttonholes. There are bust darts, and gathers at the sleeves. A glossary is available on the website at www.camimade.com/glossary. 
Measurements table (cm inches)

Height: 1.65m / 5'5"
Finished garment measurements (cm inches)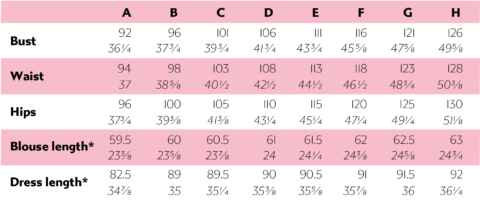 *Length between the shoulder neck point and hem (once sewn)
My measurements
Bust 84cm (33″) – waist 75cm (29 ½") – hips 91cm (35 ⅞") – 1.58m tall (5'2"). I made all the samples in size B.
Suggested fabrics (m yards)
Light to medium weight fabric, with a subtle balance of draping and structure : cotton poplin, cotton lawn, coton sateen, soft linen,  chambray, etc.   
For the blouse samples, I used cotton dobby, washed linen, and for the dress washed linen.
Blouse
150cm / 60" wide fabrics:

 1.50m / 1 ⅝yds
115cm / 45" wide fabrics:

 2.20m / 2 ⅜ yds
Dress
150cm / 60" wide fabrics:

 2.10m / 2 ¼ yds
115cm / 45" wide fabrics:

 2.70m / 3 yds
Notions
– Four 1.5cm / ⅝'' buttons for the blouse and seven buttons for the dress
– Interfacing, lighter than the fabric: 70cm x 115cm / ¾ yd x 1 ¼ yd for the blouse or 1m x 115cm / 1 ⅛ yd x 1 ¼ yd for the dress

 
Ressources
>> Discover tips to sew the Lucette pattern
>> Discover how I designed the Lucette pattern
Only logged in customers who have purchased this product may leave a review.