In this post, I am sharing a few tips to help you make the perfect Lucette, from fit advice to fabric suggestions. 
Sewing level
First of all, the pattern is for intermediate level. I would say that some details require a bit of experience like attaching the collar or gathering the sleeves. However this is not impossible for fearless beginners, especially because the instructions I provide with the pattern are very detailed and thoroughly illustrated. 
Plus, you can easily replace buttons and buttonholes by snaps if you don't know how to do the buttonholes!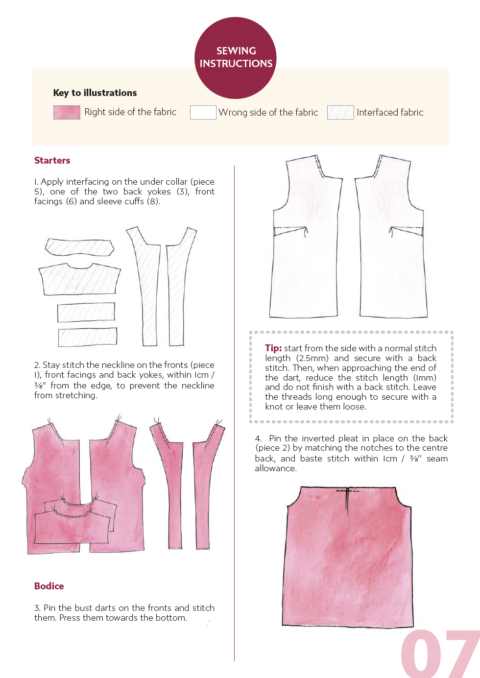 The fit
The measurement table and finished garment measurements are available on the pattern page: click here.
Regarding the fit, the Lucette pattern is rather loose so it won't require a lot of fitting adjustments. There are only a few points you might want to check on the pattern before cutting your (favourite) fabric.
First of all, check the bust darts position in comparison to your bust and move them up or down if needed. If you move the bust darts, also revise the position of the buttons. The first button has to sit across your bust. The pattern is designed for a B-cup size, so you might want to do a full bust adjustment if your cup size is different, but check with a toile first because the fit is loose.

 
Then, check the length of the pattern and compare it to what you want. I am saying that especially for the dress, because I know that it might feel a bit short for some of you! I design my patterns for a 1.65m / 5'5'' height person, so this is something to bear in mind. When measuring the pattern pieces, remember that the pattern includes 1cm / 3/8'' seam allowances and a 2cm / 3/4'' hem.

 
And finally, a little detail but an important one for comfort, check the width of the sleeve cuff compared to your arm circumference just above the elbow. You don't want it too tight. Remember that 1cm / 3/8'' seam allowances are included.

 
The fabric
The pattern is for woven fabrics. Any fabric that is good for a shirt or a shirt dress would be good for the Lucette pattern. The fabric should be light to medium weight with a subtle balance of draping and structure.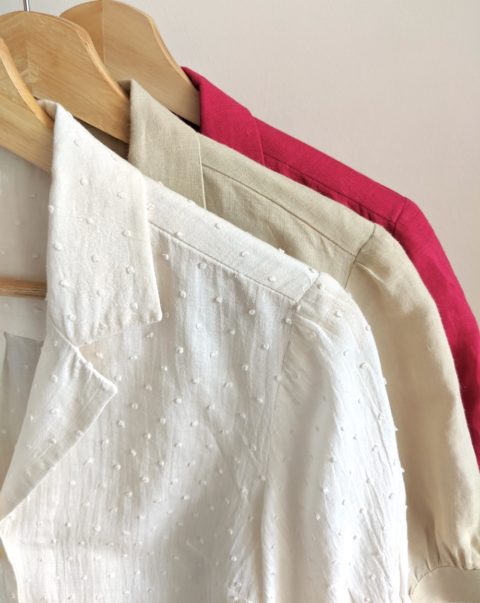 Here are a few fabric suggestions: 
Cotton Lawn
Cotton Dobby (I made one of my samples in this fabric that I bought at Sew Me Sunshine)

 

Chambray
Cotton poplin
Linen (I made the 2 other samples in linen)

 

Cotton sateen
You could also go for some broderie anglaise fabric. However, it might be more difficult to sew because it can get bulky in some areas like the collar. 
In addition, I am not putting crepe fabric in my recommendations: I think it will not give the sleeves the volume they deserve. But if you go for this kind of fabric, it will still work and will just have more drape. 
Let me know if you have any questions regarding the Lucette pattern, I will be happy to help and complete this post!
Order the pattern here: