The Mirage trousers are relaxed and simple trousers made of a big wrap, creating an original opening/closing feature. Cut at the ankle or longer to wear with heels, these trousers can be very stylish in all seasons.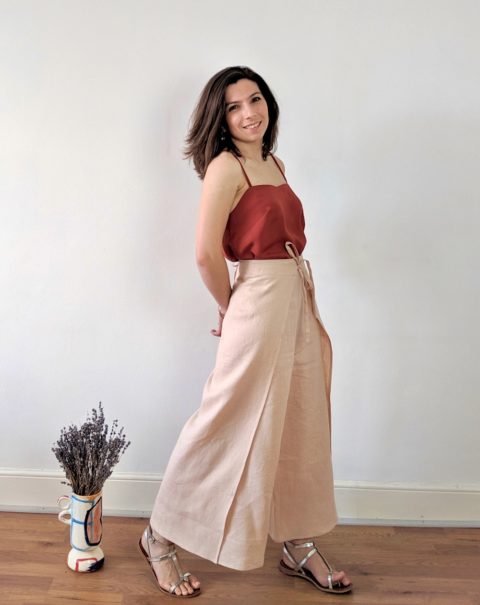 I am often told that they are Thai pants, and they look like the Thai fishermen pants indeed. I have lived in South East Asia for 6 months. It has been a key moment of my life so it naturally impacts my creations. There, you can find this type of trousers in tourist shops made in poor quality fabrics and sewn with a long stitch length, they are quite cheap. With this pattern, I am making this shape available for you to make you own sustainable Thai pants.  
A trousers pattern for beginners
The Mirage trousers pattern is ideal for beginners because there is only one main seam ! Well, there are also darts, a waistband with ties and hems all around. 
However I like to insist on the single seam because this is a little reference to Cristobal Balenciaga who created the concept of a coat made in a single seam.  
An original opening/closing system
The trousers ties both at the front and at the back. 
You can attach them first at the back and then at the front: the wrap will therefore be visible at the front.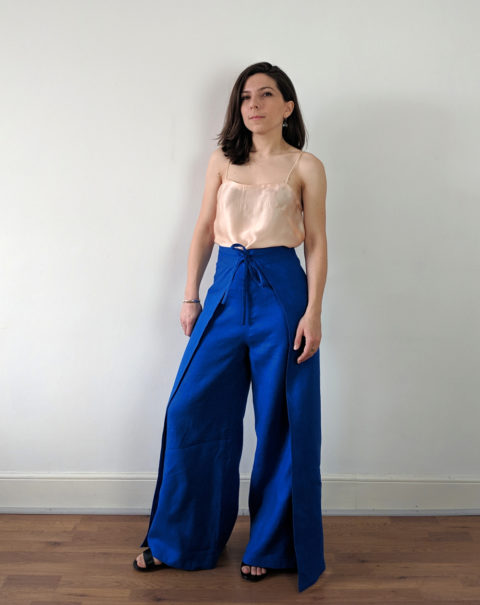 But you can also attach it first at the front and then at the back: thus the wrap will be visible at the back.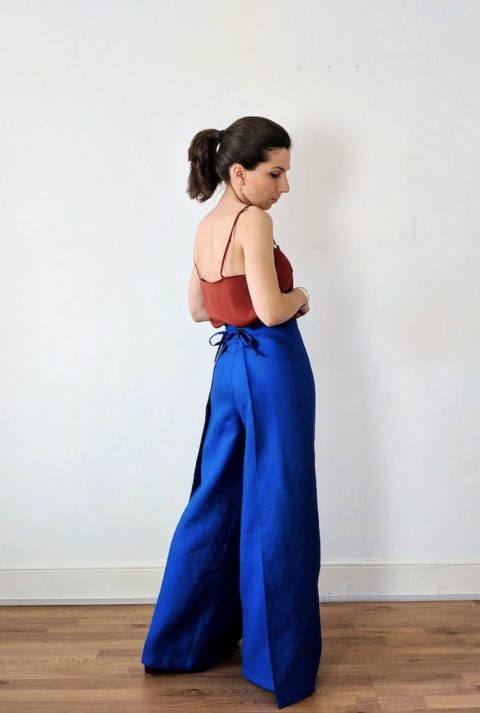 The first time I wore this kind of pants, I was quite surprised by this strange opening/closing system. It is rather uncommon! I was wondering if it was going to be an issue to go to the bathroom for instance, but in fact, when you are used to wear jumpsuits, well, it is not worse! 
Perfect trousers for the summer…
The shape is simple: the front and back are identical and a dart is located on each side so that the trousers fall nicely on the hips.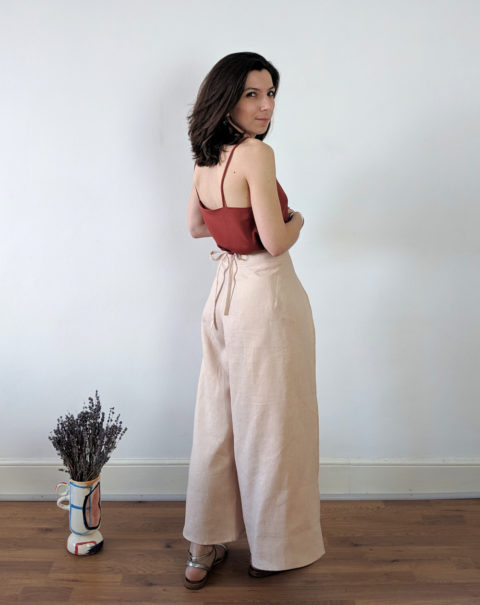 The wide legs provide high freedom of movement and comfort. While covering the legs, the overlapping panels allow a lot of breathability, especially welcome during hot days. If the trousers are made in a breathable fabric like linen then it is even better! 
…but also great for winter !
One day I had an idea! Sew the Mirage trousers in a tartan fabric and wear them with opaque tights for winter. I waited to find the right fabric for the project and here is the result: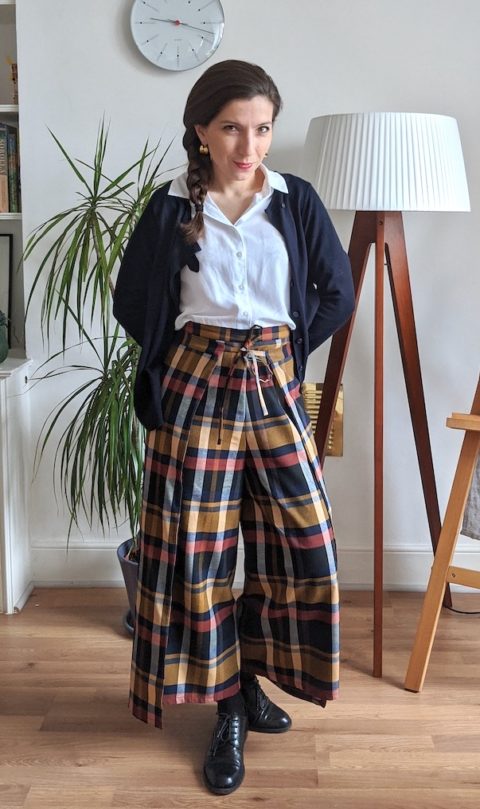 It looks so much different! Are you convinced by this winter version? 
For a version made in a heavier fabric like this, I recommend to increase the seam allowances of the sides and bottom of the legs so that you can make a wider hem. 
How to wear the Thai pants ?
How to wear the Thai pants without looking like a backpacker? Haha, I swear I have nothing against backpackers, and I love trekking with a backpack for a few days myself! But when I am not trekking I like to dress more elegantly. 
I think these trousers can really become stylish depending on which fabric you choose, and how it is styled. 
For summer
For summer days, I recommend to go for natural fibres like linen for many reasons: comfortable and soft fabric, breathable, sustainable, and I think linen looks very elegant even though it creases easily. I wear the Mirage trousers with a 3/4 sleeve jumper or a simple t-shirt and mules.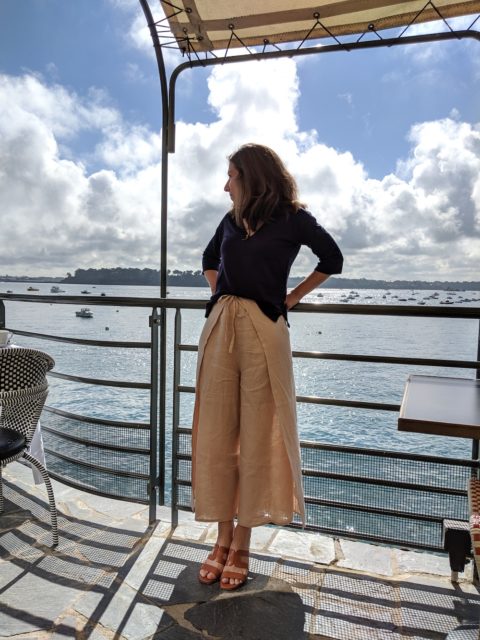 Polly, one of my pattern testers made them as shorts in a wax printed cotton. Check them out: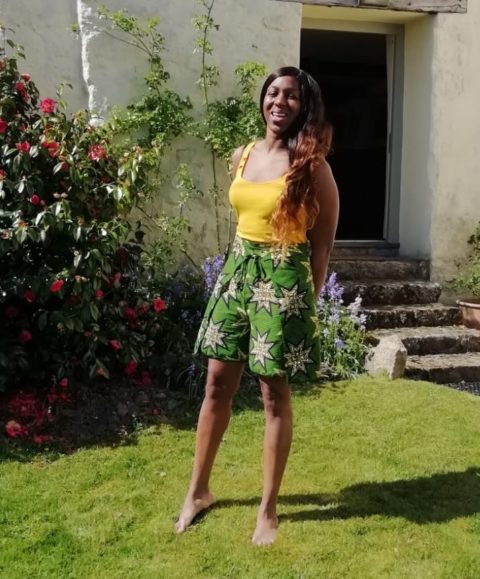 US Thread magazine made it in a printed polyester challis, and suggested an association with a cami top, sandals and a hat! I love how a nice print can look really summery. https://www.threadsmagazine.com/2020/02/19/pattern-review-camimade-mirage-culottes-and-trousers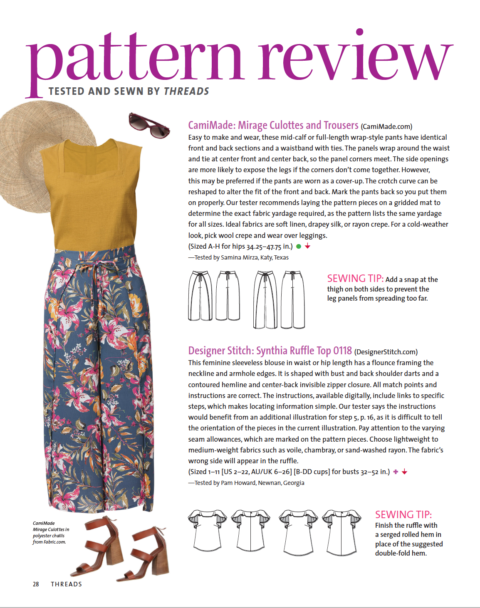 In winter
For the cold season, you can go for a tartan fabric like I did or a woolen suiting fabric for business woman touch (I will maybe make it like that next year!). Wear it with opaque tights, Oxford shoes and a white shirt for a schoolgirl look or with Doc Marteen's for a more grungy look!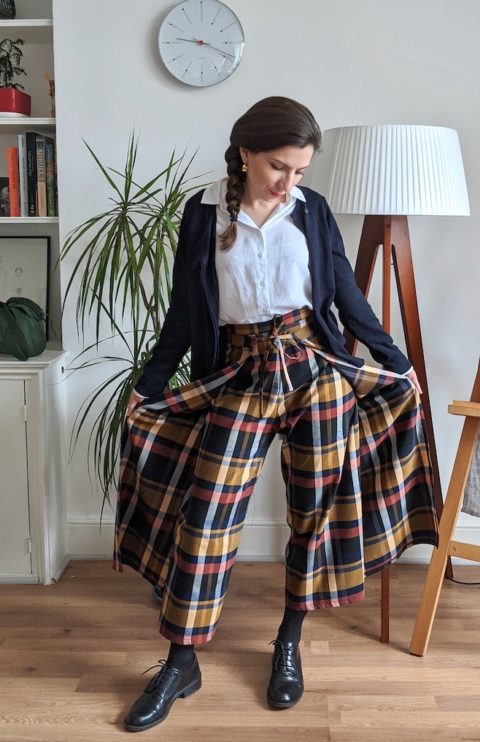 How would you wear it?
Go to the shop to buy the Mirage trousers pattern!