Hello!
In this blog, I am sharing the things I made in July! July 22 was very hot in London (probably like everywhere else), and it has inspired me a few summer makes that I wanted to take with me on my summer break. This month I have exclusively sewn with my own patterns, new and old ones.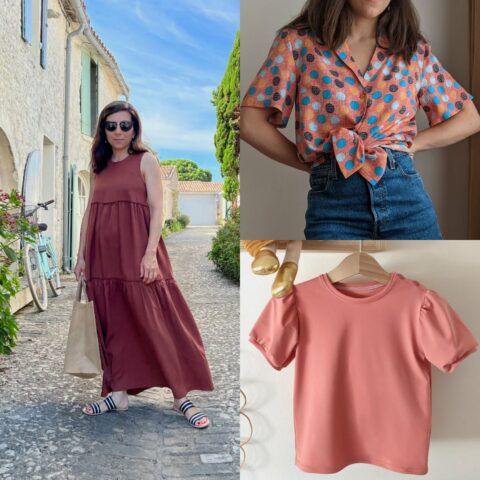 A Lucette shirt hack – Camimade Patterns
The Lucette pattern is already 2 years old but it hasn't aged! This year I wanted to make a lightweight shirt for the summer, with straight sleeves and without cuffs.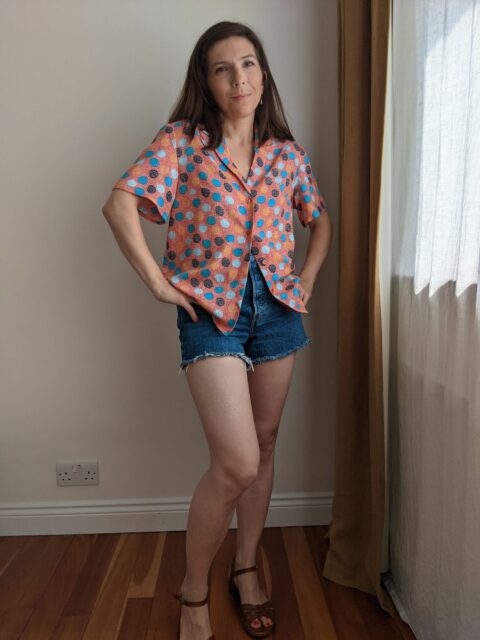 For this shirt, I chose a viscose in a fun and colourful print, which looks pairs well with blue denim shorts or trousers. I found this viscose remnant for £1,99 at Rainbow Fabrics, my local fabric shop. I have some left, and I'm thinking of cloning the shirt in a mini size for my daughter…
I am very happy with how it turned out! I am tying a knot at the front to mark the waist and look a bit more summery. I feel strong Baby vibes, if you've watched Dirty Dancing, you know what I mean! I just need to wear it with white tennis shoes to get closer to Baby's look.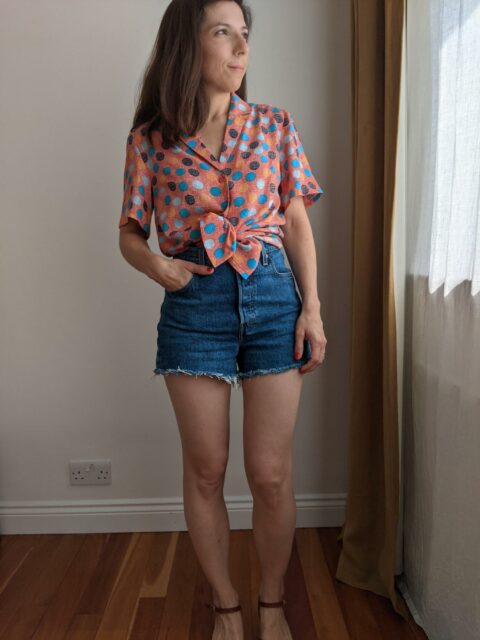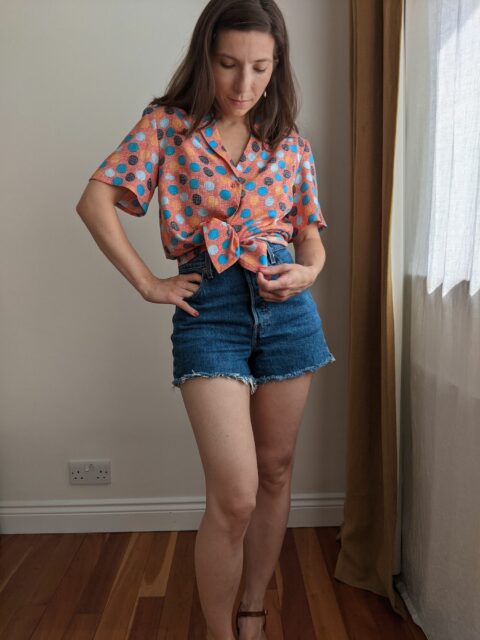 A maxi dress – Camimade Patterns (not available)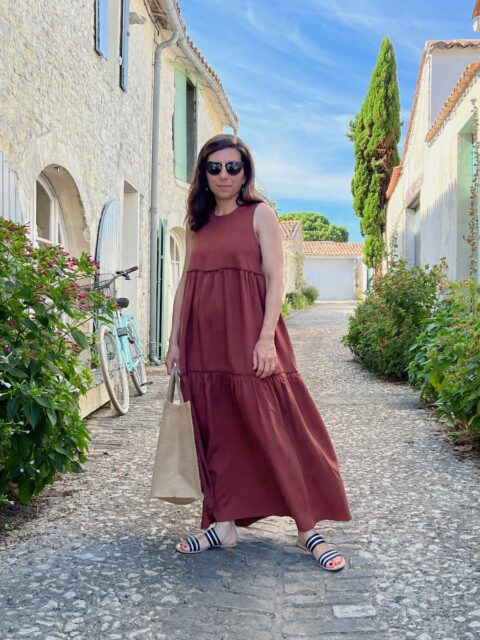 I made this pattern during my pregnancy 2 years ago and I had sewn it in a polka dots viscose. I loved this dress and I wanted to make another one in another fabric to see how it would look.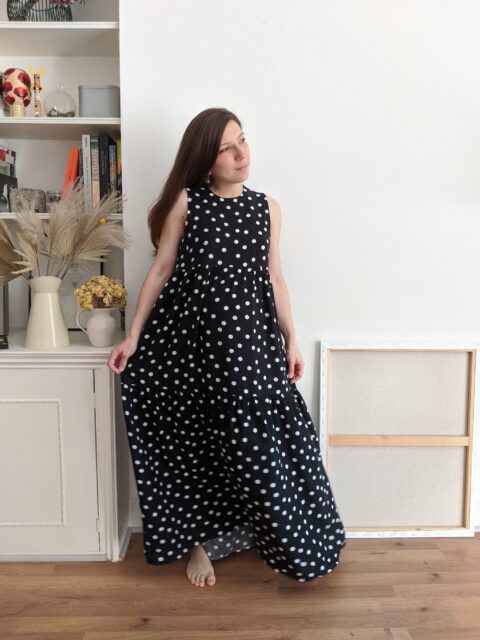 I am not sure tier dress are still on trend, but who cares, I think maxi dresses are timeless! I have made this one in a linen Tencel mix I bought from Merchant & Mills (the colour is called "Josephine"). If you like this dress, unfortunately the pattern is not available on my website, but it might be next year, before the summer! If you are patient enough, you might have it one day!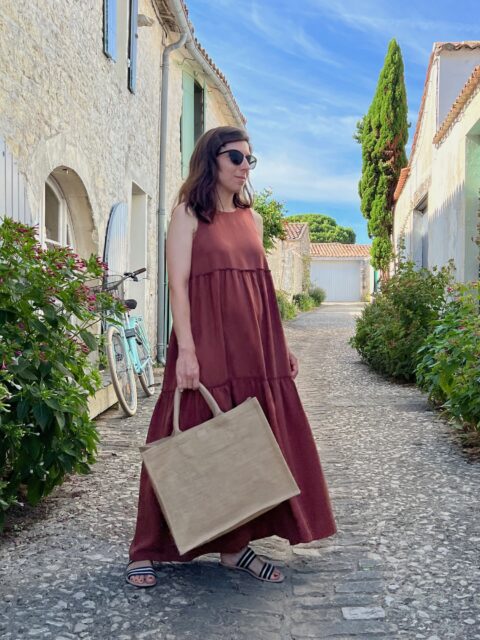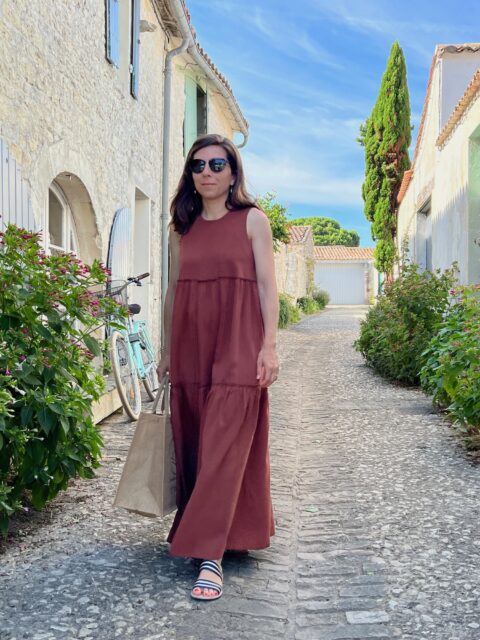 Instead of sewing each panel right sides together with each upper part, I have sewn them with the wrong side facing the right side of each upper part, so that we can see the rolled hem as a decorative feature. I wasn't sure I would keep it this way, because I thought the rolled hem was a bit too dask compared to the fabric, but after wearing it, I am glad I haven't changed anything.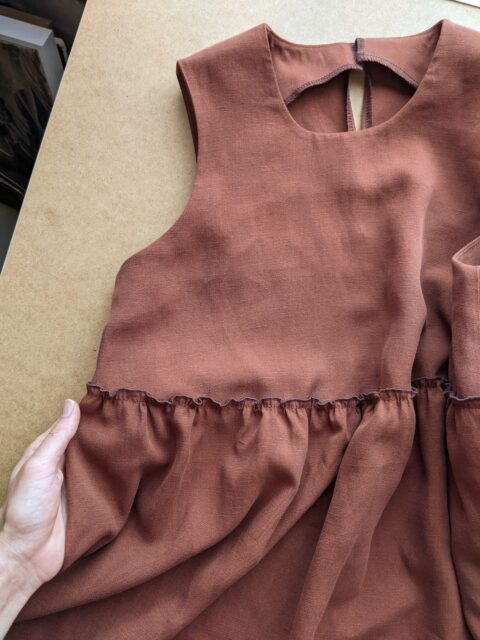 A swimming Nuage Mini t-shirt – Camimade Patterns
Last but not least, I have sewn a mini swimming t-shirt for my daughter with the Camimade Nuage Mini pattern in size 2 years.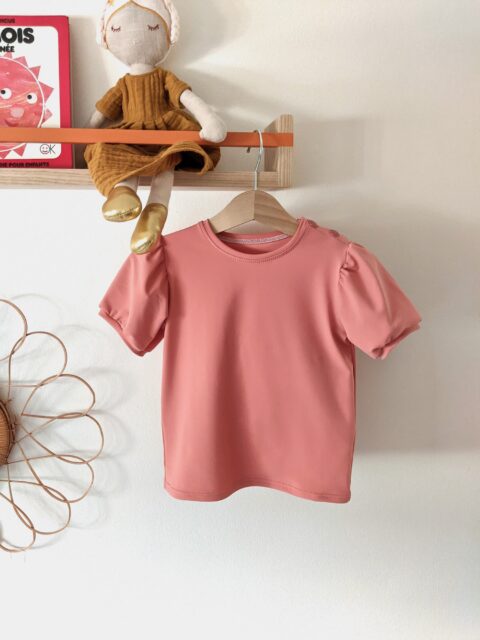 To be honest, this project didn't come to me directly. I looked for swimming shirts with sleeves, to protect the skin of my daughter, but I didn't find anything nice on Vinted, Marketplace, or even in the new market…so I thought, why not make it myself, and why not use the Nuage Mini?
I found the fabric on the Sew Me Sunshine website, a recycled nylon (called "Econyl") in a beautiful peach colour, and I am so happy I made it for her. I have a lot of left over fabric, so I can make something that matches my daughter for me! Next year…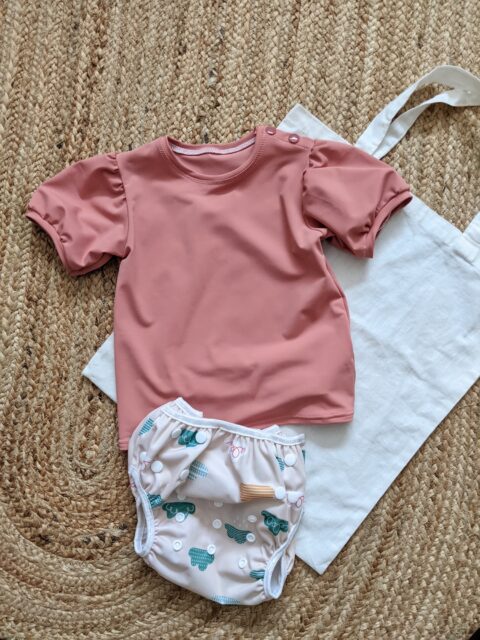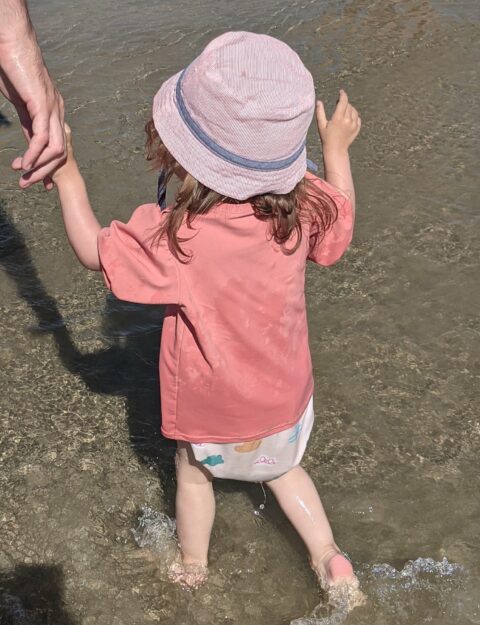 My daughter isn't 2 years old yet and she is small for her age, so the 2 year old size is a bit big for her, but it will last longer. In any case, the Nuage Mini has protected her shoulders from the sun and she had a lot of fun in the water with it.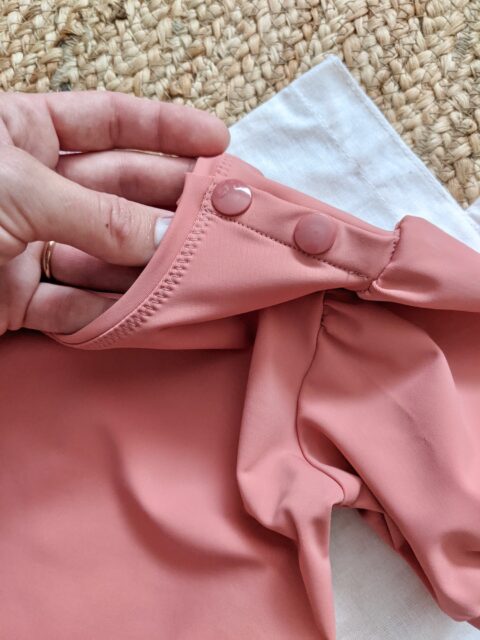 I made a zig zag stitch to flatten the neckline seam allowances, and I didn't put the bias at the back neckline unlike the pattern suggests, since I thought this was unnecessary for a swimming kind of garment.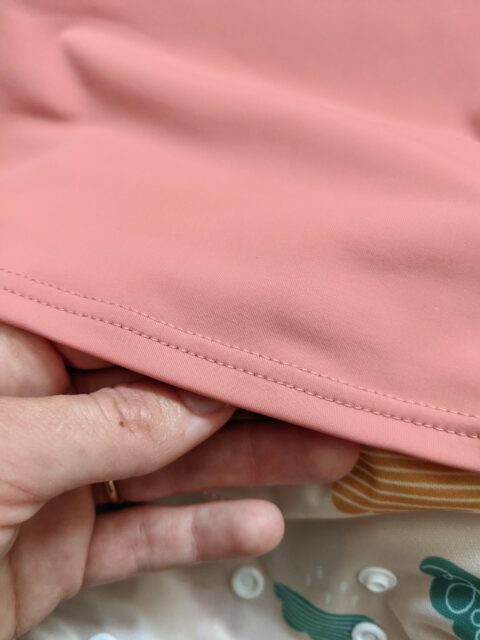 So there you have all my July makes! I hope you enjoy this type of blog. Let me know in the comments what you think and see you next month. 🙂