Hi everyone!
Let's get started with serious topics. This first post is about the last thing I've sewn: a winter coat.
I've already got a few winter coats that I love, but since a while, I've been thinking a lot about sewing my own coat. I wanted it long, in thick wool and navy blue. So it was very precise in my head!
I first started by looking at the coat patterns, and I came across two patterns that I liked, the Burda Style Super Easy 6736 and the Very Easy Vogue V9136. I think it was the mustard yellow that made me like them both! After a bit of thought, I chose the long version of the Vogue with pockets, which I loved the high collar, the buttons and the caban style.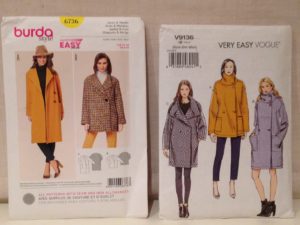 For the fabric, I had a little more trouble to find it because I had a specific idea in mind. However it is during a weekend in Paris that I found my happiness at Coupons Saint Pierre, with a 3m dark blue fabric piece, 80% wool and 20% polyamide, very thick as I wanted.
That's when things got tough … Yes, because it was not as Very Vasy as Vogue said it was!
The fit went wrong, and it is during the first fitting at a well advanced stage of construction that I realised that there was 4 additional centimeters on all seams. So of course, one can draw lessons in this case, and it is clear that I will make a toile for a future project of this type! I was a bit disappointed about the pattern because there was not enough precisions about the size.
On the other hand, the pattern did not include instructions to add a lining. I wanted to make one, but I never did one before, I learned. I watched online tutorials, and I practised on an old coat that needed a new lining anyway. After all, it wasn't as difficult as I thought…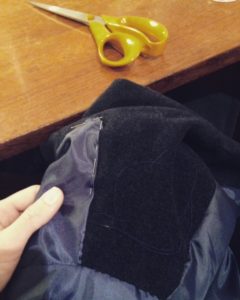 In addition, I had quite a few doubts about the style when making it:

the length I wanted didn't go really well with the shape, it was a little bit like Anastasia (before she knew she was the Tsar daughter)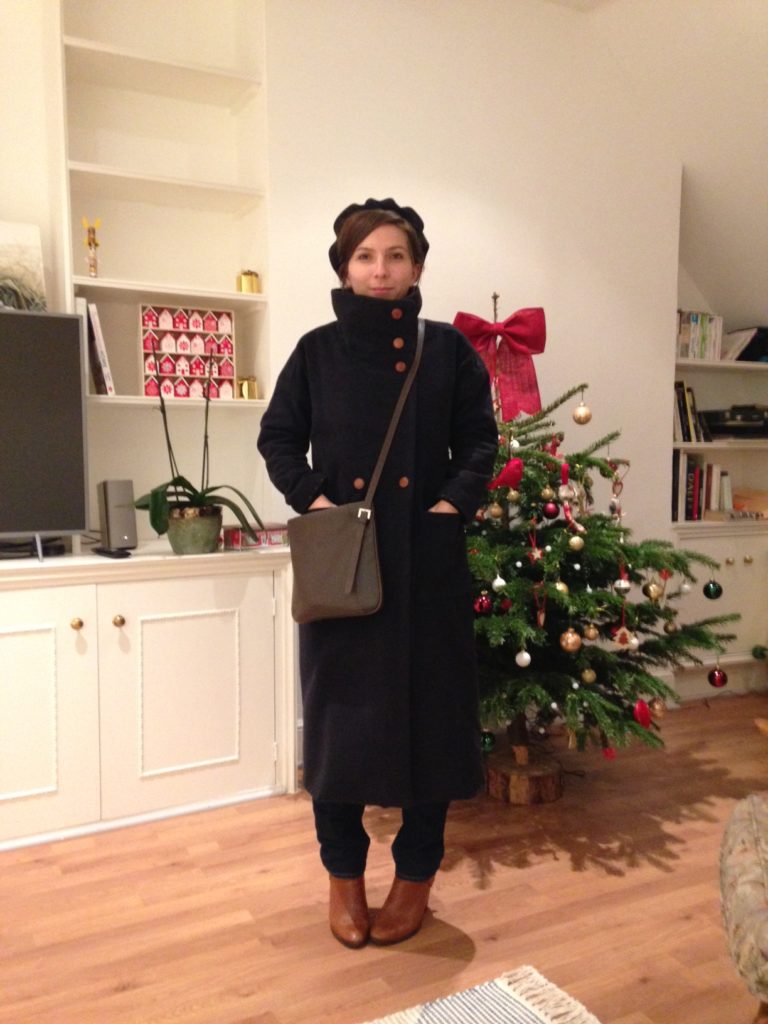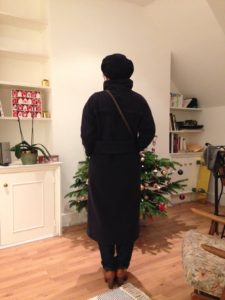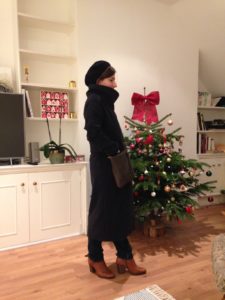 the fabric had a different texture and a more or less dark color on each side. I chose the darkest side as the right side of the fabric, and I realised far too late that it was also a side which appearance was a bit like fleece! So at this point, with the loose fit, the length and all that, the coat looked like a dressing gown…

the rather thick back belt which was also loose in the back added to the "dressing gown effect".
Finally, during the buttonhole step, I thought that my machine was going to give up because of the thickness. My first tests with the automatic buttonhole stitch were disastrous. Then I tested the manual buttonhole and, it worked I don't know why!
Despite all these adventures, after the adjustments, shortening of the bottom, and the adding the wooden buttons, I am really happy with the result! After a month and a half of work, since I finished it last weekend, I cannot go out without it. It keeps me warm and is already my favourite ally against cold temperatures!