Here are the 5 essential tools to start sewing
When you want to start sewing, you don't really know where to start, and especially in terms of tools. You wonder what the essential tools are to get started. Plus, you don't necessarily want to buy everything at the start, firstly because it's quite an investment and then because you might want to be sure that you really like it. So what do you really need to buy to start sewing?
Like any craftsman or maker, the dressmaker needs to buy essential and good quality sewing tools in order to make beautiful things. In this post, I will share with you the 5 essential tools that will be enough to get you started with sewing.
1. Good scissors to cut fabric, and only fabric.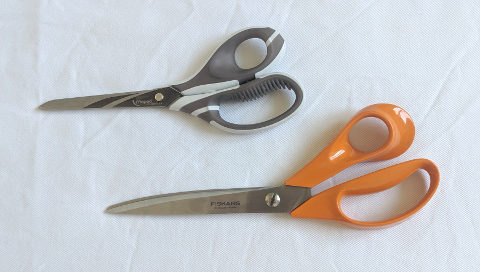 In order to sew beautiful clothes, it starts with a spot on fabric cutting and to make this happen you will need perfect scissors blades. An excellent pair of scissors is an absolute essential for sewing, anyone will tell you.
The best way to keep your scissors in good shape is:
To be the ONLY one to use them. Indeed, a pair of scissors is like an ink pen, it gets used to to your unique and inimitable hand.
To cut fabric ONLY… Using your scissors to cut paper would damage the blades, believe me, it only takes a second (I experienced it, and my little brother still remember!).
Take yourself for a Savile Row tailor with your scissors, they are sacred and precious. They can cost a bit too!
Personally, I have had Fiscars scissors for 5 years and they need a bit of sharpening, but I am overly satisfied with them.
In return, the number one essential tool hides a number one A: you must have another basic pair of scissors to cut paper and other material, but anyone has this at home.
To go further but not essential: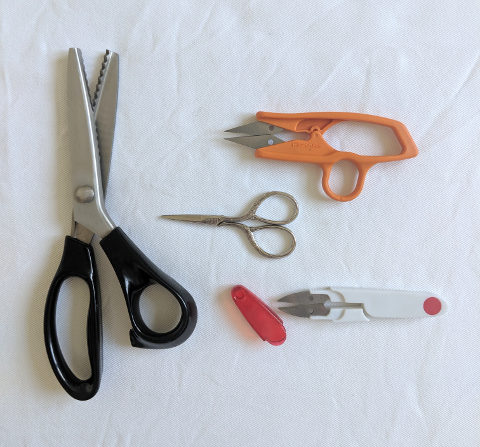 a small pair of scissors, like thread scissors or snip, is useful to keep close to the sewing machine in order to cut threads as you sew. I have mines, Fiskars again, since I started sewing and they are like brand new.
At the beginning I was told to buy a pair of pinking shears to make nice finishes, but I used them only once, because I prefer to make finishes with zig zig stiches.
Alternative but not a replacement: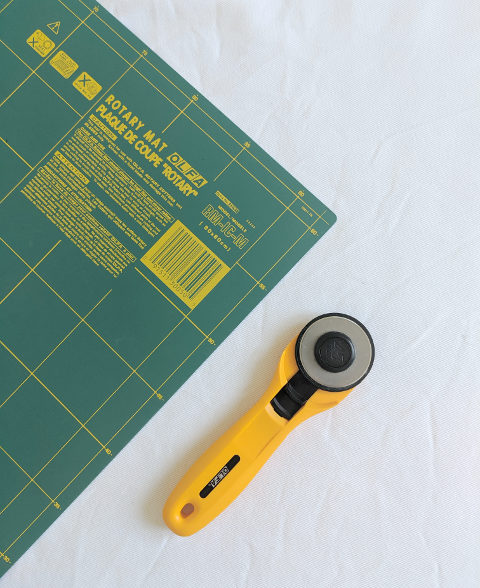 Not long ago, I acquired a rotary cutter and a cutting mat and I can't do without them anymore! It's more expensive, more dangerous, and it's never going to replace traditional scissors, but they are so good!!
2. Needles and pins, careful it's prickly.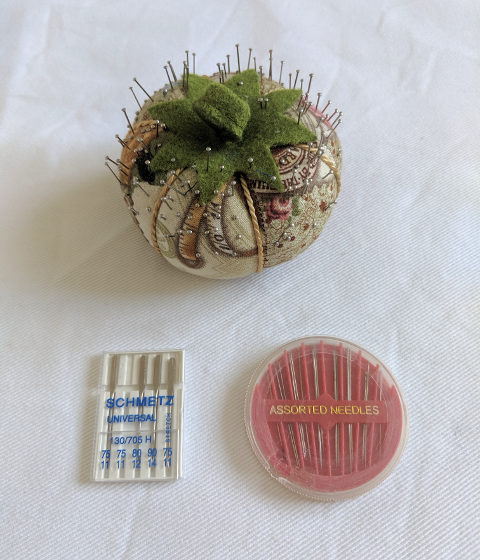 Pins
Essential to put your fabric pieces together before sewing them, you must have pins. My mother gave me one of her pin boxes when I started sewing and I still use them. They are the common type, average size and thickness, without fancy heads, and they do the job. I've got a good amount of them in my pin cushion, so they are always at hand.
To go further but not essential: 

For one of my latest projects, my wedding dress, I bought special pins for delicate fabrics like silk and chiffon and I put them on another pin cushion to keep them separated.
Alternative : you can find some clips like clothes pegs. My mother in law offered me some and they are quite useful to deal with heavy weight fabric!
Needles
To start your sewing journey, you will need needles for your machine (most of the time your machine comes with a bundle of needles), and hand sewing needles. Indeed, some projects require hand sewing, and it's always nice to learn how to sew by hand. Choose a bundle of needles with different sizes and thicknesses to start with.
To go further, but not essential: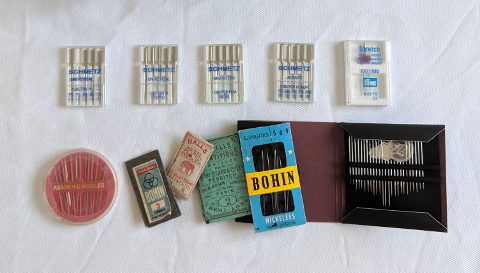 Depending on how you progress with sewing, and depending on your sewing projects, you will need to buy machine needles of different sizes and types, for specific fabric types (jersey, thin fabric, denim, etc).
3. The seam ripper, your BFF.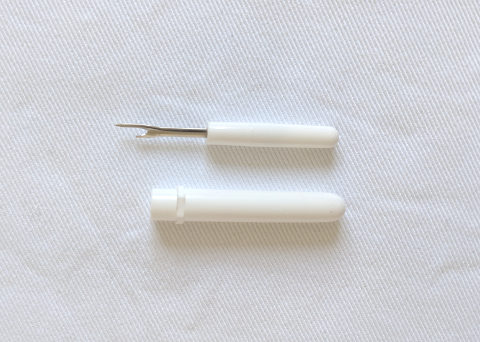 We love this tool even if sometimes we hate having to use it. It is essential for beginners, and for any seamstress actually, I call the seam ripper! Mine was provided with my machine, but if you don't get one with yours, then buy one! Small but precious tool, it allows you to unstitch quickly when a mistake has been made. It is also used to open buttonholes.
I have got only one and it's still working fine after 7 years of consistent use!
4. The tape measure, your new necklace.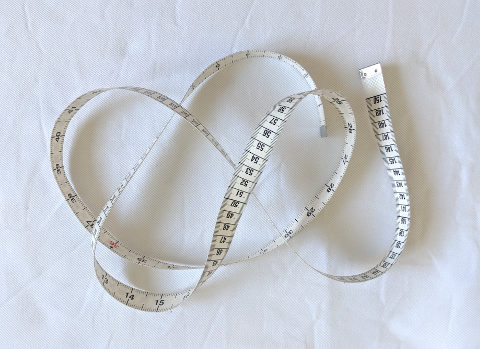 If you sew clothes, one of your essential tool will always be hanging around your neck: your tape measure. It is useful all the time, to take measurements, to measure your pattern pieces, measure your seam allowances, etc. It is actually quite difficult to list everything it is useful for, you will just need it all the time from cutting your pattern, to machine sewing, pressing, etc. You will find yourself sleeping with it if you're not careful, you will loose it in every room, and you will have your habits with it, wearing it in a way rather than the other, etc.
I have got several tape measures I had in different sewing kits, but there is one that I prefer for its flexibility so I use it all the time.
5. The sewing machine, both beauty and beast.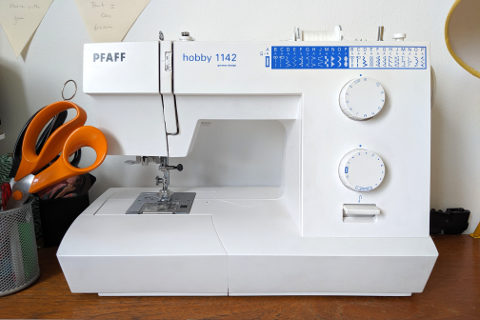 I kept the biggest essential tool for the end, because there is a lot to say about it! It is your favourite toy, your best friend, sometimes it can be your worst enemy, with your sewing machine, it is a real love story. You have to take care of it, cherish it, help it in difficult times, and cajole it.
But before enjoying the relationship, you have to choose it well…I will probably make a single post on how to choose your sewing machine because there is a lot to say but here I will say 3 things.
Try a few sewing machines before buying your own.
It doesn't cost anything and it enables you to see how different machines behave. I am not saying you should sew a whole garment, but see how the pedal respond when you make a straight stitch for instance. You certainly have a friend or an aunt who has got one, if your mother or grand mother doesn't have one?
Make your wish list
Go on internet and compare the different machines and their functionalities. Try to imagine what you want to do with your machine, by learning what they can do.
Pick a brand you trust
Ask around you, go to forums, talk with sales people and take your time, this is an important purchase.
I have had my Pfaff sewing machine for 7 years and I am extremely happy with it. It has not let me down once. I think it was 350€ at the time.
To go further but not essential: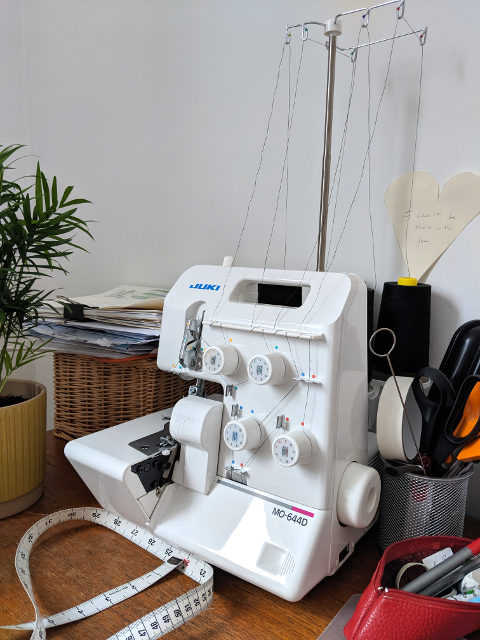 An overlocker or serger enables you to make beautiful finishes to your garments. I bought one this year and it's a game changer. However I have been sewing without for most of my sewing life, so it is not a must have to start sewing.
To conclude, 5 tools are absolute essentials to start sewing clothes: a sewing machine, a pair of fabric scissors, pins and needles, a seam ripper and a tape measure. So when do you start?