Hello everybody ! This year (2023), I am embarking on the creation of a small dye garden to create my own natural dyes. Indeed, I would like to dye fabrics, threads, and wool skeins. My goal is also to transform our garden, which is a little too mineral for my taste (entirely paved), into a more lively and colorful garden! Into a real garden! If you want to follow this adventure from A to Z, it will happen in the form of a series of articles on my blog and in stories/publications on my Instagram page @camimadepatterns. It's spring, so it's time to get started.
In this article, I talk about 1. why I want to grow dye plants, and 2. how I documented myself on the subject.
Why do I want to create a dye garden?
It's an accumulation of things I have read, seen, heard, as well as facilitating factors that made me want to get started. Not necessarily in order, here are all those things and factors that got me interested in growing my own dye plants…
An inspiring read
I came across this book by chance in a fabric store a few months ago and I immediately liked it. I wasn't sure what to expect, but the soft colors in the photos spoke to me. This book is about a reasoned and contemplative practice of hand sewing. This is how I interpret the expression "slow stitch". The author dyes her yarns and fabrics herself, thus placing her sewing in a reasoned and local approach.
The discovery of several Instagram accounts that inspired me:
I invite you to discover all these Instagram accounts if you are interested in natural dyes. There must be many more, but these are the ones that caught my attention.
Discussions with my dad
I often talk about gardening with my father. Or rather, I ask him a lot of questions and listen to his answers. He started his career as a horticultural gardener, and you just have to see his garden… He knows a lot about gardens and was curious and encouraging about my project. I know I can count on him if I have a question or two.
My interests
I recently have a growing interest in gardening. We've had a small garden since 2020, or rather a paved yard at the back of our house, but we haven't done much with it since we moved in. As our daughter is now older, I have a little more time to take care of the garden. I would like to make it more pleasant and visually interesting, because the block pavements are easy to maintain (although ours could use a bit of a refresh!) but it all looks a bit sad.
And then beyond the visual aspect, growing plants and harvest the fruit, the flower or the color, I find it fascinating!
However, you may ask yourself, what is the relationship with Camimade patterns and my job as a sewing pattern designer? I think I want to dye my own fabrics so I can use them with my pattern designs. As did the designer behind Ready to sew. Perhaps a need to discover the garment making process from (almost) A to Z. And simply a logical sequence, when you follow the steps of making a garment backwards: first the desire to sew your own clothes, then create your own patterns, then dye the fabric yourself. I may not go so far as to weave my own fabrics, or grow the fibers! But never say never… And finally there is a lot of curiosity, and a willingness to learn new things, so why not try to explore this creative avenue?
How to start a dye garden – gathering information
Ok very well, I want a small dye garden, but where to start? As with any new project, I always start by researching. So here are some resources I came across or looked up, read, and/or will use for this project. These are my resources, but I think there are lots of others (it is up to everyone to document themselves as they can / want!), and surely new ones that will be added during the project.
Books
A book about natural dyes
When I started to take a closer interest in this dye garden project, I looked for a reference book on the subject and this is the one I chose. I am not disappointed. This book is good because it explains the different dyeing methods. It contains a fairly well-done encyclopedia of dyeing plants and explains for each how to grow it, harvest its color, the recommended dyeing method, and the colors and shades you can get. You can almost do a search by color by quickly flipping through the pages, which I find very practical.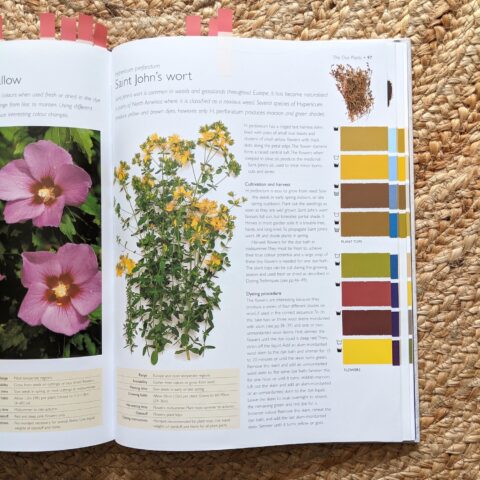 A general book about gardening
I've had this book for years (a gift from my husband <3), and it's my garden bible, full of practical gardening tips. It comes in the form of a calendar, with things to do in the garden month by month. It also contains a mini encyclopedia of common garden plant varieties, and explains how to grow each one (exposure, when and how to plant it, harvesting seeds, etc). This book will be useful to me throughout my project on the practical gardening aspects.
A book about small gardens
I found this one in my neighborhood library. A book full of lessons on small city gardens. It gave me some ideas for designing my little garden, to make it visually interesting. However, I try not to set the bar too high, because the gardens shown in the photos look like they were made by landscape gardeners (which will not be not my case, even with my dad's help) or have been done 20 years ago so they look very lush.
Blogs / websites
While searching the internet, I came across many sites / blogs offering lists of plants and flowers to grow to make your own natural dyes. There are really MANY, so there is plenty to read…
There are also many websites that explain how to do it. But personally, I prefer to follow the "recipe" on a book, because I always lose the website addresses I've visited…
Instagram
As I said above, it is an Instagram account that made me dive into the project. It was recommended to me by the algorithm (!), so this one is not so badly done. With @thedogwooddyer I discovered the names of a few dye plants, interesting reels on the dyeing process (below on madder roots). Liz also offers courses and teaches how to make your own dyes month by month, practice different methods, with great creative ideas to practice your skills. I will probably subscribe… 🙂
https://www.instagram.com/reel/Conv7CkKZOz/?utm_source=ig_web_copy_link
With all these resources at my disposal, the next step will be to choose the dye plants I will grow and I will talk about it in my next article! See you soon !