The #sewwaxlyrical challenge
Last month, I participated to my first sewing challenge on Instagram. The #sewwaxlyrical challenge was organised by Vicky (from the @sewvee account) and sponsored by different fabric stores and DIY community influencers.
The challenge was to sew a garment in a wax fabric in March and post pictures of it on Instagram. Vicky is a fan of wax fabric and I really invite you to visit her Instagram account @sewvee. She just sews incredible makes. What I liked about the challenge was that there was an entire month to participate. Short challenges put me off a bit. I just want to have fun…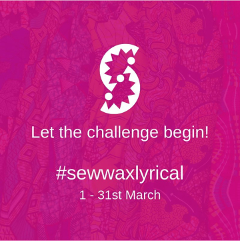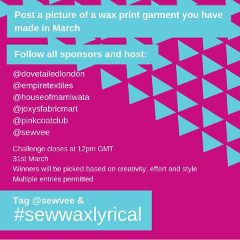 My wax fabric
I had a wax fabric for some time in my stash, a genuine Vlisco fabric from Holland. I was thrilled when I bought it but the print was so huge that I had to think hard to know what I would do with it, and I never really took the time to do that. So this challenge was a great opportunity !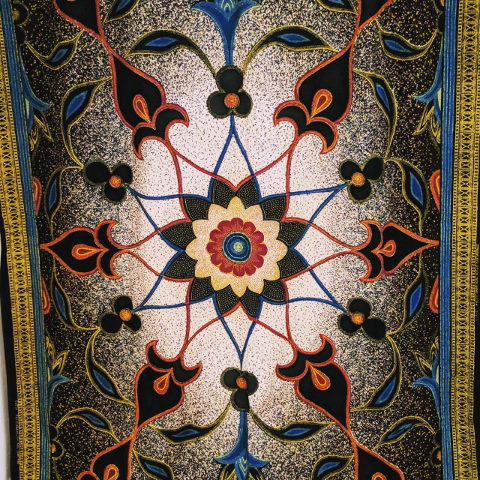 I bought it at Metro Textile Corner, the only fabric shop in my neighbourhood. It is in Willesden Green (North West London) and if you plan a visit, just bear in mind it is only open during week days.
The making
I didn't have any pattern which I thought would be nice to make something out of this fabric. However, I thought about one of my favourite dresses, an old dress which belonged to my mother. It is in a madras fabric, and I love to wear it during summer. This is the shape I wanted for my huge print wax fabric.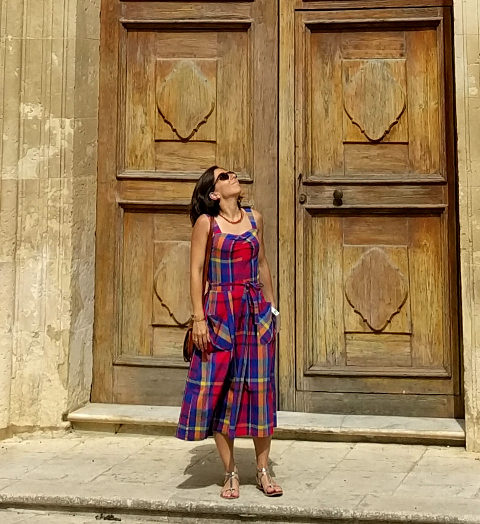 So I copied the dress onto paper to make a pattern. I unstitched the pleats of the front bodice to lay them flat and copy them properly on paper.
Then, I placed the pattern pieces on the fabric so that the print would be nicely highlighted. It was a bit difficult to imagine what the final result would be but in the end I decided to use the edge of the print as a reference for the hem of the skirt and for the belt and the straps. I love the geometrical pattern with almost a fluorescent yellow which contrasts with the free and natural spirit of the rest of the print.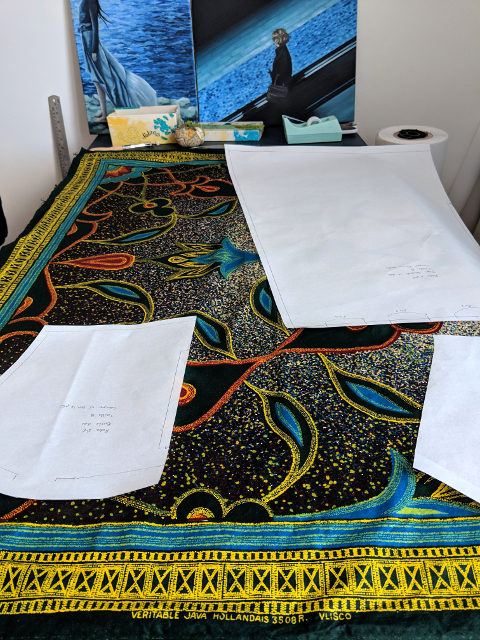 The result
The only difference with the original dress is that I didn't had pockets and belt loops.
I'm very proud of this make, and I can't wait to wear it this summer!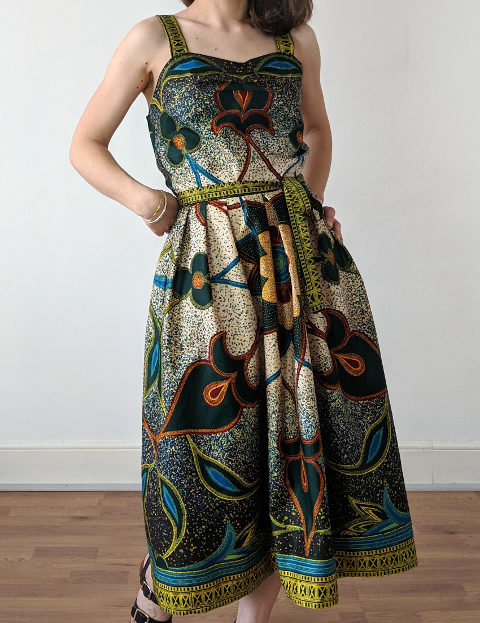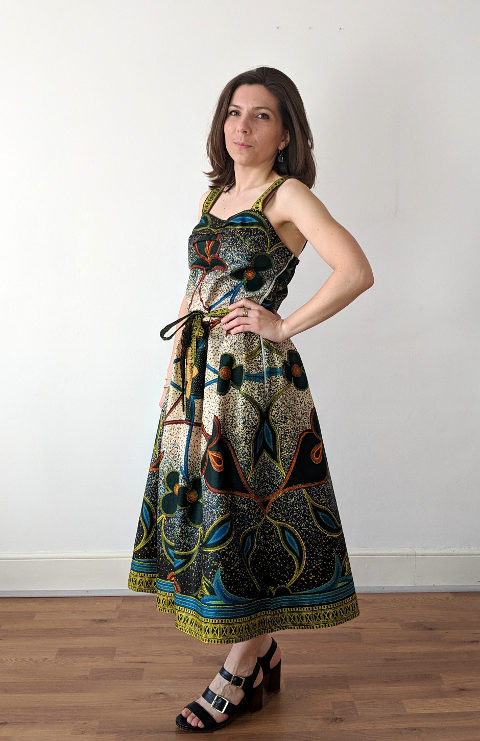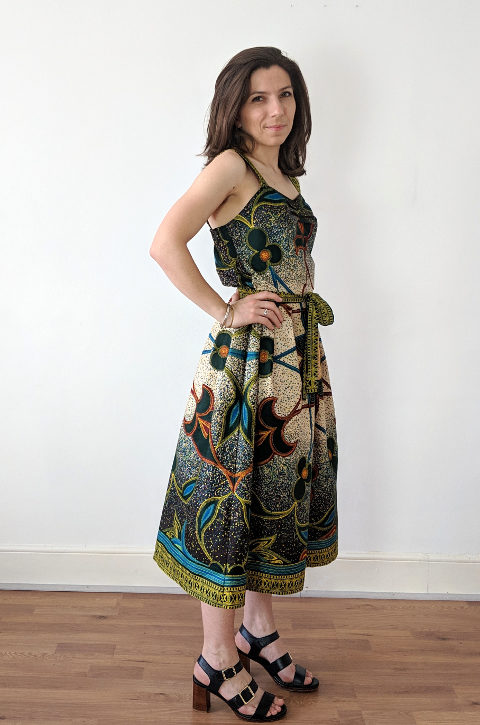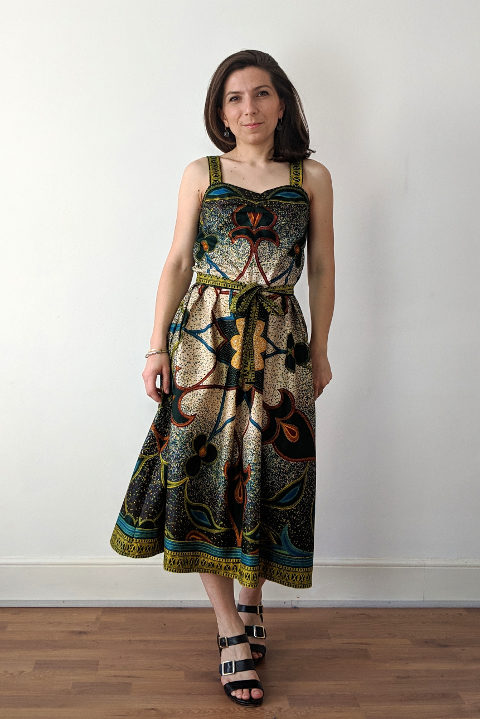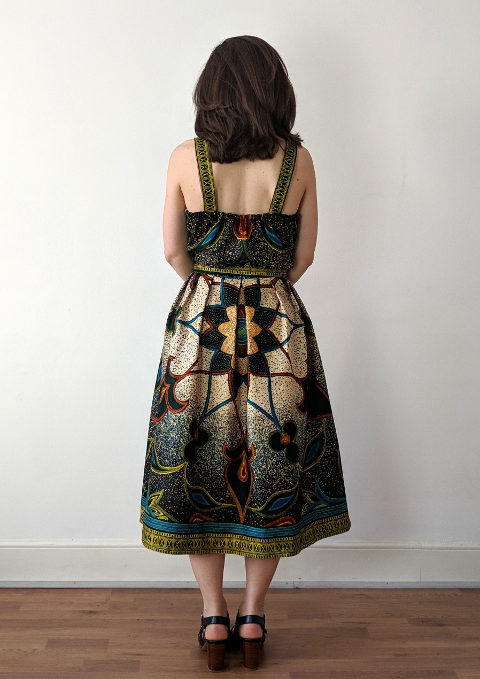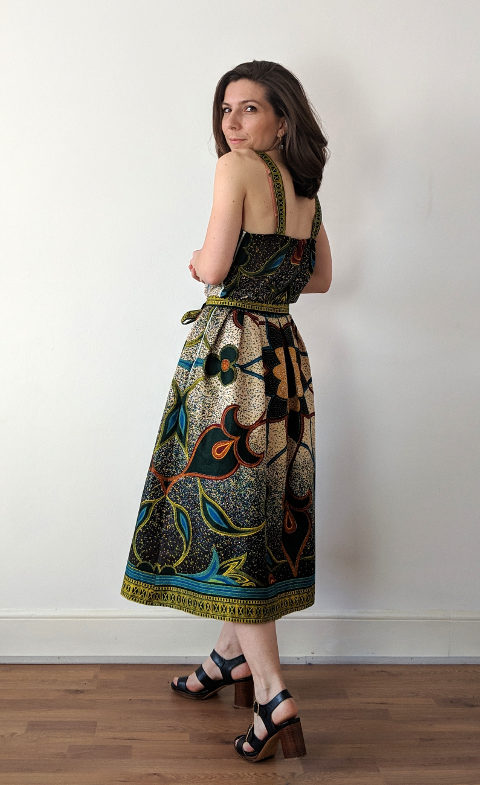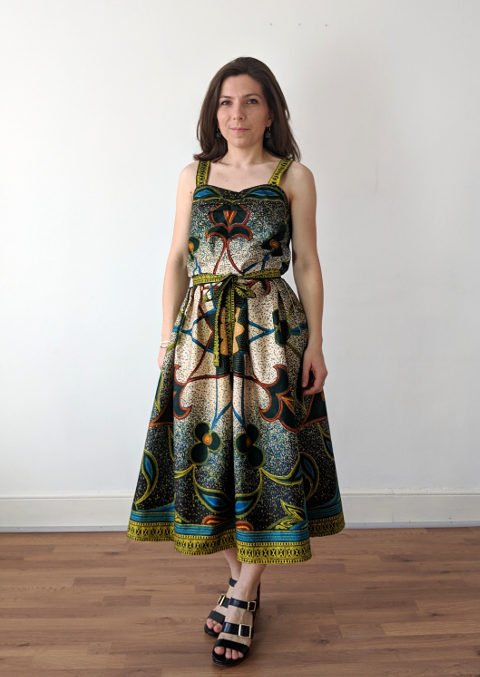 My dress got me an award! Second place in Dovetailed London online shop selection! I won a voucher and immediately ordered some nice wax fabrics with it. I will show you them soon.
What about you, do you like to participate to sewing challenges? Which ones do you recommend?