In this post, I will share with you 5 tips to sew delicate and fine fabrics. I made my own wedding dress 4 years ago and more recently a Sicily slip dress (pattern from Sewing Masin), and I have faced many issues with delicate fabrics (if not all the issues you can have with them!). Therefore I have gathered a lot of tips to sew delicate fabrics. If you land on this page it's probably because you are struggling with delicate fabrics too (or are you simply curious about how to sew delicate fabrics?). I know, it's very frustrating. It's not my personal favourite fabric, but, sometimes the loveliest projects involve fine fabrics so it's better to know a few tricks.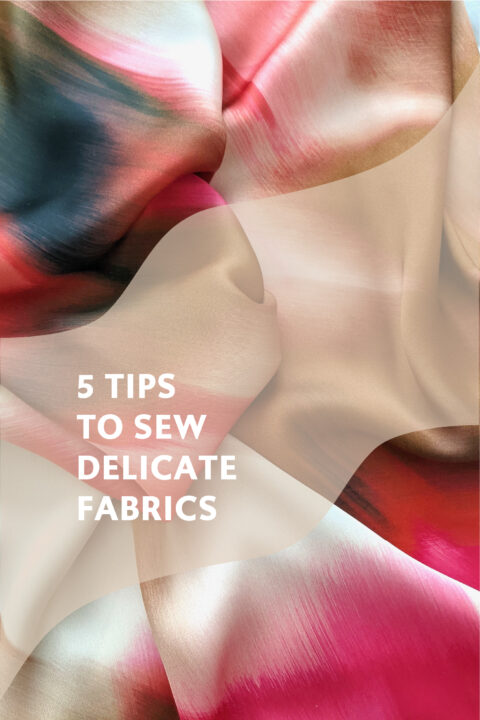 Before diving in these tips, let's just agree on which fabrics we are talking about here. We will be talking about lightweight, flexible, more or less see through, and very slippery fabrics like: chiffon, crêpe georgette, voile or fine silk, and they all have these characteristics in common.
One more thing, this article is specifically about sewing, not cutting. I will write another post about how to cut delicate and fine fabrics without hassle.
1. Delicate fabrics require specific sewing tools
First things first, my number one tip to sew fine fabrics is to use the right tools.
Fine pins and needles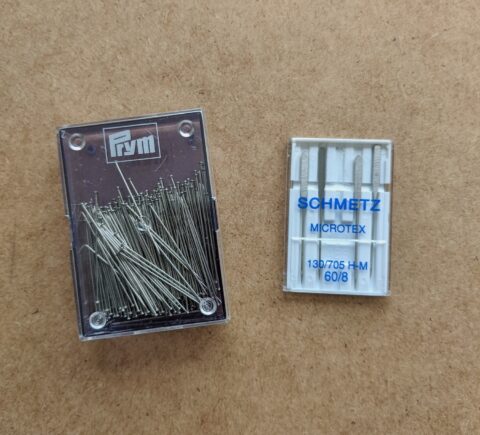 Most delicate fabrics are slippery, and it's difficult to sew two fabric layers without pinning them. So you need the right pins, in fact the finest pins, to make sure they leave no mark on the fabric.
The same goes for machine needles, they need to be as fine as possible to avoid damaging the fabric while sewing. Use Microtex needles.
Sharp scissors
Your fabric scissors always need to be sharp but it's even more important for delicate fabrics because the slightest dent on your blades can damage the fabric by pulling threads. Therefore, check your scissors and sharpen them if necessary.
Walking foot
The slippery nature of delicate fabrics makes it really hard to sew two layers together. Using a walking foot will ensure the 2 layers move together at the same pace and avoid the top layer to drift away while you sew.
2. Stabilising the fabric
Because of the slippery nature of delicate fabrics, sewing them can be very frustrating if you don't know these little tips to stabilise the fabric.
Buy a specific needle plate
When sewing delicate fabrics with your sewing machine, the fabric is so lightweight that the needle pushes it through the needle plate and this can make it impossible/difficult to sew it.
Check if you can buy a specific needle plate for your sewing machine, called a straight stitch plate. It has a small hole in the middle that will prevent the fabric from being pushed through. Just remember to put your previous plate back before doing a zig zag stitch!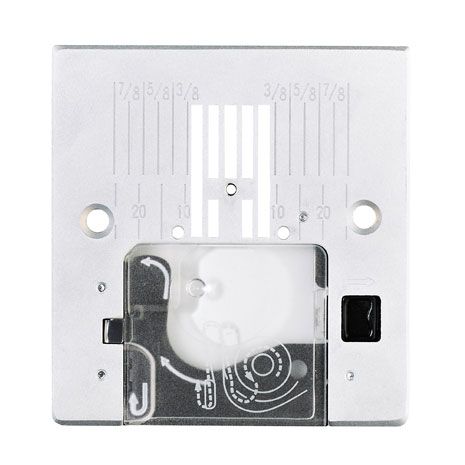 Instead of buying a straight stitch plate, some people stick a strip of magic tape on their needle plate. This could work, but personally I don't like this trick, as the tape sometimes doesn't stay in place and can damage the pricy fabric.
Or use a stabilising material when sewing
Another alternative to buying a straight stitch plate (or placing a strip of magic tape), is to use a layer of fine paper like pattern paper under the fabric while sewing. This can be removed at the end. I did this to sew the silk georgette of my wedding dress and it worked fine.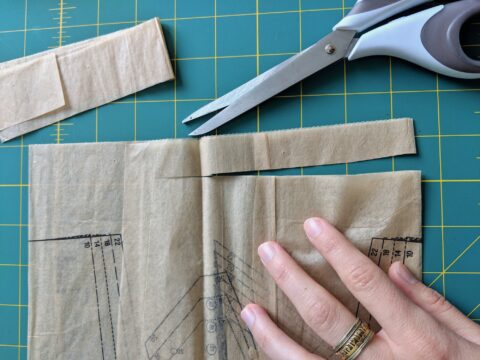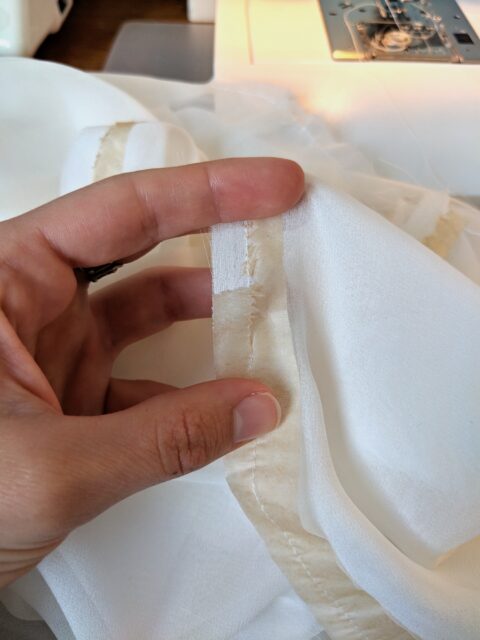 If you want to overlock your seams, I wouldn't recommend to use a layer of paper though, as it is a nightmare to remove and can damage your seam. Try to overlock the fabric by itself without stabiliser, it might work. If it doesn't, and only if the fabric can be washed in water, you can use a strip of water soluble stabiliser for embroidery which will dissolve in the water. I did this for the facing edges of my Sicily dress because the fabric cut on bias didn't want to stay under the overlocker pressure foot. The fabric is polyester, so it's ok to wash it with water.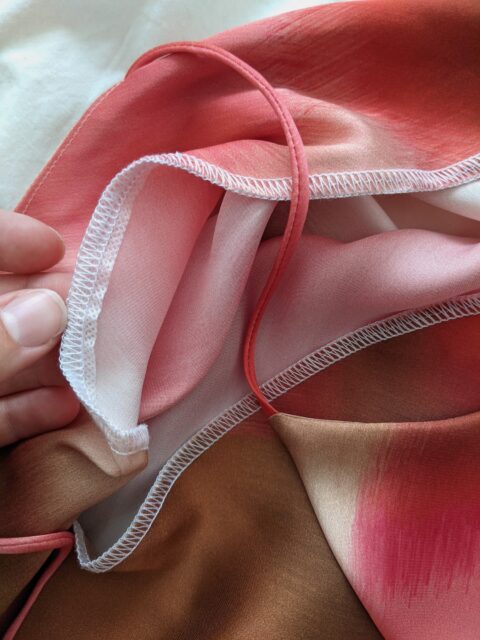 Consider basting
Basting is very useful because it secures the fabric layers together and for fine but slippery fabrics it means less hassle under the pressure foot! So consider basting every seam by hand before going through the machine. I know it seems time consuming, but you will end up saving time and having less headache! Unpicking is particularly unforgivable for this type of fabric so you want to avoid this.
Stay stitch curves
Whatever the pattern says or does not say, curves stretch the fabric, and delicate fabrics are so lightweight that they tend to stretch a lot in a curve situation. Stay stitching the curves, like necklines and armholes, will prevent the fabric from stretching so don't miss that.
What about starching the fabric?
Starching some fabrics can definitely help by making them more stable for cutting and sewing. But does it apply to all delicate and fine fabrics? You can't really do this on silk fabric that is not made to be washed in water so forget about starching your wedding dress fabric.
4. Specific seams and finishes
One of my top tips to sew delicate fabrics is to use specific types of seams and finishes because these fabrics have a tendency to fray a lot and are very fragile.
French seams
A French seam is a type of seam that encases the seam allowances inside the garment making sure not raw edges are visible. This seam is made by sewing a first line of stitches with wrong sides of the fabric together, and then by sewing another line of stitches with right sides of the fabric together. French seam are very exquisite yet strong seams. They are great for straight seams, but are not ideal for curves. The following finish is better for curves.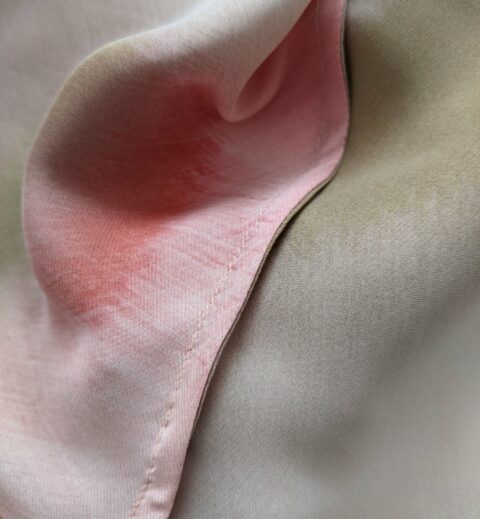 The Dune pattern is ideal for delicate fabrics and features French seams on the side seams.
Bias binding
For curves, ideally you would bind the seam allowances with a fine bias tape. For instance, for the back of my wedding dress, I made an organza bias tape and binded the seam allowances with it. Because the fabric was see through I wouldn't have finished it with an overlocker or zig zag stitch.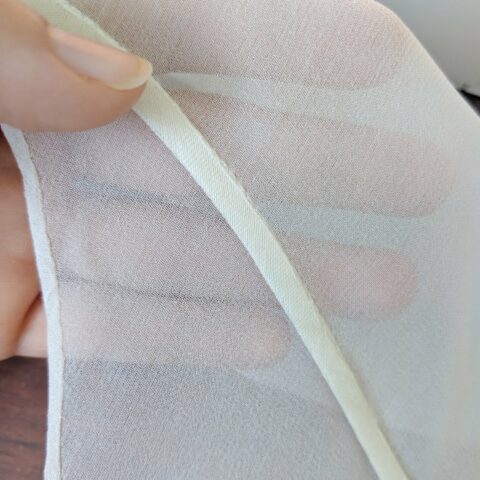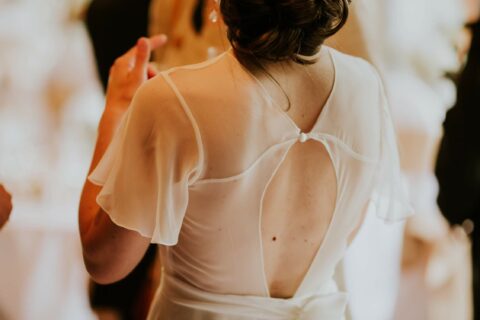 Rolled hem
Rolled hem are the finest hems ever. There are several ways to make them: by hand, by machine, or with an overlocker. I have written a specific blog article about rolled hems, because there is so much to say about them.
Here is the 6m long hand rolled hem of my wedding dress…yes it took me ages, but how beautiful is that?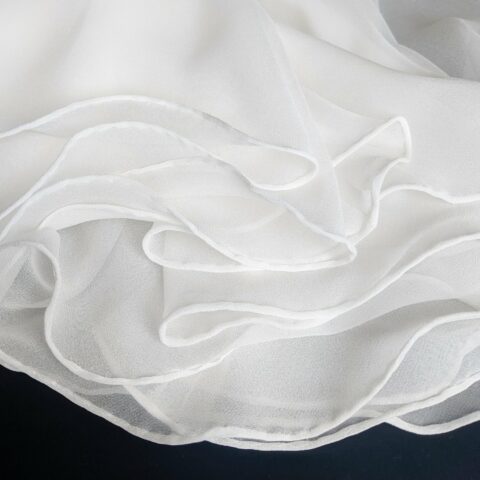 And I made the hem of the lining with the sewing machine using a rolled hem foot.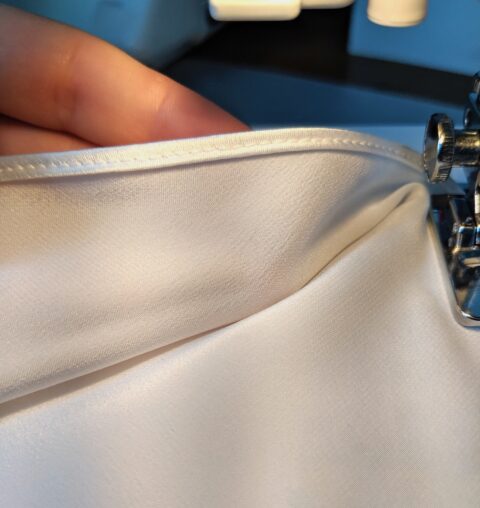 Buttonholes
If you need to sew a buttonhole on a delicate fabric, reinforce the buttonhole area with a small piece of silk organza. Baste the piece of organza in place before doing the buttonhole. Try on a sample of fabric first.
3. Pressing
Pressing your project is as important with delicate fabric as with any other projects. However delicate fabrics mean delicate settings. You don't want to ruin your project with an unfortunate scorch.
Lower the temperature
Delicate fabrics require to be pressed on a cool temperature otherwise you could scorch them.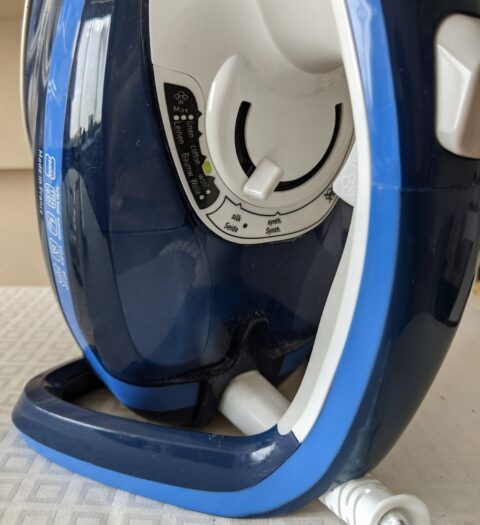 Before pressing the garment you're making, test your settings on a scrap of that same fabric first, otherwise you might never forgive yourself!
Use a pressing cloth
In theory you should always use a pressing cloth, right? If you don't, consider making an exception for delicate fabrics, because it will protect them. When I made my wedding dress, I made a pressing cloth in organza after seeing Elisalex from By Hand London using one like this. It was a great pressing cloth because you can see what you are pressing through it. I'm saying "it was" because I lost it when I moved home…
One more thing, it's not because you are using a pressing cloth that you can put a higher temperature…
5. Practice on fabric samples
Last but not least, this tip is for every projects but even more for fine fabrics: practice, practice, practice. It's very important to test your machine settings, on a fabric sample before even thinking of sewing the first seam of your garment!
For everything you plan to make on that delicate fabric, try it first on a small sample of that same fabric: straight stitch, French seam, rolled hem, pressing a seam, etc.
While practicing on a fabric sample, try to adjust these machine settings:
Lower your pressure foot in order to avoid the seam to make "waves" in the fabric
Reduce the stitch length: between 1.8mm and 2.4mm
Reduce the thread tension can also help improve the stitching quality
I hope you have enjoyed reading this article which in the end has more than 5 tips to sew delicate and fine fabrics! If you face issues that are not treated in this article, please leave me a question in the comments below and I will try my best to help.
Camille