The cami top is a basic in anyone's wardrobe, very easy to wear, it goes nicely with jeans for a relaxed style, it can be tucked in shorts or drapey trousers for a more chic outfit or can even be worn with a skirt for a very feminine look. Summer is not finised yet, and if you wish to sew a cami top, I have the perfect pattern for you! The Dune pattern from Camimade!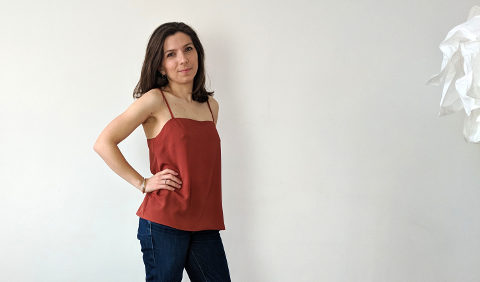 Simple, chic and relaxed camisole pattern
Dune is a camisole pattern with a simple style, without unecessary details, which goes straight to the point. Its neckline with soft curves, such as dunes, follows the shape of the bust without accentuating it. Its shape frees the underarms, and the back is open, which is helpful in case of hot temperatures. Quite loose fit, this cami top is the most comfortable. Thin straps makes it very chic and feminine.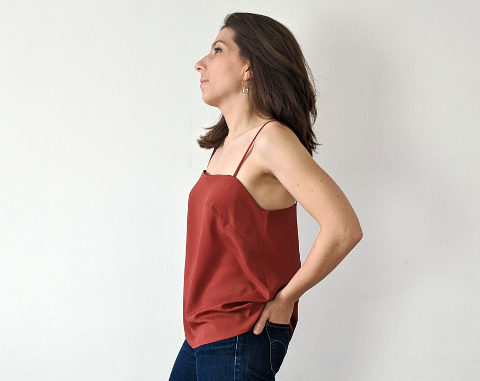 The Dune pattern also enables you to make a strap dress version! Just an idea for a simple dress to wear during the hottest days…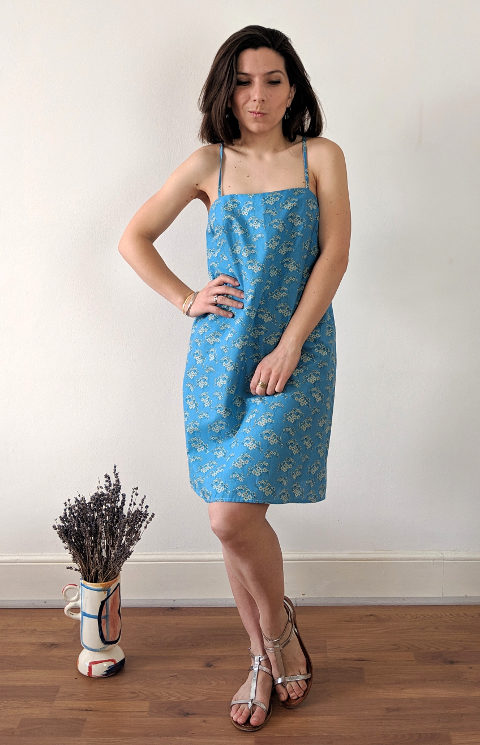 Initially made for outdoors, it can also be thought as an indoor cami top / dress, to wear as pajamas / night dress. Choose a silk fabric and add some lace and you will actually end up with a fine lingerie piece / babydoll.
Easy to sew cami top pattern, ideal for beginners
With only 6 pieces to sew, this pattern is a piece of cake to make. There are a front, a back, a front and a back facing, and 2 straps. This is the ideal pattern for sewing beginners!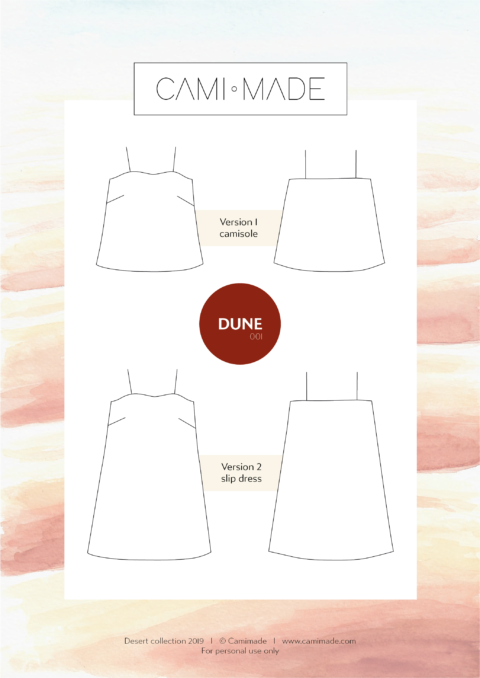 This pattern also includes different finishing options in order to personalise the cami top / dress according to your taste, or simply practice with different finishings.
With the Dune cami top, you will make:
Bust darts
Never sewn darts? No worries, the patterns includes tips to sew beautiful darts, plus I explain how to make darts in thorough detail on a blog article here.
Thin straps
A small tool is very helpful to make straps and a loop turner and you will need one to make thin straps. If you don't have one, no worries, you can always sew larger straps and use a safety pin to turn it right side out, or even replace the fabric straps by ribbons.
Optional French seams for a professional finish
The pattern explains how to make French seams for the side seams if you want to go the extra mile.
Did you know? In French, a French seam is called "couture anglaise", meaning English seam! It is very nice to compliment each others but where are they really from? This will remain a mystery…until I do a bit of research.
A bias binding finish on the neckline if you don't wish to make a facing
A facing is a piece of fabric which goes inside the garment and allows to finish the openings neatly (necklines, armholes, etc.). In order to make the facing on Dune, you will need some interfacing. It is a specific fabric, often fusible (which sticks to the fabric when ironed on) and allows to make the fabric stiffer and give it structure, while preventing it from stretching.
However, a facing is not the only way to finish necklines or armholes. You can also use bias binding, which the Dune pattern includes as an option.
A top pattern requiring only a bit of fabric
Dune has been inspired by a very small remnant of silk fabric I inherited from by grand-mother Lucette. I really wanted to make something out of these 80cm and this is how Dune was born.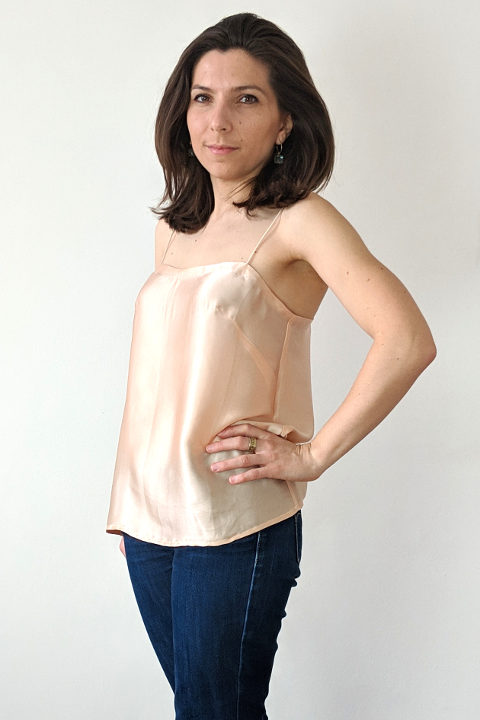 Since the fabric straps can be replaced by ribbons and facing by bias binding, you only need fabric for the front and back. This is exactly what I did for this version of Dune with Lucette's silk remnant.
Inspirations to make your Dune cami top
Dune is an ideal pattern for light cotton, like a cotton lawn or a shirt cotton, with a bit of drape. Dune also works with stiffer fabrics like linen or wax cotton, and on the contrary, with fabric with more drape like viscose or silk.
Use plain fabric, fabric with patterns or swiss dots, your Dune can be completely different!
Here is what Camimade testers or customers made: