I have recently updated my "old" patterns, Dune, Mirage and Dust, and they are now layered. This means you can now print the size(s) you want. But let's take a step back and explain exactly what PDF patterns are and how to use them. What to expect when buying PDF patterns? How to print PDF sewing patterns? How to assemble PDF patterns? What are layered PDF sewing patterns?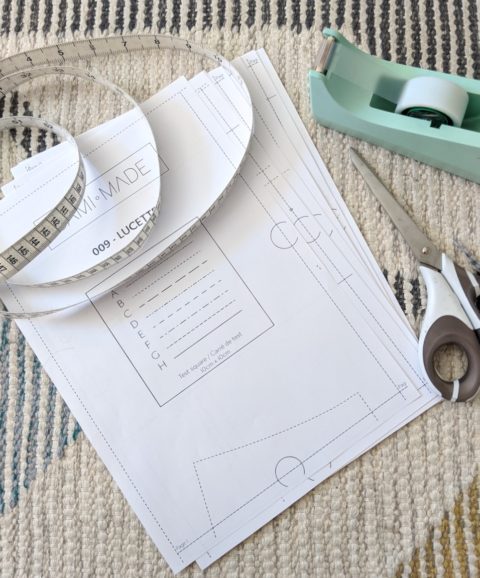 PDF sewing pattern files
When you buy a digital pattern or a PDF pattern, it means you get the pattern in one or several digital files. It is then for you to print. Before explaining how to print PDF sewing patterns, let's see the different files you can get.
The file(s) you get can be in 3 main printing formats: A4, US letter and A0.
A4 et US letter patterns
A4 and US letter are the most common formats for home and office printers. The only difference is the size and the geography: US letter is used in North and South America and A4 is used everywhere else. US letter pages are wider and shorter than A4 pages. More precisely, US letter pages are 21.59cm x 27.94cm (8.5" x 11") and A4 pages are 21cm x 29.7cm (8.27" x 11.69").
With these 2 formats, you can print the pattern at home or in the office (who has never done that?) wherever you are in the world. Then you just have to assemble the sheets together in order to use the pattern. I will explain this in a following paragraph.
A0 patterns
Another format you will see in PDF patterns is the A0 format. This is the biggest printing format available and it is universal. In order to print in A0, you need big professional printers though, and you generally find these in local or online copy shop. When printing in A0, it is as if you were buying a paper pattern. However the printing is at your own cost. See if it is worth saving you the time and energy of assembling the A4 / US letter pages yourself! Personally, I think it is worth considering printing in A0 when the pattern is more than 30-35 pages in A4 / US letter…
Depending on the company you buy the pattern from, one, two, or all formats are included. Especially A0 is not always included. Also, make sure that it includes the format used in your country if you are definitely planning to print from home. At Camimade, we include all 3 formats.
How to print PDF sewing patterns at home?
In this paragraph I will explain how to print PDF sewing patterns from the comfort of your home (or your office!).
What you need
In order to print the PDF pattern at home you will need a printer of course (a normal domestic printer is good) and the pattern in the correct format as we have seen above (A4 or US letter).
Printer settings
I use Adobe Acrobat reader and here are the settings I use to print all my patterns (Camimade and other brands) in the correct scale: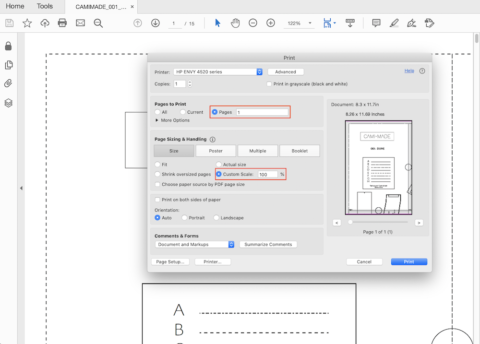 Pages to print: I always print page 1 first
Page sizing and handling: select custom scale at 100% and untick "choose paper source…"
Orientation: auto
The best way to check that the settings are correct is to print the first page of the pattern and measure the test square to make sure it is the size the pattern says. Most pattern companies have a test square present on the first page of their patterns, and it can come in various sizes.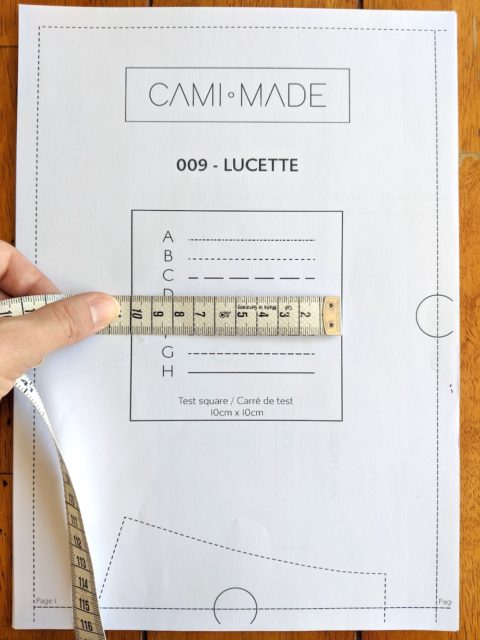 Then when you are happy with the first page, you can print the other pages using the same settings.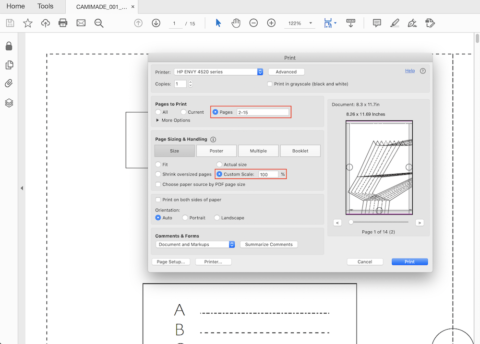 Personally I don't mind printing at home in A4 and taping all the pages together afterwards. However, it becomes a pain to assemble if the pattern fits on more than 35-40 pages, so in this case I prefer to print in A0 format at my local copy shop.
Layered PDF patterns
You might have come across this terminology when buying patterns. Some companies offer layered PDF, but what does it mean and why is it nice to have?
When a PDF pattern is layered, it means that on the document each size is separated (has its own layer), and so you can print the one(s) that you need. When printed, this results in a much clearer document with only the lines that you need, so it is easier to cut the pattern.
How to print the size(s) that you need?
First of all, a pre-requisite is to have Adobe Acrobat reader installed on your computer. It is free to download online and it is a good PDF reader software anyway.
When you open the PDF pattern with Adobe Acrobat reader, it will show all the sizes. You will see an option on the screen with the following icon: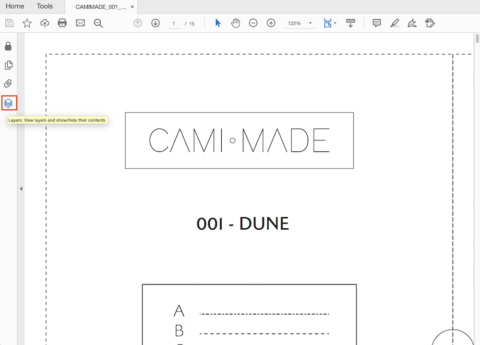 When you click on the layer icon, you will be able to see all the layers of the document. For Camimade patterns, there is one layer per size and 2 other layers with the text and background ("format"). By default all layers are selected and are visible when you open the document.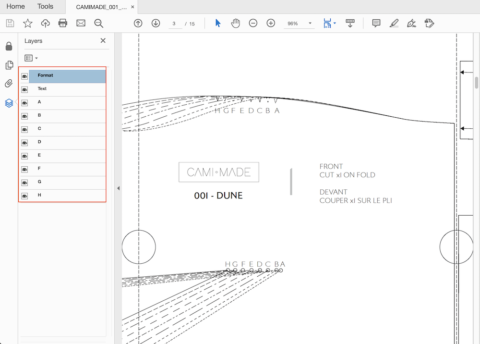 The only thing you have to do is to unselect the sizes you are sure you don't need. Keep the "text" and "format" layers selected at all times as these will display the dotted lines, the symbols, the text on the pattern pieces, the page numbers, etc.
For instance, if you are a size E according to the measurement table, then you can unselect all the sizes that are not E.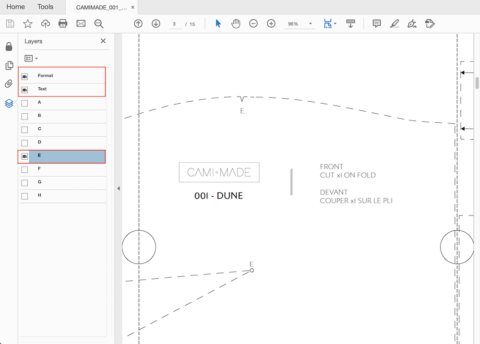 If you are unsure of the size because you fall between sizes, then unselect all the sizes that you know for sure are not for you. For exemple, you might want to keep 3 sizes selected to make your choice after seing the pattern printed.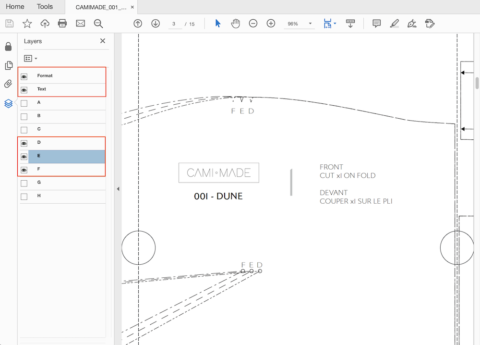 How to assemble a PDF pattern?
You have now printed the pattern on A4 or US letter. Before you can use it, you just have to assemble the sheets of paper together.
What you need
A pair of scissors and magic tape.
Steps to assemble the pattern
Firstly cut the bottom and right edges of the pattern pages. Follow the dotted lines to cut. There are a few instances where you don't need to cut the edges as explained in the following point.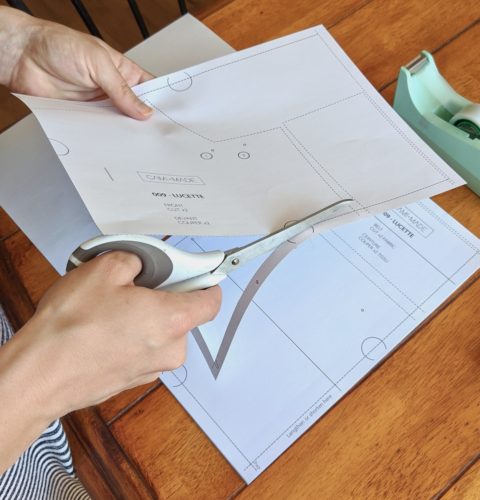 No need to cut the right edge of the pages at the end of each row, and the bottom edge of the pages at the end of each column. Also some pages won't need to be assembled if the pattern pieces don't overlap between them, so you don't need to cut their edges.
Then you can lay the pattern sheets on the floor to check the layout, but it is not necessary. For instance, I usually prefer to check the layout by laying rows on top of each other on a table.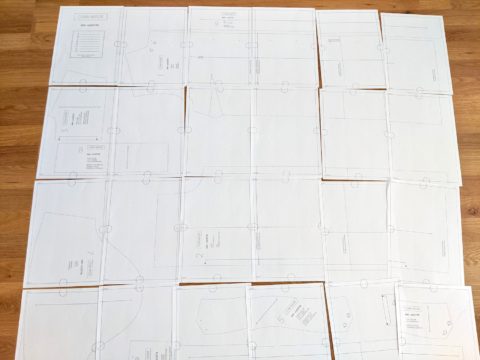 Finally, tape the pages together with magic tape (or masking tape, or glue). Make sure the pattern pieces and symbols match. I generally tape each row separately and then I tape all the rows together.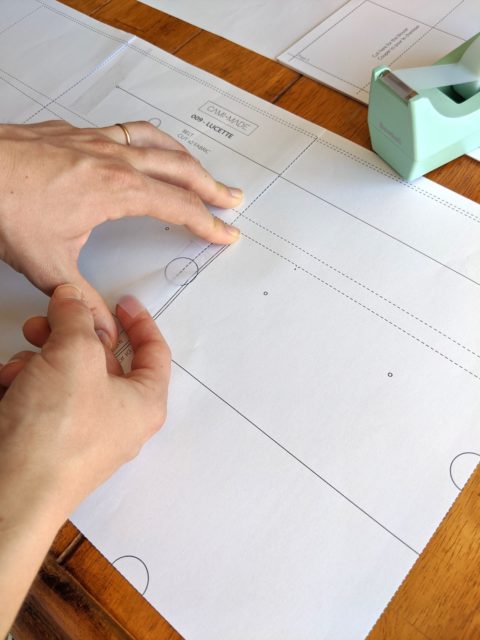 Always check your pattern instructions because some come with different ways to do this depending on the pattern company.
How to print PDF sewing patterns at a copy shop?
Now, if you don't want to assemble the pattern yourself, you can have the pattern printed at a copy shop.
In order to do so, you will need the pattern in A0 format and a local or online copy shop.
For your local copy shop, bring the A0 pattern on a USB stick or send it by email so they can print it. Check with them how they operate first.
There are also websites where you can have the A0 pattern printed and sent to you by post. Depending on the website, you can either upload the A0 pattern on the website or send it by email. There are different paper qualities and prices: the thinner the paper, the more expensive. In the UK, The Savvy Sewist website (ex Dotty Print) is famous for printing in A0 but there are a lot of other website you can print from.