Dress and blouse pattern – COLETTE
Dress and blouse pattern – COLETTE
Colette is the ultimate long summer dress. It is very comfortable to wear with its loose fitted empire line, wide sleeves and boat neck. Colette is effortless chic with front buttons and many pleats on both sides of a shaped waistband. The pattern also comes as a blouse, a timeless option that you can wear daily. Whether you choose to sew the dress or the blouse, prepare your sunglasses, a big sun hat and sandals !
The pattern includes:
the A4 pattern (32 pages);
the US letter pattern (33 pages);
the A0 pattern (2 pages);
a step by step instructions guide with detailed hand painted illustrations (12 pages).
All PDFs allow you to print the size(s) you need thanks to the layer functionality in Adobe Acrobat Reader.
Level: intermediate
The Colette dress is an intermediate level sewing pattern, with a concealed zip closure, a facing and inner waistband to sew. A glossary is available on the website at www.camimade.com/glossary. 
Measurements table (cm inches)

Height: 1.65m / 5'5"
Finished garment measurements (cm inches)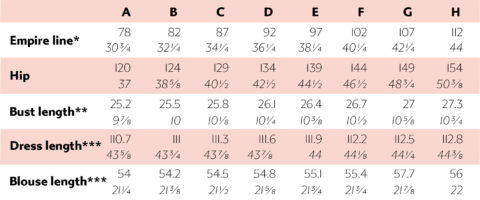 * The empire line of the dress / blouse sits at the rib cage.
** Length at the centre front between the neckline and the waistband (excluding it)  
*** Length at the centre front between the neckline and the hem (once sewn)
My measurements
Bust 84cm (33″) – rib cage 77cm (30 ½") – waist with growing baby bump 78cm (30 ½") – hips 91cm (35 ⅞") – 1.58m tall (5'2"). I made all the samples in size B.
Suggested fabrics (m yards)
Light to medium weight fabric: cotton poplin, cotton lawn, coton sateen, soft linen,  seersucker, silk crêpe, etc. 
Regarding the samples shown in the pictures, for the dress I used a linen blend, and for the blouse, a cotton poplin.
Dress
150cm / 60" wide fabrics:

 1.90m / 2 ⅛ yds (sizes A-D) or 3m / 3 ¼ yds (sizes E-H)
or 115cm / 45" wide fabrics:

 3.60m / 4 yds (all sizes)
Blouse
150cm / 60" wide fabrics:

 1.40m / 1 ½ yd (sizes A-D) or 1.90m / 2 ⅛ yds (sizes E-H)
or 115cm / 45" wide fabrics:

 2.50m / 2 ¾ yds (all sizes)
Notions
– Four 1.5cm / ⅝'' buttons
– A concealed zip of suggested length 40cm / 16''
– Interfacing, lighter than the fabric: 110cm x 60cm / 1 ¼ yd x ⅝ yd
Ressources
>> Discover tips to sew the Colette pattern
>> Discover how I created the Colette pattern