Hi all! I am about to launch my first pattern for knit fabrics, the Nuage shirt, so I thought I would share my top tips to sew knit fabrics with you. In this post, I will explain how to sew knit fabric according to my experience and preferences. I will not explain what is knit fabric compared to woven fabric, only how to sew it better. So without any further ado, here are my 5 top tips to sew stretchy fabrics.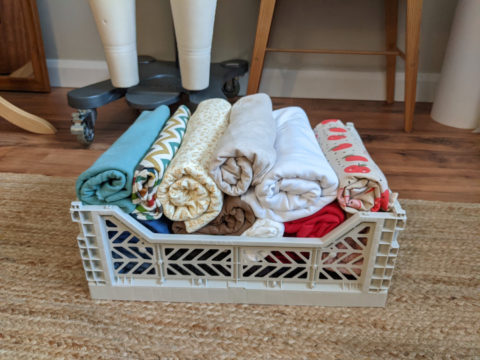 1. Choose the right fabric…
…for the right pattern / project. The choice of fabric is essential for any project, so learning to sew knit fabrics starts with the right choice of fabric.
A few common categories of knit fabrics you can sew with
cotton jersey:

used for t-shirts, tops and dresses, more or less fitted. Good structure, low to medium elasticity, from 30% to 40% elasticity (see below for how to check elasticity).

viscose or bamboo jersey:

used for very fitted tops & dresses, light weight and very stretchy, from 50% up to 90% elasticity

cotton sweat:

used for joggers, sweatshirts and hoodies. Low elasticity, heavier weight.

swimwear & activewear fabric (Lycra / spandex) :

used for what it says on the tin because of their attributes. High elasticity percentage and 4 way stretch (stretches in all directions).
This is not an exhaustive list but I think they are the unmissable fabrics you will be looking for when sewing. There are of course many more types of knit fabrics that you could use: ribbed, ponte di roma, textured jerseys, modal jersey, scuba, etc.
How to choose the right fabric?
When you choose a knit fabric for a pattern or a project there are a few things you can check to see if you are going in the right direction.
Firstly, if you are using a pattern, check what it says in the fabric suggestions as it will give you a list of suitable fabrics and an idea of the characteristics you need in this fabric. Another piece of information to check on the pattern is the finished garment measurements table. It will give you the amount of ease of the garment: finished garment measurement minus body measurement equals amount of ease. And this will indicate what elasticity you will be looking for in a fabric. For instance, if the ease is negative (the finished garment measurements are smaller than the body measurements), use a very stretchy fabric. If there is a bit of ease or zero ease, you could use a knit fabric that doesn't have much elasticity. This brings me to the next point.
Then, check the fabric elasticity percentage. For 10cm / 4″ of fabric, how much does it stretch to? If you get to 14cm, then the elasticity rate is 40%, if you get 19cm, then it's 90%. In my example below, the elasticity rate is 30%. This percentage tells you what you can do / what you can't do with the fabric.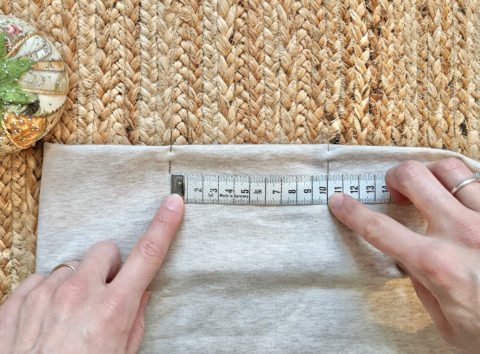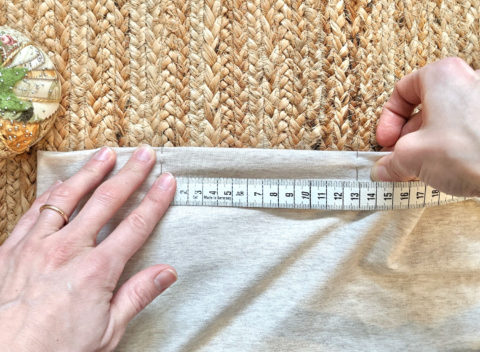 Check the recovery of the fabric. Stretch the fabric and see if the fabric recovers its initial shape / size. If it does, it is great! If not, I wouldn't recommend to use it, because you will end up with something that doesn't keep its shape after sewing, after wearing and even worse after washing…! The only down side with knit fabrics that have a good recovery is that they are blended with spandex / elasthane which are not natural fibres.
Finally, as per any project, check the weight, structure, and drape of the fabric…a lightweight viscose jersey won't be suitable for a structured hoodie for example!
2. Choose your machine to sew knit fabrics
There are a few types of machines you can use to sew knit fabrics. Knowing which machine does what will help you sew knit fabrics like a star.
Overlockers are sewing machines that are used to finish seams and protect the edges of the fabric from fraying. It really gives a professional finish to clothes and make them last longer wash after wash. For knit fabrics, they can be used to do the seam and edge finish at the same time. To put together a knit garment, you can use an overlocker on its own. The benefit is that overlockers make seams that can be stretched, which is ideal for a knit garment.
An overlocker is an investment though and can be daunting to use. The threading can be overwhelming! And then adjusting the tension of each thread is something too. It is another machine to have, so it takes space too.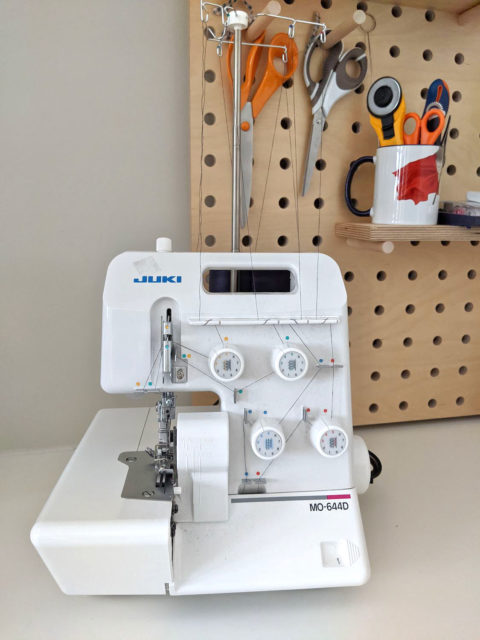 Coverstitch machines are used to do the hems of knit garment. Coverstitch machines basically do the double stitch lines on the right side of the garment and edge finish on the wrong side, both at the same time. It is really a nice piece of machine and does make the garments look like they came out of a factory!
However coverstitch machines are expensive and only make this type of seams. It is another machine to have, so it takes some space too. For these reasons, not many home sewers have one.
Usual sewing machine can do all you need : seams, edge finishes, top stitching. If you don't have an overlocker or a coverstitch, it is still possible to sew knit garments with only a sewing machine. There are a few things you will need to do to use it correctly for knit fabrics, which I will cover in the post.
The only down side for me with the sewing machine is that you will not get the same professional finish as when using an overlocker.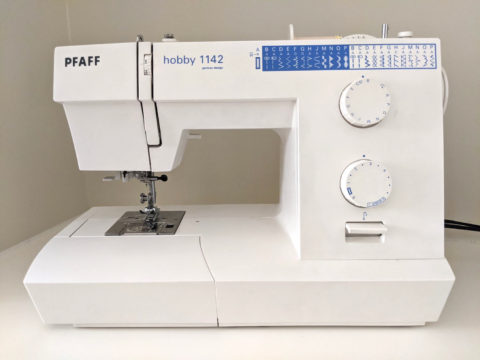 So what machine you should use is really a question of budget, preference, priority and space. Personally, after making a few knit garments with only a sewing machine, I realised that I wanted to make something a bit more professional and durable, so I saved some money to buy a good overlocker. By the way, I am extremely happy with my Juki and this is not a paid opinion. However I don't own a coverstitch machine and I am not planning to have one in the near future because of how much it cost and how often I am going to use it. I am happy to make my hems with a twin needle on my usual sewing machine for the moment.
3. Types of stitches to sew knit fabrics and their use
Knowing the different types of stitches and their use will help you know how to sew knit fabrics. Here are different types of stitches achieved with the different sewing machines and their uses. Simply remember that there is not one rule / one way to sew knit fabrics.
Stitches to assemble a knit garment
Zig zag stitch: for seams that can be stretched like necklines, armholes, hems, side seams, etc.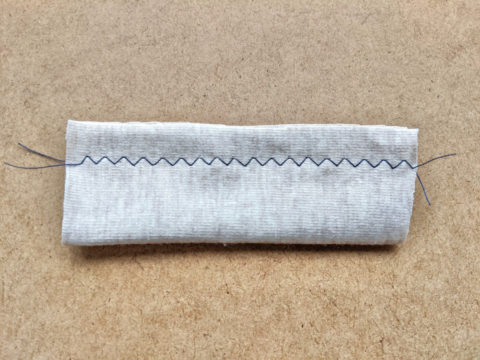 or straight stitch: for seams that don't need to / shouldn't be stretched like shoulders or side seams (if it is a loose fitted garment).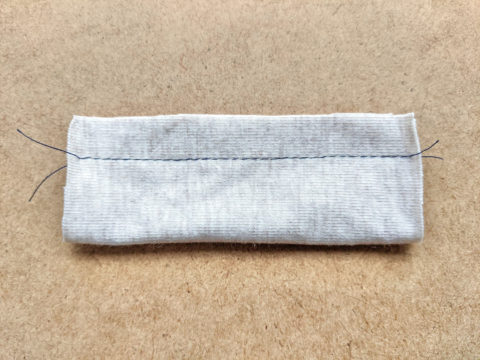 or overlock: for all kind of seams. Keep in mind that most overlockers make a 6mm seam allowance by default.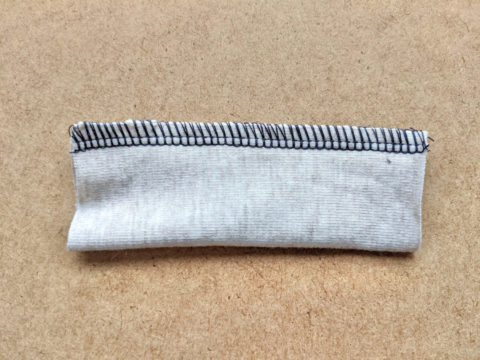 There are two questions to have in mind when making seams on knit fabrics:
 Does the seam have to stretch or not? Choose zig zag or straight line according to the answer.
What is the seam allowance? Some patterns include a 6mm seam allowances, others include 1cm or 1.5cm. Place your fabric accordingly on you machine to make sure the seam allowance is right.
Stitches to finish the raw edges
No stitching: most knit fabrics don't fray so you can skip finishing the edges all together if you want. It is not my personal favourite because I feel like it doesn't look professional and durable.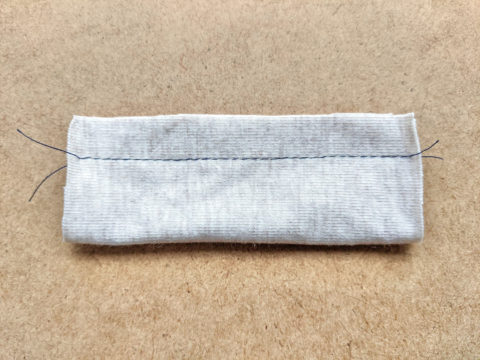 or zig zag stitch: I used to do this edge finish when I didn't have an overlocker.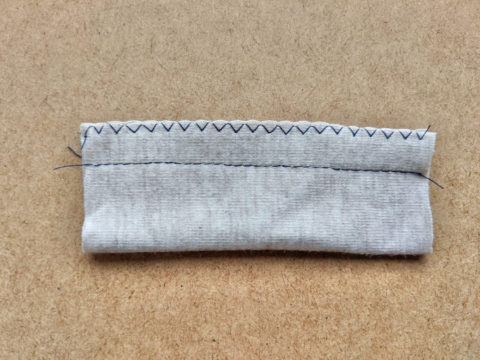 or overlock stitch: finish the edges as well as doing the seam. My personal favourite.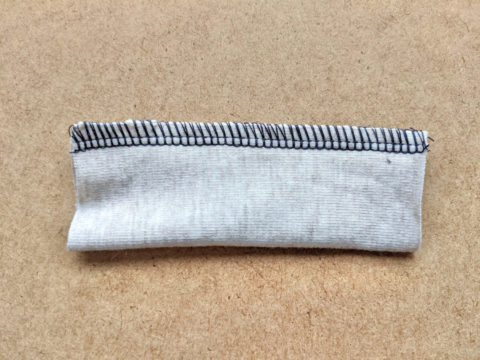 Stitches to do hems
top stitch with a zig zag stitch or a straight stitch. Some hems should be able to stretch (choose zig zag as per the picture), some don't have to (you can do straight stitch). The advantage of the zig zag stitch is that it finishes the raw edge, but if raw edges put you off, you could turn the fabric twice on itself if the length allows it.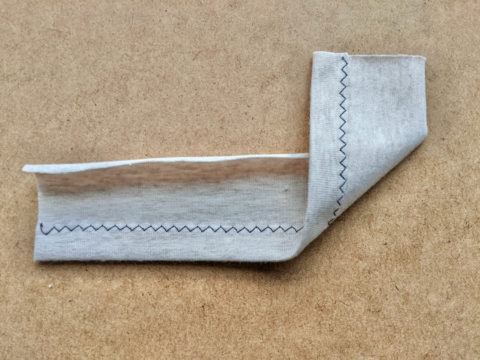 or top stitching with a twin needle. I always use this method to do my knit hems and I think it doens't look far from the coverstitch finish. On the right side, you get 2 parallel lines of stitches, and on the wrong side, you get a zig zag stitch.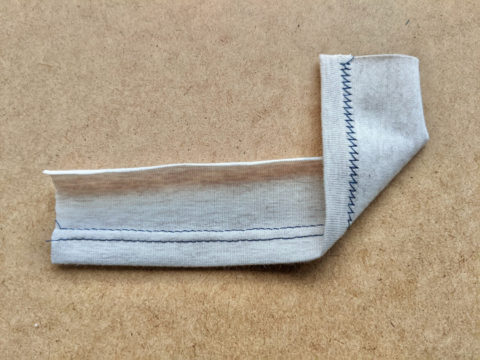 Personally, I like to finish the raw edge with my overlocker before doing the top stitching with a twin needle. The end result looks similar to the coverstitch I think.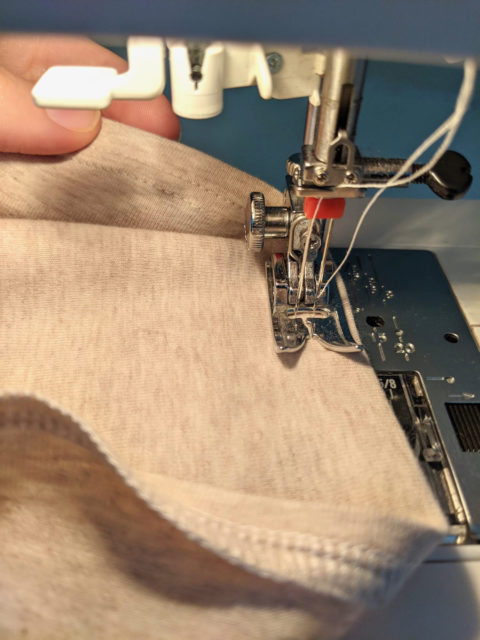 or coverstitch: the most professional looking hem of all!
4. Buy specific needles & feet to sew knit fabrics
If you don't have an overlocker, or a coverstitch machine, some accessories can come in handy when sewing knit fabrics. I'm talking about needles and feet.
Jersey / ball point / stretch needles
In order to sew with knit it is important to use specific needles. The fabric is different than woven and requires a specific type of needle, with a more or less rounded end which will go through the fabric more easily. Believe me, it will have a massive impact on the quality of the stitching, and therefore your mood :). With a universal needle, your machine can miss stitches, break stitches and make weird stuffs which makes you think your machine has an issue!!
Some sewing machines are a bit easier with knit fabrics than others. For instance, my 11 years old Pffaf is not the best at it! I had tried a few different needles because I couldn't have a stitch line without skipped stitches, or the thread would break several times to make a seam. In the end, the Singer needles for knit fabric with a "light ball" are the ones which work best with my machine and most knit fabrics.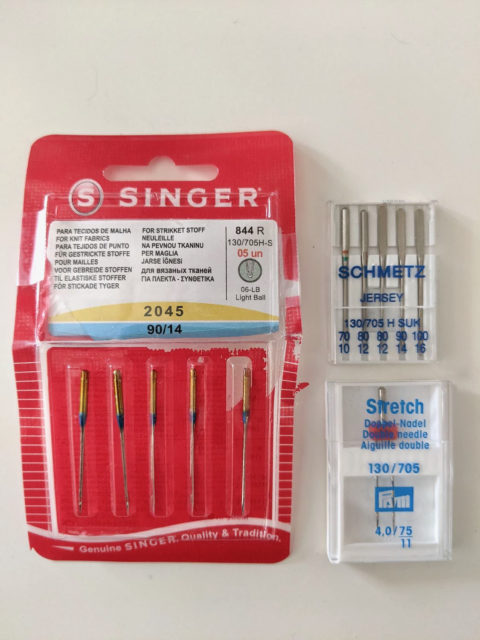 Double / twin needles
If you don't plan to buy a coverstitch machine like me, buy twin needles!
I had trouble to use mine (my thread would break all the time) until I used this tip I read somewhere which is to not pass the right thread through the last thread guide. It made the difference for me: no more breaking thread! It might be different depending on the sewing machine, but it is what works for my Pffaf.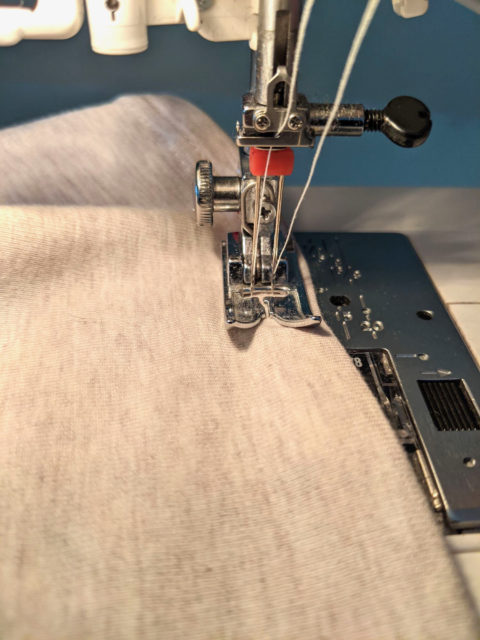 Walking foot or dual feed foot
When you sew, the feed dogs of the sewing machine move the fabric as you sew from the bottom. With two layers of stretch fabric, the top layer has a tendency to not move along with the bottom one and stretch easily. So it is nice to have a walking foot or dual feed foot to make sure both layers move along at the same pace.
I personally never use a walking foot or dual feed foot, and I'm fine. But I should buy one as I am certainly missing something!
5. Don't stretch your fabric when sewing knit
Yes knit fabric is made to be stretched, but while sewing it, make sure you don't stretch it.
The risks of stretching the fabric are:
distorted wavy seams
gapping necklines and armholes
fitting issues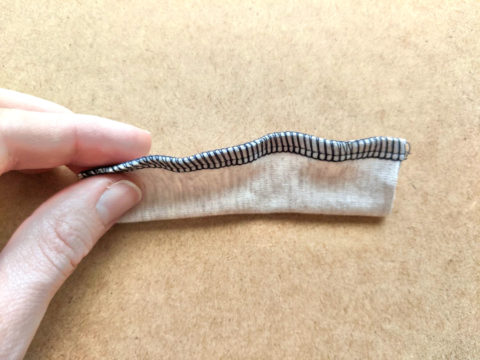 Things to do to avoid stretching while sewing:
Don't pull your fabric while sewing, let it go through the feed dog by itself
Lower the pressure of the presser foot
Use a walking foot
Some seams are tricky and require stretching one layer without stretching the other…like necklines. For this, my advice is to take your time, and practice. The more necklines you do, the best you get at it.