Hello!
Today I would like to show you my June makes, and give you my humble opinion on a few patterns! I love discovering and sewing with independent pattern brands I have never used before, and this month I used 3 new (to me) pattern brands. Let's dive in…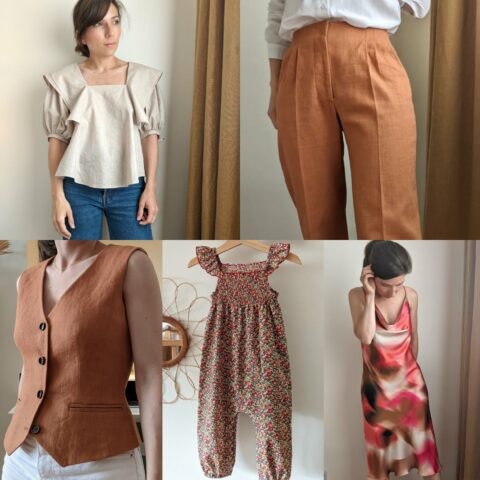 Liliana vest – Vikisews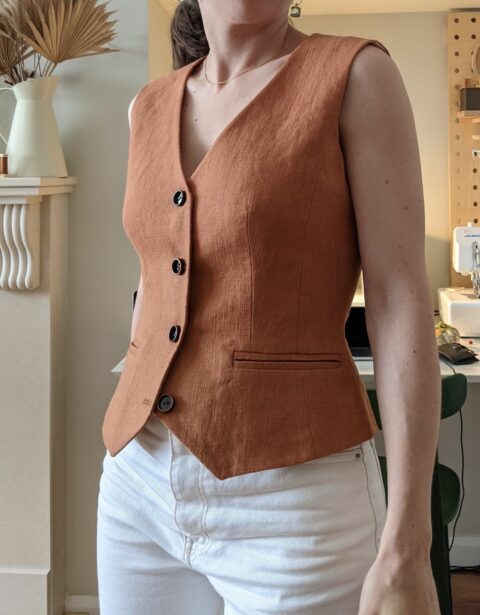 I was invited to a friend's wedding in June and I was looking for an outfit that was not a dress… After watching the video from The Fold Line, "Sew The Trends Spring", and searched on Pinterest (here is my inspirations board), I decided to sew a monochromatic waistcoat + trousers outfit.
I was not really enthusiastic about the pattern suggested in The Fold Line video, but I had seen the beautiful Liliana waistcoat sewn by @the.social.fabric on Instagram, so I went for this one. Vikisews is a Russian brand, which offers trendy patterns and available in English. I bought mine on Etsy.
The pattern is very professional: the lines are fine, the seam allowances are visible, everything matches perfectly. Instructions are detailed and supported by clear pictures. There is also a complete guide which gathers tips on how to make pattern adjustments depending on the type of garment and a lot more tips.
The only thing I don't like about the Vikisews patterns is that they are sold per size. You have to choose your size before buying it, so you have to have a look at the size chart and finished garment measurements chart. It's not very practical if your measurements in different sizes. But, the pattern is so detailed that it would be very difficult to read if all the sizes were together and also it's quite cheap, so you could buy 2 sizes! I guess it's a brand choice.
I haven't made a toile or any modification to the size 36, I measured the pattern pieces and thought it would be fine. In the end the fit is almost perfect. If I make another one though, I will make ajustements in the back and at the under arm because there is a little bit of gaping. I had a bit of trouble sewing the welt pockets, because I've learnt to make them another way, but they are completely fine.
I bought the linen fabric from Lulou Designs, it is still available I think. A beautiful quality, soft and an ideal weight for an outfit like this.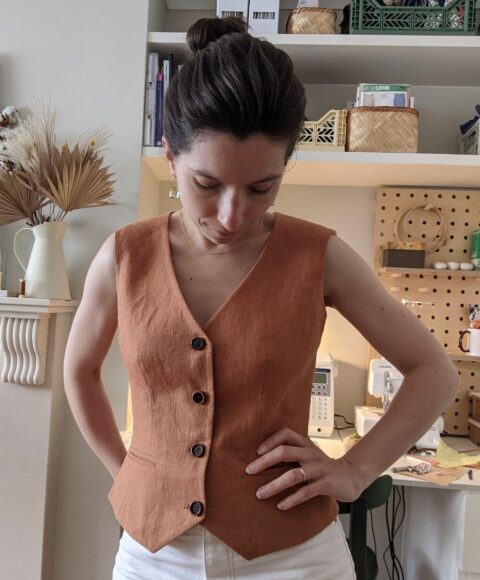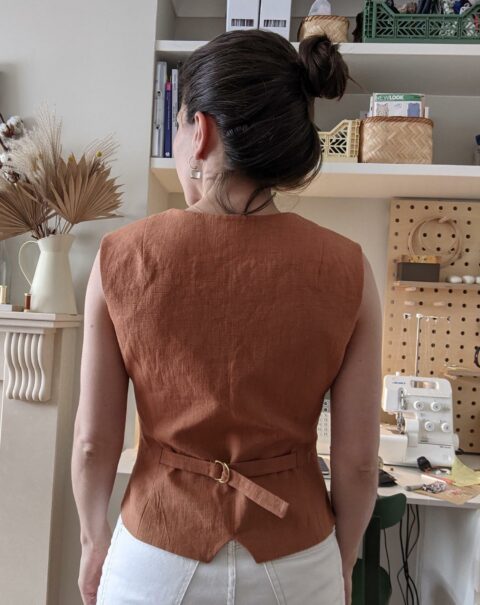 Tailored trousers – soon available on Camimade Patterns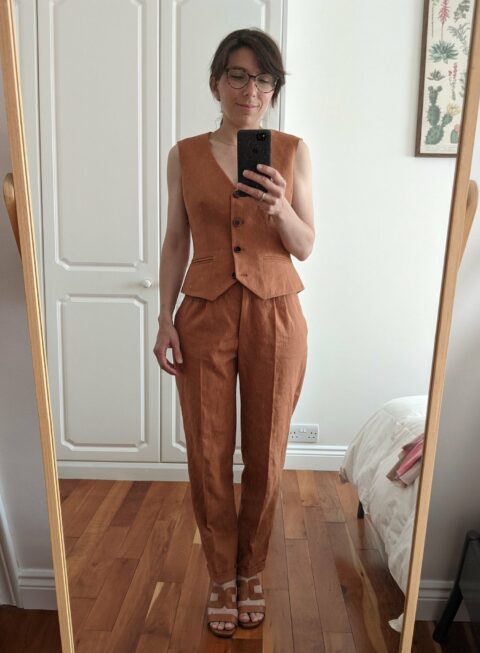 To go with my Liliana waistcoat, I was hesitating between wide leg trousers or fitted trousers. I even asked my Instagram followers and they voted for the wide legs. However, I am quite small and I voted for the fitted trousers, like Victoria Beckham's outfit on my Pinterest board) !!
I looked for the ideal pattern for several weeks (because I didn't think I had the time to make one) but I didn't find a good match for what I was looking for. I ended up making the pattern, at the speed of light, because there was only one week left before my friend's wedding… And a miracle happened: the first toile fitted perfectly!
I sewed this pattern in just one day and it is one of my most beautiful pair! The fit is perfect, it stays on the waist without a belt, and is not too tight either.
I have decided that this pattern had to be in the Camimade Patterns collection this year, so that all the tailored trousers lovers can make one. It will be out in Autumn 22.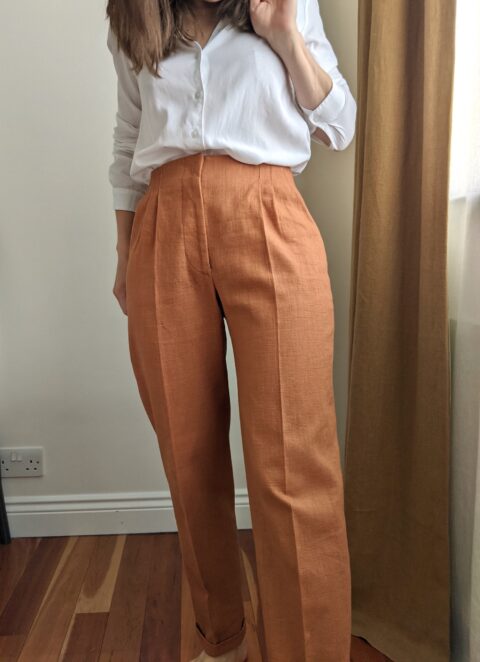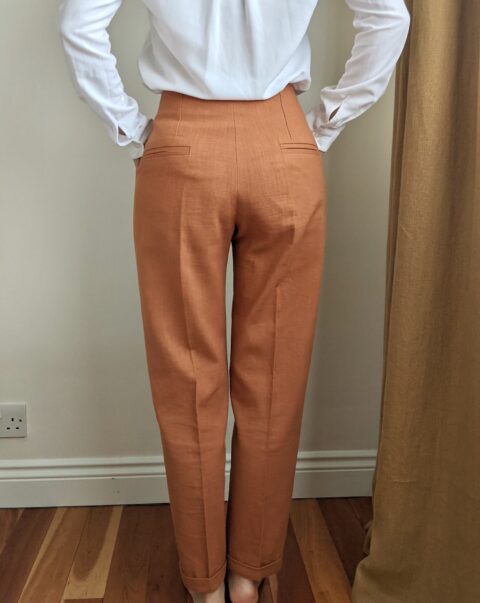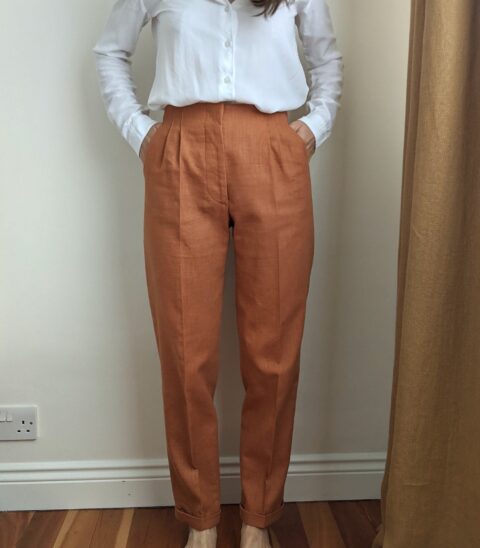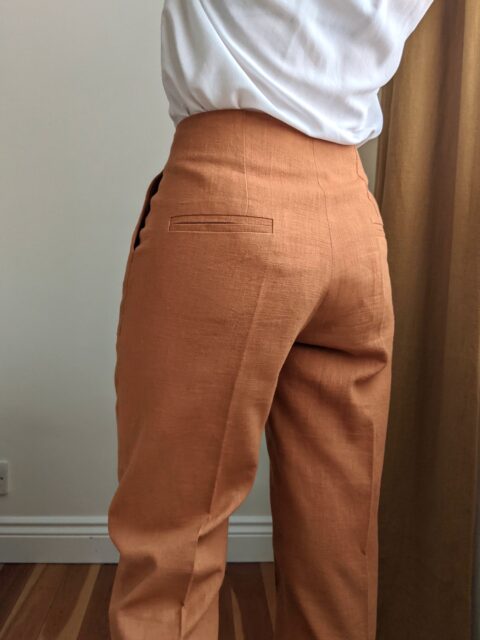 Sicily slip dress – Sewing Patterns by Masin
I admit, I fell for this dress I didn't need from Sewing Patterns by Masin. The brand is based in Switzerland and offers very feminine and trendy patterns.
I chose version A and the A4 patterns was 50 pages long, which is too much to print and assemble at home for me. So I had it printed in A0 by Savvy sewist: the pattern paper is top quality and I was sent my pattern very quickly. Very good value for money.
I am completely satisfied with the pattern, there is nothing to say, everything matches perfectly and the instructions are very clear. There is a whole page about bias cut fabrics which is helpful. As for me, it was my first bias dress and I am pleased with the result. It fits well.
I found the fabric at Rainbow Fabrics, my local shop which also sells online. This fabric remnant was just £2.99, a lightweight poly satin. A bit difficult to sew, especially on the bias but not impossible ! This is one of the reasons why I wanted to write an article with tips to sew delicate and fine fabrics.
The most difficult part for me was to overlock the edges of the front and back facings. I postponed the project a few times because of that, and I had even had to shorten the facings once! Overlocking worked on my sample (cut in the grain line) but not in my dress (cut on bias)… The lesson is learnt: always recreate real life conditions for testing. Anyway, I managed to do it by using a strip of wash away embroidery paper underneath the facing edges and by keeping only the left needle of the overlocker (to overlock with 3 threads).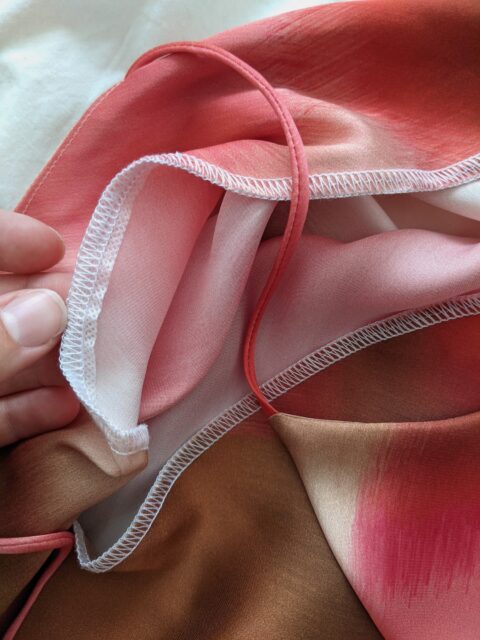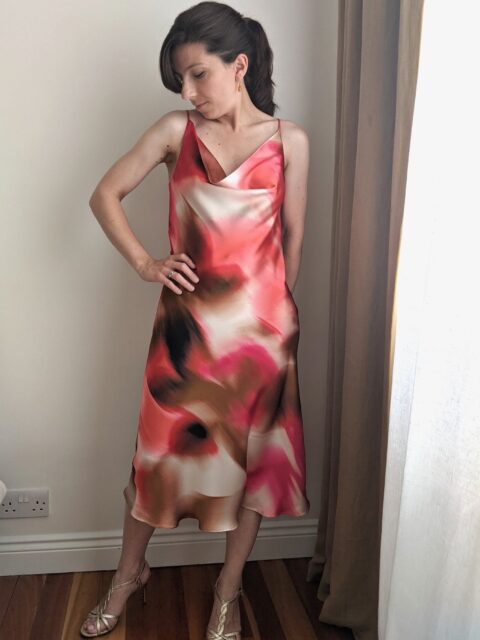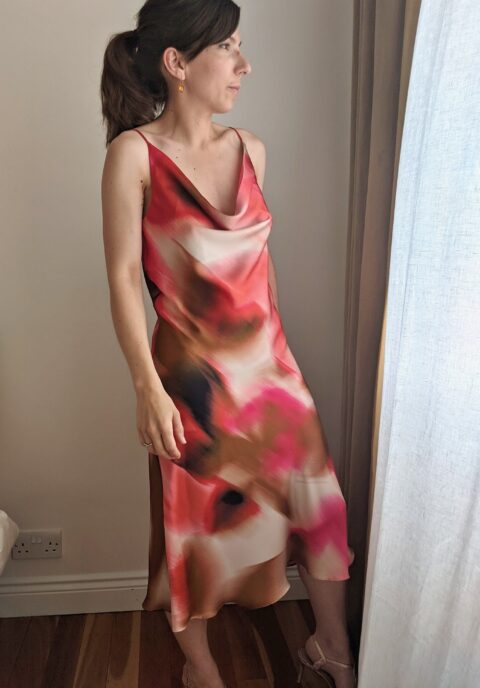 A Pâquerette blouse – Lysimaque Sew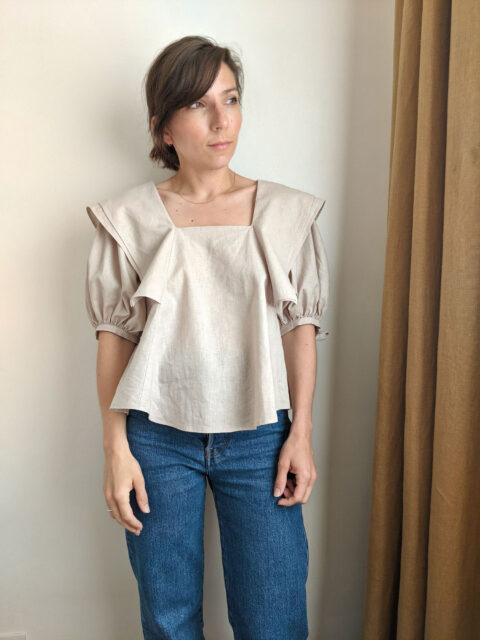 Ah the Pâquerette blouse, it was love at first sight when I first saw this pattern. It took me some time to put it in my "to sew list", but I couldn't resist any longer. Its romantic style, its sailor feel and its volumes are all very lovely. The frills create interesting waves at the front and back and the square neckline is nice.
Lysimaque Sew is a French pattern brand (which does other things too), created by Floriane who is also a full time teacher! I don't know how she doesn't this! Her brand identity is contemporary/millennial, romantic and refreshing, I love it.
I really enjoyed sewing this pattern, and I let myself guided by the instructions quite easily. As a sewing pattern designer it's also nice to follow another brand's instructions without thinking to much !
I noted 2 errors in the pattern: on the cutting plan the front and back pieces (C1, C2) should be cut on the fold of the fabric unlike it is shown on the plan. The other thing is that the facing doesn't match perfectly on the neckline, but you can easily fix it while sewing.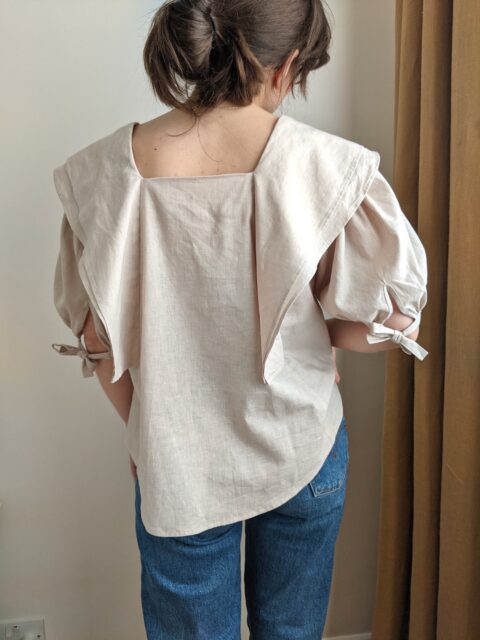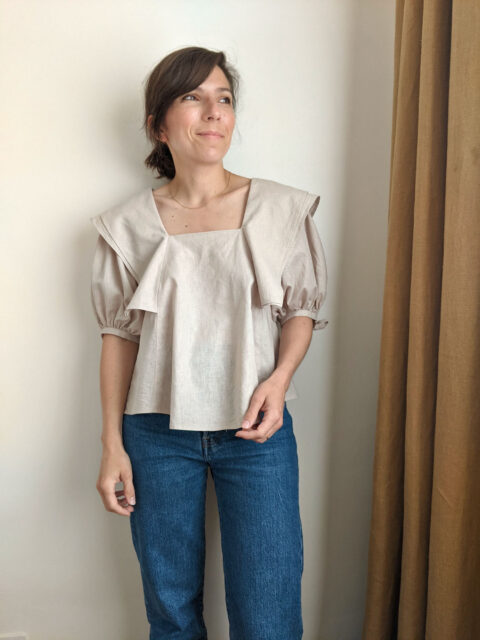 A mini jumpsuit – Camimade pattern (not available)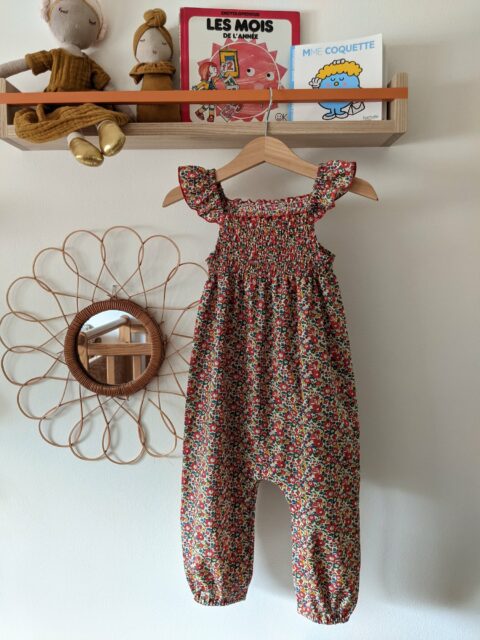 Finally, I made a mini jumpsuit for my daughter, to go to the same wedding! Just like me, I didn't want a dress. I have nothing against dresses by the way, I simply prefer to wear trousers, and see my daughter in trousers too…I can't explain this!
I made the pattern myself: I wanted a shirred bodice, an easy opening to change the nappy, and small frills at the shoulders.
Regarding the fabric, I emptied my bank account with this beautiful cotton from Liberty. But it's such a nice fabric to sew with, and so nice to wear…I wanted nothing less for my girl.
I think Jeanne enjoyed her mini outfit, which she wore with Crocs. 🙂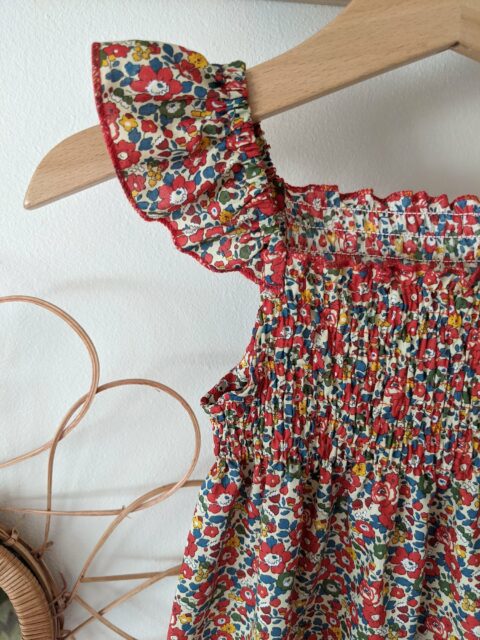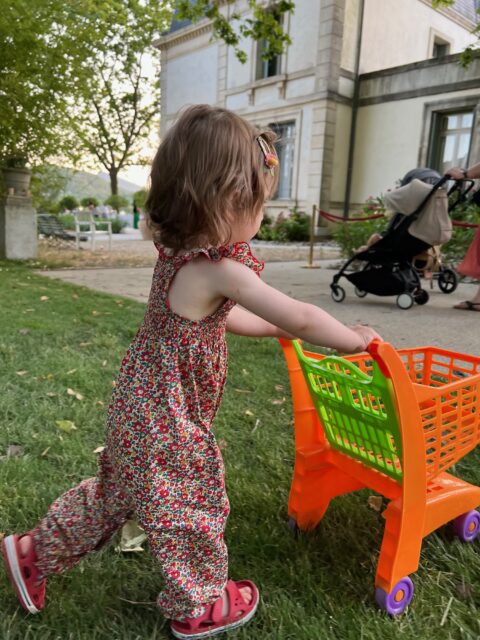 See you next month for my July makes !