Hi everyone! How is your Autumn going? I am always happy when Autumn comes, and then all of a sudden it is dark at 4:30pm, and I find myself lacking energy to sew things, much preferring watching tv with a hot herbal tea. However it appears that I haven't been lazy in the last 2 months, so here are my September and October makes.
A quilted jacket for my daughter
First of all, I made this beautiful sea-side themed quilted jacket for my 2 year old daughter. I won't develop on it too much in this post because I wrote a full blog post about it last month, there was so much to say!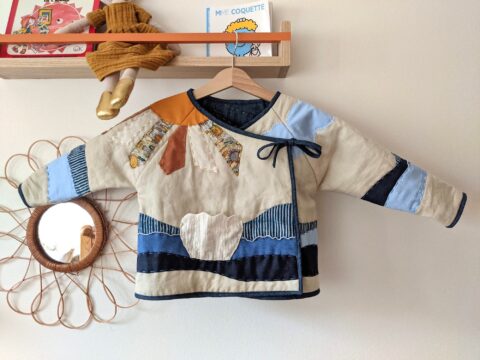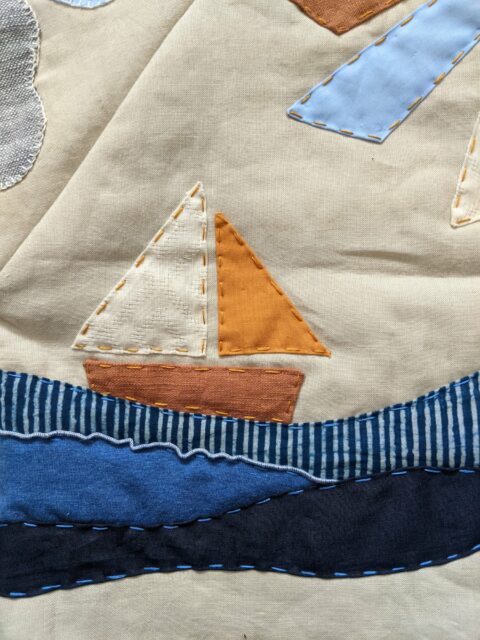 I am so proud of this jacket, I love it very much. This is such a unique piece and I enjoyed the slow making process.
A shore jacket for me
I made myself a jacket too! But on the simpler, quicker side of things compared to my daughter's jacket. 🙂
I used to have a brown corduroy jacket which I loved when I was a teenager. I was simply wearing it all the time. In fact my teenage friends still remember it, XX years later! I don't know where that jacket is now and I actually just released a jacket sewing pattern in collaboration with Peppermint Magazine! Read all about my collab with Peppermint in this blog post. All the planets were aligned and so it was time to revive the brown corduroy jacket, or the teenager in me, or both!
Here is my West End Jacket in brown corduroy: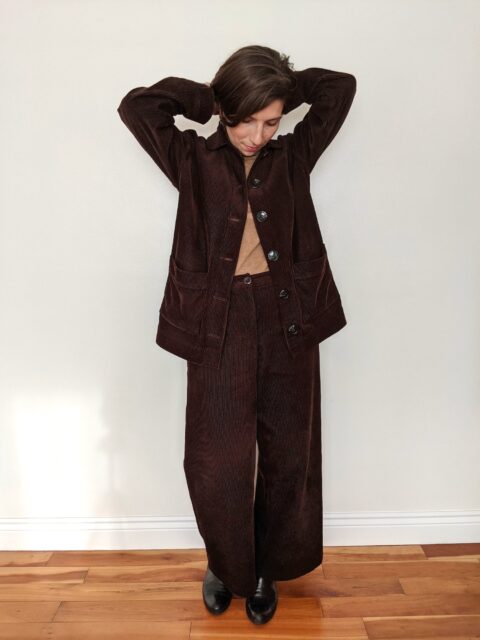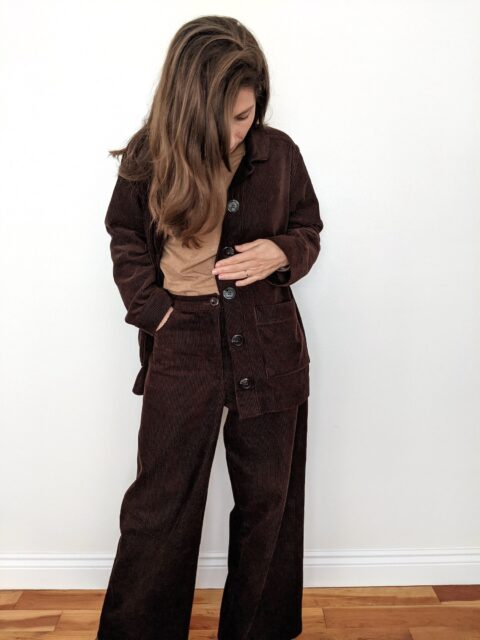 In order to finish the back of the neckline, I made a bias tape with the Liberty fabric I used for my daughter jumpsuit, made earlier this year.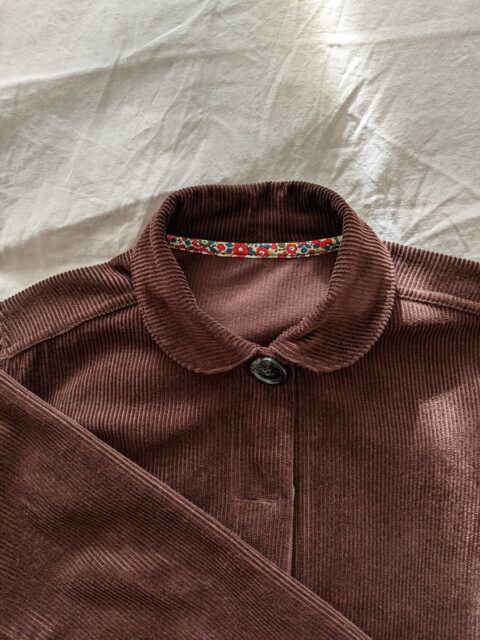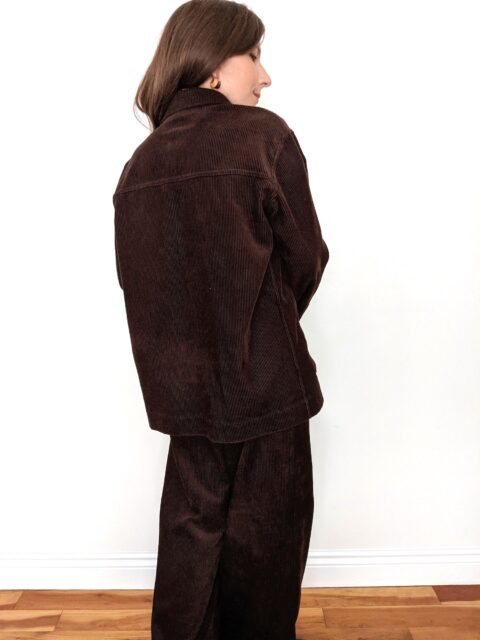 I made the size B without modifications.
The pattern is available for free or pay what you want here.
The fabric is from Minerva.com.
Wide leg trousers
My idea was not only to make a jacket but to make a co-ord set in brown corduroy, so I bought enough corduroy fabric to make trousers too. I decided to use the wide leg trousers pattern Peppermint Magazine launched a while ago in collaboration with In the Folds. And it's a free pattern too! It means I didn't spend much in patterns in the last 2 months. 😉
Without any further ado, here are the trousers: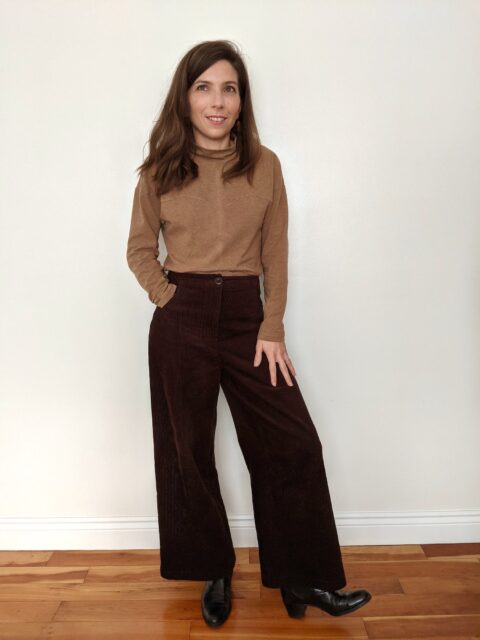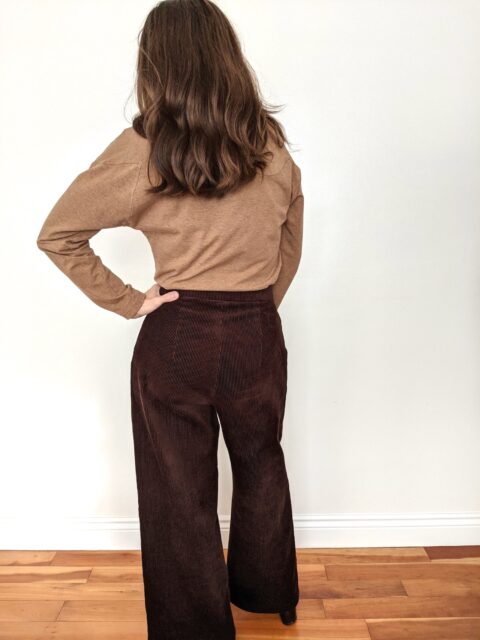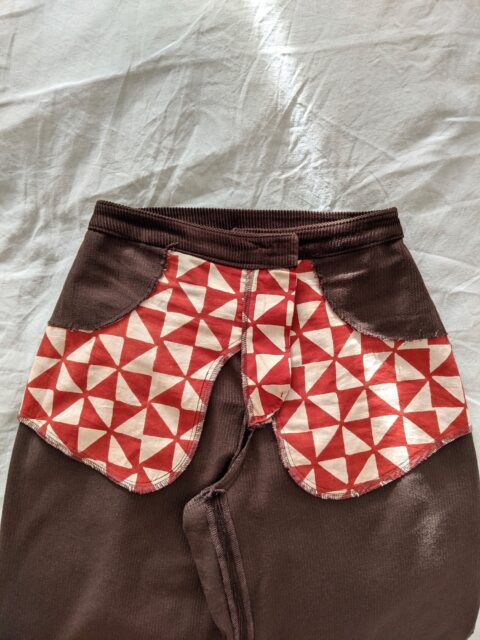 I used a lighter fabric for the pockets. Plus, I changed the pocket bag piece of the pattern, dividing it into two pieces so that you can still see corduroy from the outside. This is because the whole pockets in corduroy would have made the trousers look too bulky.
The construction of the front fly, which was new to me, was a joy to follow. I found it much neater than the one I know.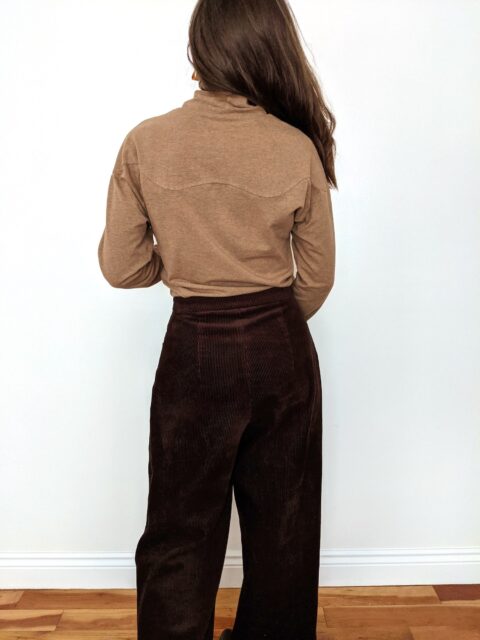 I made the wide leg trousers in size B and did a few pattern modifications: I shortened the crotch by 1.5cm at the front and back (and I could shorten more because the crotch is still sitting too low on me and the fabric is pleating horizontally just below the back waistband), I lengthened the legs by 2cm (because wide cropped trousers make me look smaller than my 1.57m) and I am actually thinking of adding 5cm, by making a fake turn-ups. It will look better on my body.
Overall I am very pleased with these trousers. They are a bit wider than I thought they would be, but the title don't lie at least!
The pattern is available on the Peppermint website here.
A long sleeve knit shirt
To complete this look (but not only), I made a beautiful long sleeve knit shirt. It has a wide funnel neck and a curvy seam running around the chest and shoulders. I wanted to make my own pattern for this top, because this is the type of tops I wear a lot during the colder months of the years, underneath warm jumpers or cardigans.
I might release it as a Camimade pattern but I am not entirely sure… Before launching a pattern, I always look if something similar is already out there. And unfortunately, I discovered that it looks a bit like a pattern that already exists, with the front curve detail (the Eloisa pattern from Named Clothing)…What do you think???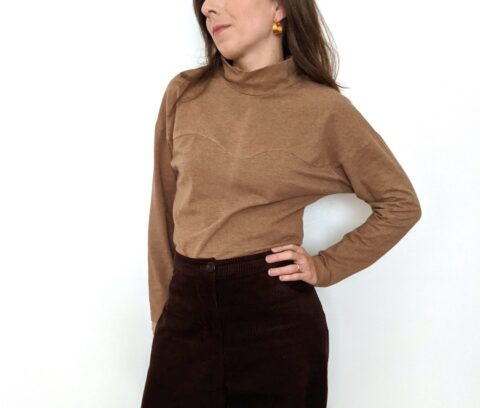 You may have noticed on the picture, I left the top just under my window for a few days/weeks (I was too lazy to sew the hem). It was nicely folded, but it literally got bleached by the sun at the centre front! I have some fabric left so I might re-do the front but what a pain! So disappointed with this…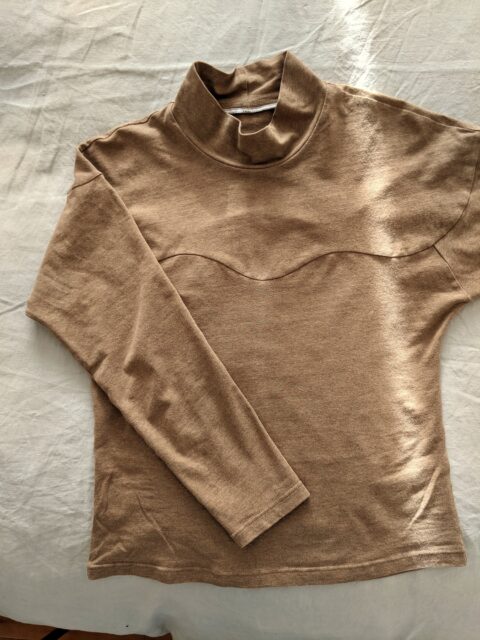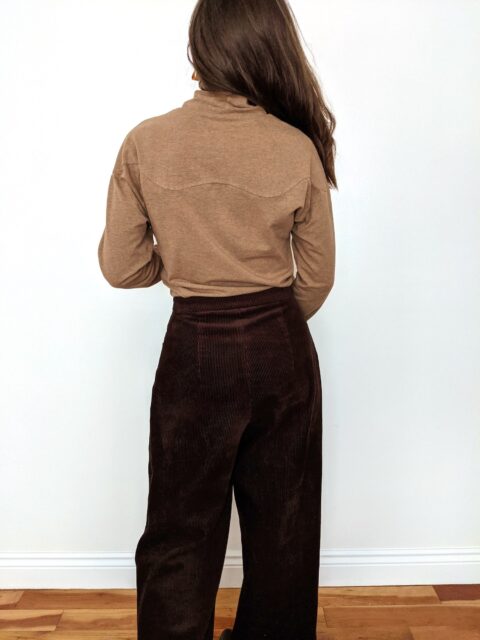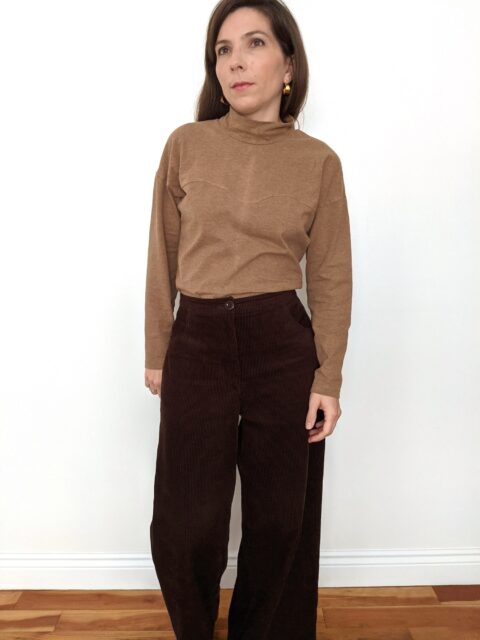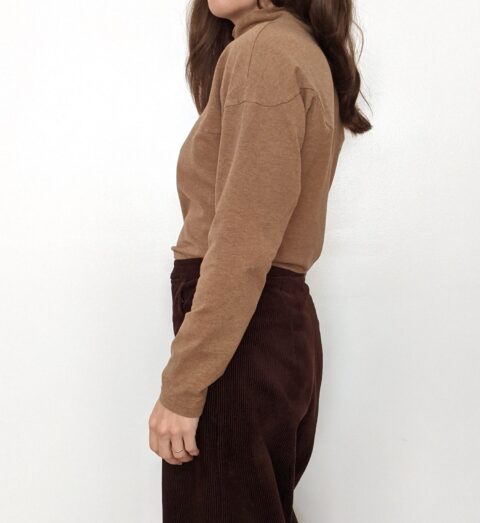 I love this top, it is an absolute comfort to wear. I love the curvy seam running at the front and back, the wide shoulder/underarm area, the neckline. It is a simple top with nice details, elegant and comfortable, in other words, my cup of tea. I just have a dilemna as to releasing it or not!!
The fabric is from Raystitch, a brown melange cotton. They don't seem to have it anymore in this colour, but they have other colour options.
An elegant dress
Change of look with this Paulette dress! I wanted to make an elegant black dress for the upcoming festivities, and I am in advance this year! The Paulette dress is a good option for a festive dress, but I personally can't wear short sleeves when it's cold, and wearing a cardigan on top of this dress would hide it too much, so I thought, why not making it with sleeves? I went for wide sleeves with elasticated wrists.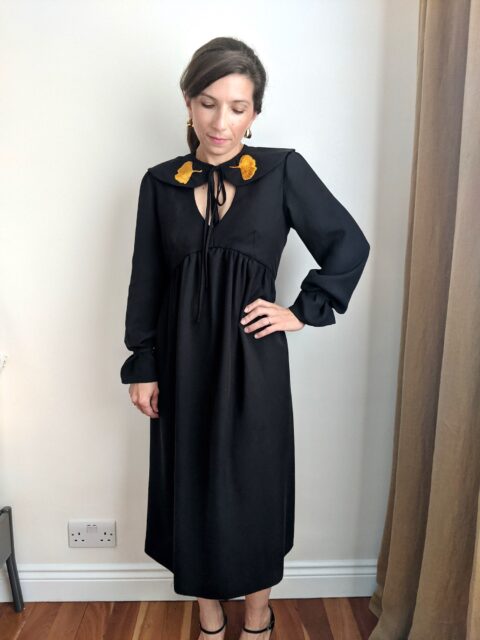 The Paulette dress features a wide Peter Pan collar and what a better way to embellish a beautiful collar than embroidery? At the beginning I was thinking about embroidering Christmas themed shapes, like a Christmas tree or holly leaves, but it was a bit too obvious, too Christmassy. Then I remembered about one of my favourite trees, the Gingko Biloba and its beautiful golden leaves. I actually kept a leaf from my father's garden in my notebook, so I used it as a pattern. I ended up embroidering real size Gingko Biloba leaves, maybe slightly too big (?), with a classic satin stitch. It took me ages, but I am satisfied with the result. It looks quite unique.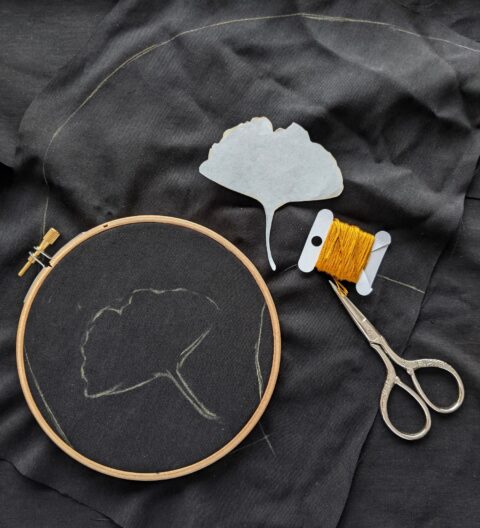 In order to embroider the collar, I traced the pattern piece on the fabric with a tailor chalk first, and then I traced the Gingkko leaf where I wanted it (thinking about the seam allowances of the collar). I only cut the collar piece when the embroidery was finished. For the opposite side of the collar, I mirrored the leaf shape.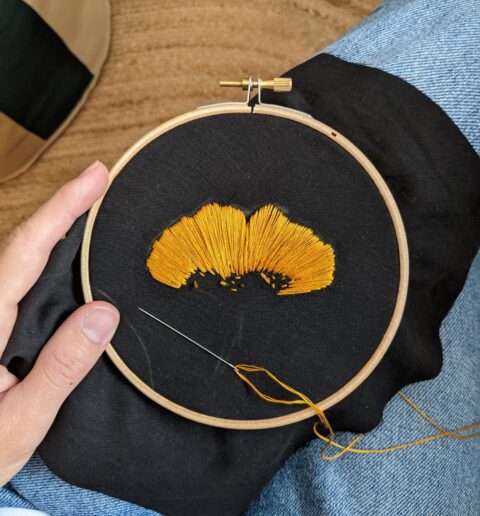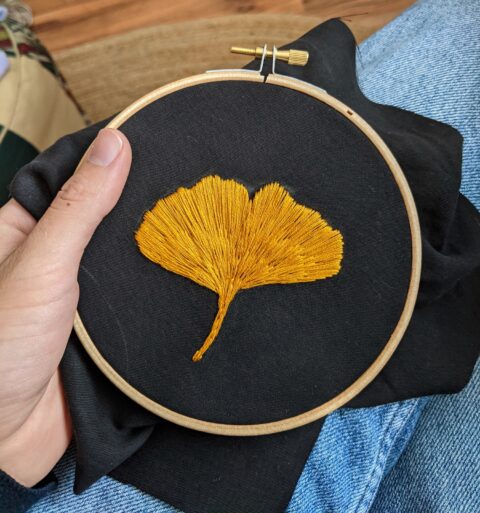 I initially made the dress with ties to close the neckline, but I prefer without like below. It looks less crowded up there.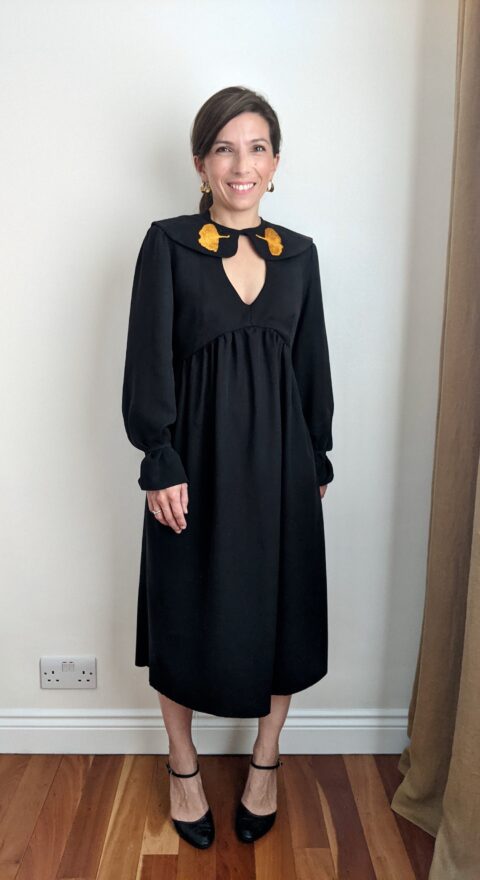 The reality is that I had some troubles with this dress. I initially wanted to make it with black organza on top and use the fabric that you see in the picture as a lining. But as you can see, I dropped the organza, because it was looking a bit too "witchy", and although I could have worn it for Halloween, this was not the intended purpose/look. So I removed the organza, and had to change the construction (a lot!).
The fabric is a black modal from Rainbow fabric.
A bit of visible mending
Finally, I rescued and took care of a beautiful second-hand jumper. I found this YMC jumper for only £3 in my local charity shop. Made of merino wool and cashmere, made in Scotland, it had a lot of bobbles and holes at both elbows that had been quickly repaired. It was a no brainer: I bought it and gave it a second life with a fabric shaver and a bit of visible mending.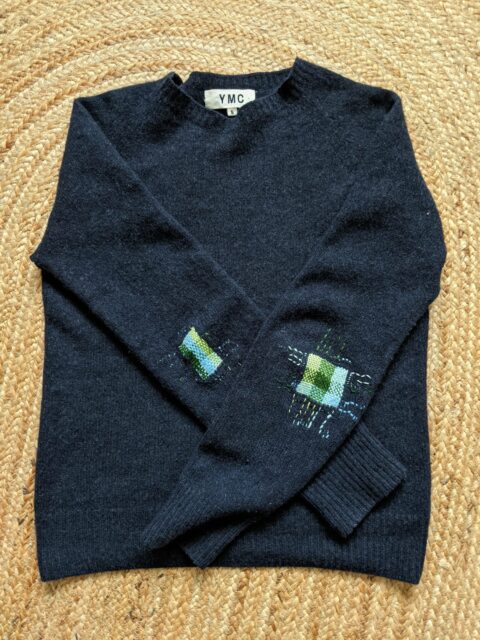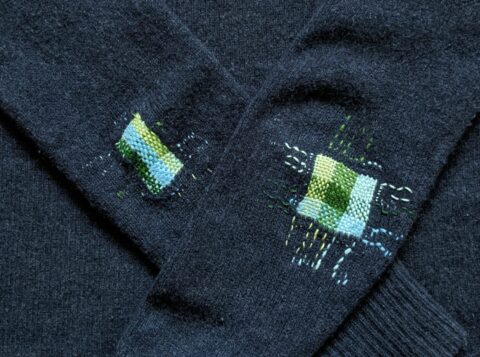 The complete process is in a highlighted story of my Instagram account.
I hope you liked my September and October makes! Let me know what you think in the comments below.