Hello everybody, 
I hope you are all ok in these stressful and viral times. On my side, I recently took a bit of time to think about what I wanted to sew for myself in 2020. "At last!" you might think! The thing is that I have just finished a three months pattern cutting course to have a diploma in the field. I don't yet have one and I think it will be useful in the long run. I have also been working on my upcoming sewing patterns which I didn't want to set aside. So in the end, it didn't really give me time for my own sewing.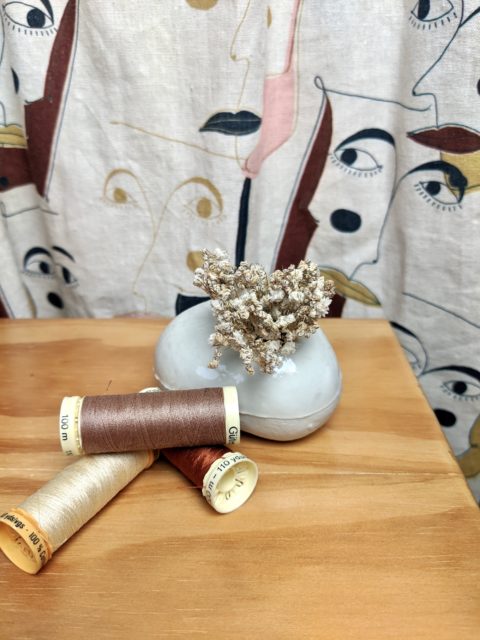 Wardrobe overview and what I wear the most
The memade things I wear the most are my Écorce trousers, my McCall's dungarees and a few shirts / blouses. The record goes to my Very Easy Vogue coat which I have been wearing non-stop during 3 winters and it is now worn out.
The things I wear less are some of my summer dresses that are not my usual style and tops made with printed fabrics that I don't like anymore.
I have noticed that I mostly wear my memade clothes during the week, when I work basically. During weekends though, I don't pick my memade clothes, and instead, I pick my ready-to-wear, "easy-to-wear" and warm basics like jeans, jersey top and pullover / cardigan. Nothing bad about that of course, and I love my basics, but I don't have many of them and since I haven't been shopping for a year and a half, the clothes get old and makes me feel old too.
Basically, I sew too many things according to my crushes that I don't wear much after, and I don't have any memade basics. However, I do make some good choices about trousers and a coat which I wore a lot!
So ? These plans ?
As a result, this year, I will work on my basics and choose more durable fabric.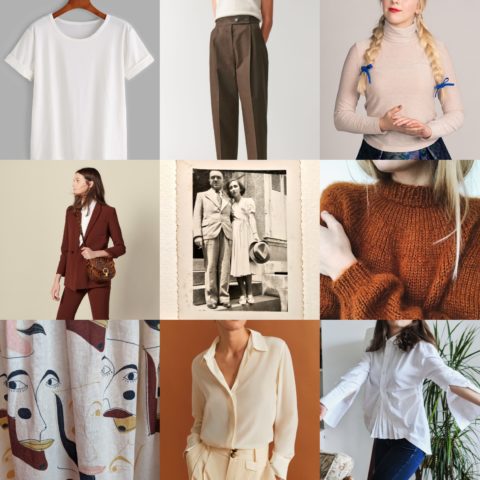 Basic tops
This means I will make jersey basic tops (long sleeve round neck, turtleneck and t-shirts) varying colours a bit more while staying neutral, and trying not to go for prints which I know I will not wear that much. In the grid above, there is the Paola turtleneck pattern from Named clothing but it is very basic so I will be making a pattern myself. 
Basic shirts
I will also be making more basic shirts and blouses choosing natural fibres and neutral colours. For the spring and summer, I will make some linen shirts (one will go out as a Camimade pattern !). An ivory silk shirt would be my dream to have too. Image inspo is from Mango in the image above.   
A jacket
In my plans, I have in mind a basic but stylish double-breasted jacket which I could easily wear with jeans or other pants. A brown one or navy blue…I am not sure yet. I haven't seen any pattern yet, but I am thinking of tailoring this one for me. In the grid, I have put one from Admise Paris a really nice brand for inspiration.
Trousers of course
Since trousers are popular in my wardrobe, I am going to make new ones, and launch most of them as patterns. One is currently in progress…Inspo from COS in the grid.
One challenge
Otherwise, one of the big challenge I have this year is to learn how to knit! The only item I was still allowing myself to shop for was knits and this year I haven't found any that I liked. However, I know that there are a lot of Petite Knit knitting patterns that I would love to knit for myself as they look so timeless and simple (although not so simple to make). I have included the Novice sweater in the image above.
Upcycling
There will be some upcycling projects too, especially men shirts. I enjoyed so much upcycling 2 men shirts last year and I wear them a lot so this is something I am going to keep on exploring. You can see one of them at the bottom right corner of the image!
A coat
I need a coat for next year, so I guess it's on my list, although I don't know yet the style I want at all!
A few crushes?
Finally, I will still allow myself some « sewing crushes », if I have some time left with all these projects!!! I have some dresses in mind, which are already sewn actually, and that will go out as Camimade patterns. I love them and I know they will get a lot of wears…my big inspiration is my grandmother, at the centre of the image.
With all that, I am wondering if I am not too ambitious? We will see, and I will publish an update by the end of the summer to show you where things are.