If like me you don't throw away your fabric scraps in order to reduce waste (and also because you never know) you end up with a huge amount of fabric scraps and don't know what to do with them. Fortunately, there are many possible ways to "get rid" or rather to reuse them. I have selected the 9 best ideas (or more humbly, my 9 favourites ideas!) to make beautiful and useful things with fabric scraps.
1. The Closet Core Patterns pouf
It is one of the best projects to hide fabric scraps! Made and filled with a LOT of them.
Here is mine! Could you believe it contains a few years of fabric scraps from my sewing activity? The type of scraps that can't be used otherwise because they are simply too small. I have made this pouf using fabric leftovers from curtains, cushion covers, trousers and a skirt and I couldn't be happier with the result.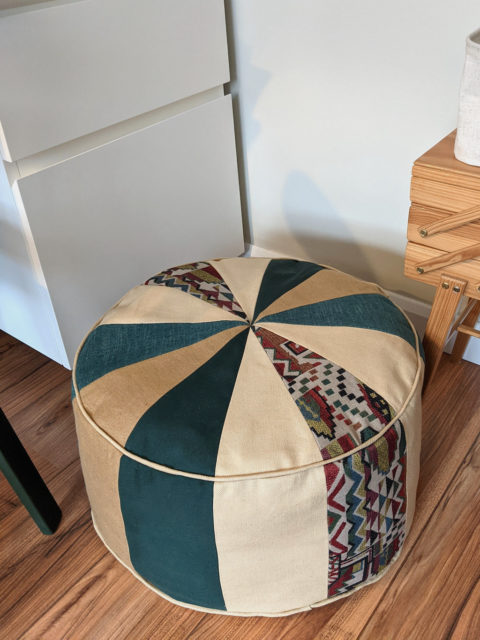 The pattern and instructions are available for free on the Closet Core Patterns website: follow this link.
On top of the fabric scraps, you will need:
piping cord although it is optional, I think it makes the pouf look more professional
a zipper
fusible interfacing for light fabrics
2. Megan Nielsen's braided baskets
In order to make these baskets, you have to re-cut the scraps in 2-3cm wide strips and braid them together in order to get a very long braid. Then you coil the braid around itself and zig zag stitch. This Youtube video explains it all:
I made these 2 baskets using this method. They are not as well made as Megan's but they are not too bad either: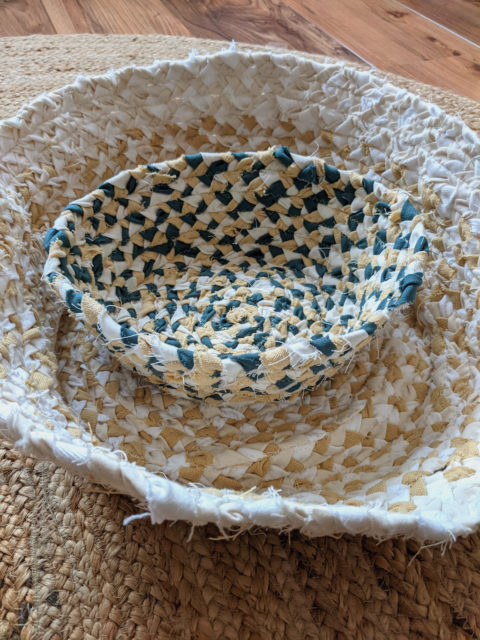 Now I am obsessed with making more baskets and I am sorting my fabric scraps per colour and size!
Beside fabric scraps, this project only requires thread.
With this method, you can actually make so many different things from glass coasters to giant rugs.
3. Lavender sachets
Lavender sachets are an ideal and quick project to reuse small scraps and make something useful. Put them in your wardrobe and drawers in order to release a gentle lavender smell and keep moths at bay. They also make beautiful little gifts.
I made a DIY on my blog if you want to make these: how to make lavender sachets.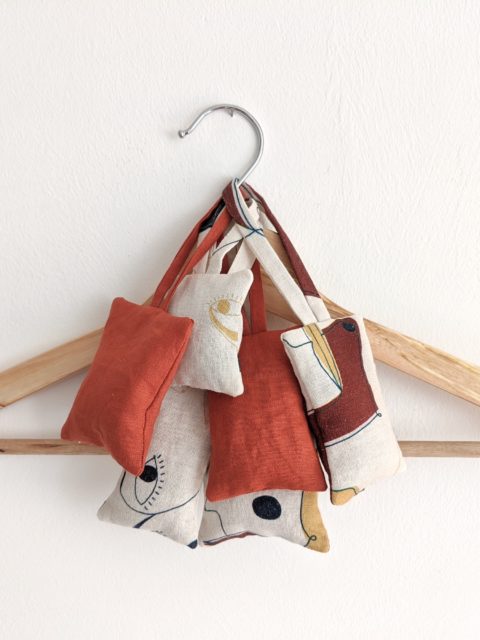 Beside some fabric scraps, all you need for this project is thread and dried lavender !
4. Baby clothes
Baby clothes consume very little fabric, and sometimes a small t-shirt or dress can easily be made with fabric leftovers.
With a small piece of jersey that I had left from a t-shirt project I made this beautiful romper for my baby girl. I used the retro romper pattern from Brindille & Twig.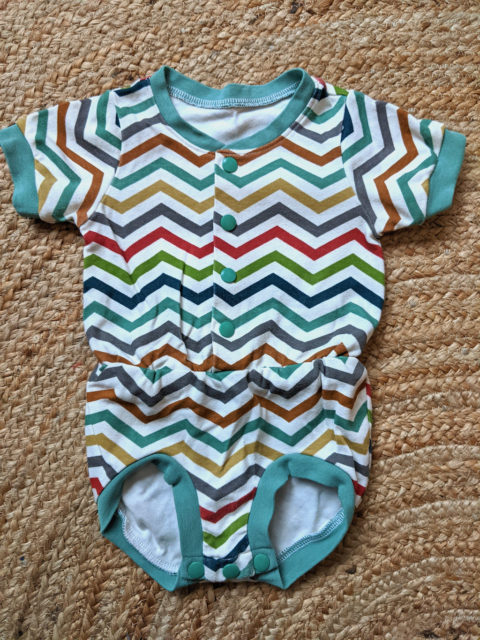 Making this romper only requires: jersey rib, snap fasteners and thread.
5. Make up remover pads
With this project, we are not actually using fabric that is left from the sewing activity, but I still put it in the list because we are using fabric that was destined to the bin: I name, old bathroom towels with holes.
It is very easy to make: in your old towel, cut squares with rounded corners, or circles, and finish all around with a zig zag stitch or using an overlocker. Then, remove your make-up, wash and repeat. I made mine 5 years ago and I'm using them on a daily basis.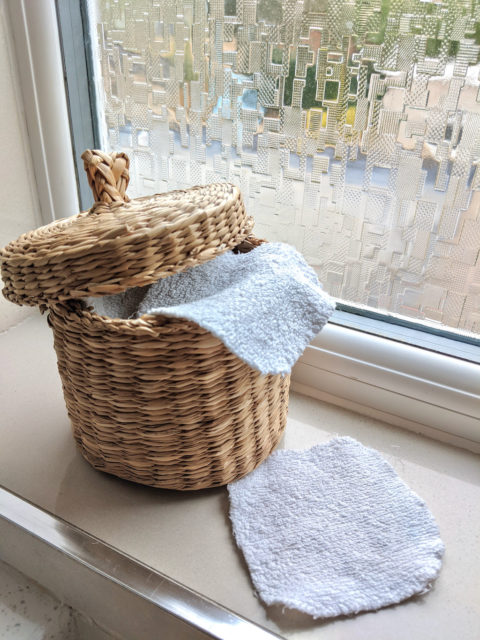 You could line them with some of you cute scrap fabrics, to make them extra cute, but I like to use both sides of the towel fabric, so I didn't do that
6. Dolls and doll clothes
Coming back to children stuffs with dolls or comforters to make, fill and dress with fabric scraps.
I haven't made anything yet, but it is on my to do list. I have seen these Russian dolls on the I think sew website, it is a free pattern!
Why not add a little bell in it to have more noise at home!
7. A quilted jacket
My latest obsession: make a patchwork / quilted jacket. In fact, you can make a lot of quilted things from clothes, to blankets, cushion covers, and accessories.
But I have seen many people on Instagram making quilted jackets with fabric scraps patchworks just like Katie Korman below I think this is such a great way to reuse the fabric leftovers you love. I can see myself wearing a quilted jacket like this, using my own scraps.
Beside the fabric scraps, I believe making a jacket like this only require thread, batting and bias binding. Oh, and I forgot…patience!
Update: I made a quilted jacket using fabric scraps for my 2 year old daughter! For this project, I only bought the batting, and it's one the most beautiful things I have made in my sewing life…I am so so proud of this jacket. I actually wrote a whole post about it here. I am currently making one for myself now!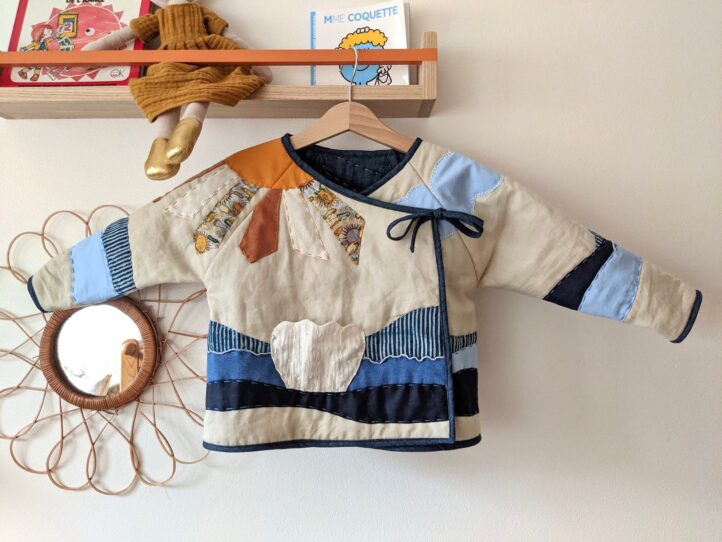 8. Knickers
Have you got jersey scraps? So why not make knickers? Here are 2 patterns you could use to make some:
Tilly and the buttons have released the Iris knicker pattern: here
Paper Theory Stevie knicker pattern (free): here
Beside fabric scraps, you will need thread and elastic.
9. Furoshikis
For a few years now I have been wrapping gifts in beautiful squares of fabric. Traditionally called "furoshiki" in Japan, they require a certain size of fabric leftovers (unless you are wrapping tiny gifts!), at least 45x45cm.
There are a lot of tutorials and diagrams available online that show how to wrap different gift shapes with them. The pros are the beauty of the gift itself, the sustainability aspect (compared to single use paper wrapping), and I personally enjoy wrapping my gifts with fabric. The only cons is that the person who receives the gift can ask if they can keep your beautiful fabric square (but it's not always the case) but it is part of the gift isn't it?
This Spoonflower blog article shows a few technics to wrap gifts in furoshiki.
What is your favourite project to reuse your fabric scraps?